HAWAII'S SCHOOLS
Learning to go it alone
Independent projects let girls make a mark in the real world
Going to school is one thing, but learning to survive in the "real" world is a different way of life. Teachers and parents can only teach so much, and the rest -- learning how to fend for yourself, living on your own, cooking your own food -- you have to figure out and learn on your own. That is why La Pietra-Hawaii School for Girls created a way to help girls get acquainted with the pressures, workload and rigors of life after high school, as well as explore as-yet-unrevealed areas of personal interest.
La Pietra School
Newspaper
Passport
Faculty advisers
La Pietra foreign language department

Editors
Amanda Chang and Tihon Nguyen

Address
2933 Poni Moi Road
Honolulu 96816

Head of School
Nancy D. White

Telephone
922-2744

Faculty
45

Enrollment
237
Every year, the junior class undertakes an independent project, for which each girl has to complete 40 hours of work on a project of their choice. The independent project may involve developing an interest or talent, or giving of oneself in the service of others.
Some past examples of independent projects include learning how to fly a helicopter, writing a cookbook, writing and presenting a play in American Sign Language, writing a book of original poetry, volunteering at a homeless shelter and volunteering as a candy striper, working at the humane society, interning in a veterinarian's office, coaching younger students in sports, working in an orphanage in Peru, helping to build a Habitat for Humanity house, understudying a KCC chef and demonstrating haute cuisine preparation, presenting a fashion show of originally designed garments modeled by classmates, writing and illustrating a children's book, writing a science fiction novel, working with animals and giving tours at the Honolulu Zoo, teaching a faculty member to ride a horse and retraining an injured horse to jump again after veterinarians said it would never jump again.
A parent or teacher cannot teach a student the lessons that come about with the completion of an independent project. This project forces girls to step out of their comfort zones and to try something they have always wanted to do but have not had the confidence or opportunity to try before.
With the completion of their project, girls come away with new skills and the confidence to be strong, active women who positively influence their communities.
---
BACK TO TOP
|
FUNDS, FUN, FURRY FRIENDS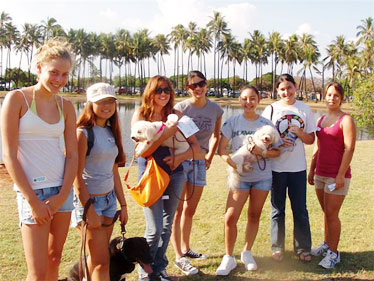 ---
BACK TO TOP
|
Diversity is philosophy and practice at La Pietra
The curriculum puts emphasis on critical thinking, writing and class participation
No single style of teaching dominates at La Pietra. Teachers use a variety of strategies in order to appeal to the different learning styles of students. Critical thinking skills trump rote memorization of dates and facts. The goal is to prepare students not only for a career, but also for lifelong learning.
Students have freedom, and responsibility, to learn on their own. For example, if you had visited La Pietra's sixth-grade English/social studies class this month, you would have found them in the middle of their Colonial Woman project. They research women who made significant contributions to our nation, dress accordingly and tell the class about these heroines, their lives and the times in which they broke through their own "glass ceilings."
Or, in May, you might drop in during their Author's Tea, the culminating event of a unit on Colonial America. Having read Conrad Richter's "Light in the Forest" and been disappointed by the ending, the students write their own last chapters. After a "blind" judging of their masterpieces, the four chapters that best reflect the author's craft are read aloud at the Author's Tea, and the class votes for the winner and runner-up. Students dress up for the event, complete with gloves, and dine on tea and finger sandwiches.
Visit a chemistry class and find students learning atomic theory through discussion rather than through lecture or memorizing the text. Critical thinking, not passive listening, is at the heart of this interactive classroom. In the main building, visit the Staircase Gallery, where exhibits of student artwork fill the walls and landings. There you will find examples of watercolor, ceramics, photography, jewelry and batik, to name only a small portion of the work that is displayed throughout the year.
In the Computer Lab, students might be absorbed in designing logos and letterheads for companies and products created by their imaginations. Sophomores in European history might be working on heraldry projects, part of which calls for designing a coat of arms that reflects their family background. Marine biology students could be snorkeling at Kaimana Beach or finding and disposing of alien algae at Moanaloa Bay. Forensic science students could be investigating a "crime scene" on campus, staged in advance by their teacher.
Teachers keep boredom at bay by relating unfamiliar topics to familiar life experiences. Middle-school students explore their family histories and take an imaginary trip to Edinburgh, Scotland. Upper-school students delve into the ethics of modern medicine and business. They learn about all-but-forgotten women who have shaped our history significantly. They use their foreign-language skills in real-life situations, whether it might be ordering lunch at an ethnic restaurant or communicating with a French-speaking pen pal in Luxembourg.
Discussion-based learning, tie-ins between lessons and films, weekly symposiums, collaborative activities, integrated learning, Internet-based research and widespread integration of technology throughout the curriculum make learning exciting and relevant.
PE students create their own games and lead their classmates. PE classes take advantage of our location near Kapiolani Park and Waikiki beaches. Drama students actually design and build sets for school plays. In addition to mastering foreign-language skills, students learn about and celebrate different cultures and cultural differences.
Every department at La Pietra emphasizes writing, whether it is a science report, a poetry analysis, a math solution, a term paper or a Nicenet posting for history class. Across the curriculum, teachers emphasize the importance of thesis statement, clear language and organization, and logical development. Throughout their years of study, students internalize and apply the idea that organized thought process and organized writing support each other.
Camaraderie and mutual support among faculty fuel the spirit of innovation. Students appreciate the efforts of their teachers to make learning interesting and enjoyable. Many form friendships with teachers that extend beyond graduation. In a real sense, innovative teaching fosters not only lifelong learning, but also lifelong friendships.