---
FAST FACTS HAWAII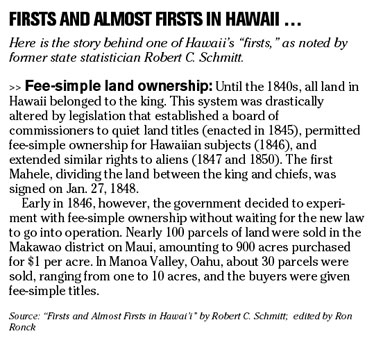 ---
NATION
Intel gains back market share
CAVE CREEK, Ariz. »
Intel Corp.
, the largest semiconductor maker, grabbed back more than 6 percentage points of market share in personal computer processors in the first quarter, reversing losses to
Advanced Micro Devices Inc.
Intel ended the first quarter with 80.5 percent of shipments, according to Cave Creek, Ariz.-based Mercury Research. The company had 74 percent at the end of the fourth quarter, the least in 11 years.
Advanced Micro slumped to 18.7 percent, its first time under 20 percent since 2005. Last week Intel Chief Executive Officer Paul Otellini credited new products for his company's performance, while Advanced Micro executives said they will regain sales this quarter after failing to get chips to clients who wanted them in the first three months of the year.
Advanced Micro, based in Sunnyvale, Calif., last week announced a proposed convertible bond sale aimed at raising cash needed to build plants to allow it to compete with Intel.
Managers do more than manage
A new study shows that more than half of office managers report performing at least 10 different jobs in a given week, including customer relations, computer support, human resources and accounting.
Nearly 75 percent of office managers consider themselves workplace housekeeping supervisors, while 71 percent lend an ear as office psychologist.
"They tend to be the glue that holds the office together," said John Giusti of Staples, which conducted the "My Real Job" study.
Other tasks falling safely under the "not in my job description" category were breaking up an office romance, cleaning pigeon poop off the sidewalk and unclogging the toilet while on the phone and signing for a delivery.
More than 8,000 office managers reported their job descriptions from Feb. 19 to March 16 on the Staples Web site.
Many don't use all their vacation
You worked long and hard and now you have a couple of weeks to kick back and get away from it all.
Too bad you went and made yourself too important to enjoy it.
More than half of workers fail to use all of their allotted vacation days, including 30 percent who say they take less than half, according to a recent survey. Many of the overworked are managers, under pressure to do more in less time with fewer employees, said Robert Morgan of professional staffing provider Hudson, which conducted the survey. Of those who do escape for a few days of skiing, scuba diving or channel-surfing, nearly one quarter said their boss still expects them to be accessible by cell phone, e-mail or other methods.
"You can have 24-hour access if you want it," Morgan said.
But don't go blaming it all on the boss man, because the majority of workers rate their employers favorably in providing flexibility for time off, the report found. So suck it up, slather on some sunscreen and hit the beach.
The survey was based on a national poll of more than 2,000 workers conducted from March 30 to April 2.
How to stay in touch with Mom
Keeping in touch with friends is fairly easy -- fire off an e-mail or text message and you've made weekend plans in Atlantic City. But your Blackberry might not cut it when it comes to older family members, who know you've been MIA but haven't the faintest clue what LOL means.
Most mothers and grandmothers prefer snail mail or telephone calls for communicating with loved ones, according to a recent survey conducted by Harris Interactive on behalf of Presto Services, Inc.
With Mother's Day just around the corner, here's a few tips from family lifestyle expert Donna Erickson for staying in touch with technology-shy family members.
» Send a postcard every month. The picture can let mother dearest know where you are.
» Set up a weekly phone call, even if you don't have any news to share.
» Schedule a regular visit, even once a year if you live far away.
» Introduce nanny to user-friendly technology, like basic cell phones without the confusing bells and whistles.
Now you can stay in touch, so cough up some TLC for MOM.
---
BUSINESS PULSE