Kanikapila will celebrate life of Don Ho
The memorial event for Ho is growing as big as the entertainer's influence
Dozens of singers, dancers and musicians.
Canoes decorated with a 76-foot lei.
Flowers dropped from a helicopter.
The memorial planned Saturday for the late Don Ho is shaping up to be an event worthy of his stature as Hawaii's best-known entertainer.
SATURDAY SERVICE
Waikiki entertainer Don Ho will be remembered with a memorial service at 5 p.m. Saturday, followed by a "memorial celebration" much like his Waikiki show, with dozens of other entertainers volunteering to get up on stage and perform, kanikapila style.

The memorial service will be on the beach fronting the Royal Hawaiian Hotel. Ho's ashes will be taken out to sea and scattered. The entertainment will follow at sundown at the stage where Sunset at the Beach movies are shown.
Longtime friends Cha Thompson and John De Fries will share emcee duties at a sundown ceremony at Queen's Beach, De Fries said.
The "memorial celebration" will be preceded at 5 p.m. by a short Christian and Hawaiian service on the beach fronting the Royal Hawaiian Hotel, and a flotilla of boats and canoes taking Ho's ashes out to sea.
Because so many people have volunteered to perform in memory of Ho, who died April 15, the city will expand the size of the stage normally used for its Sunset on the Beach movie-and-concert series, De Fries said.
The Waikiki Improvement Association is gathering donations to cover the city's costs for the musical event, which will begin at 7 p.m., De Fries said.
Musician Imaikalani Young will lead the band backing up the many performers who will pay tribute to Hawaii's singing legend, De Fries said.
Though the entertainment lineup hasn't been finalized, the sheer number of volunteers nixed Thompson's original idea of having them all perform, De Fries said.
The "memorial celebration" will not include a eulogy, but will intersperse song and dance with people speaking about Ho, De Fries said.
The "celebration of the life and times of Don Ho will feature many of his very close friends in the entertainment industry, as well as members of his family," De Fries said.
"This is not just a concert, if you will," he added. "There's a level of reverence and dignity that needs to be present."
The canoe transporting Ho's ashes will be adorned with a 76-foot lei (1 foot for each year of his life) that will be assembled in the Hilton Hawaiian Village Shell Bar on Thursday and Friday, 11 a.m. to 1 p.m.
Because thousands are expected at Saturday's event, the city will include extra police officers and lifeguards on duty, said Isaac Hokama, special assistant to Mayor Mufi Hannemann.
TheBus will provide extra buses for Routes 8 and 2, from Ala Moana Center and School Street respectively, Hokama said.
There is also the possibility of special bus routes from around the island and a park-and-ride service from Kapiolani Community College, he said. Those plans will be announced early this week, when finalized.
"Our main concern is public safety and traffic," Hokama said. No road closures are expected, but police will have the authority to close portions of Kalakaua Avenue if the crowd size requires it, he said.
Special parking provisions aren't expected, Hokama said, because Waikiki absorbs an estimated 100,000 people during the Aloha Festivals Hoolaulea.
IN REMEMBRANCE
For those who can't attend the memorial ceremonies, there are other ways to pay respects to the entertainer. They include:
» Cards and flowers for the Ho family can be mailed or taken to the Ohana Waikiki Beachcomber Hotel, Ho's venue from 1994 until his death, at 2300 Kalakaua Ave., Honolulu, HI 96815
» Floral offerings may be left at the entrance to the Hilton Hawaiian Village, at Kalia Road and Ala Moana Boulevard. The statues of hula dancers is about where Ho performed 1982-92 at the old Hilton Dome.
» A giant card for the Ho family is available for signing in the Hilton Hawaiian Village main lobby 9 a.m.-5 p.m. daily until Saturday.
» Donations in Ho's name may be made to two of his favorite organizations: 'Aha Punana Leo, (Attn: Eva Nani'ole), 96 Puuhonu Place, Hilo, HI 96720; and the Friends of Hokule'a and Hawai'iloa, P.O. Box 696, Kailua, HI 96734.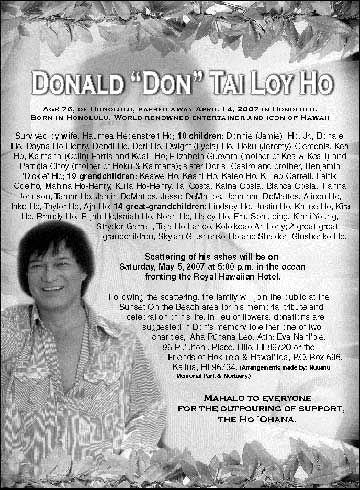 This is the ad for Don Ho's memorial service which ran in today's Star-Bulletin.
CLICK FOR LARGE