Evidence of Murder
Despite failing to find a body, prosecutors allege they have ample proof that Kirk Langford is Masumi Watanabe's killer
Even without a crime scene, cause of death or weapon, city prosecutors are still confident they can prove a Kalihi man murdered a missing visitor from Japan.
Prosecutors yesterday charged Kirk Lankford, 22, of Kalihi, with second-degree murder in connection with the disappearance of 21-year-old Masumi Watanabe. Police are still searching for her body.
Here are the latest developments in the case:
THE SUSPECT
Court documents outlined the evidence against Lankford, which includes:
» A witness seeing Watanabe enter his company truck.
» Watanabe's glasses and blood found in the company truck, whose passenger side windshield was cracked.
» Another witness seeing Lankford digging a hole near Kahana Bay the night after Watanabe's disappearance.
» That witness apparently led police to Lankford because the man wrote down the license plate number of Lankford's truck as it left Kahana Bay.
Lankford's neighbors and family say it is hard to believe he committed a crime, noting that he is a family man and a regular churchgoer.
THE VICTIM
Masumi Watanabe, 21, first visited Hawaii last year in September, and loved it so much she returned in February, her parents said yesterday. Although devastated, Hideichi and Fumiko Watanabe thanked Pupukea neighbors and residents for helping in the search for their daughter.
THE PROSECUTOR
Prosecuting Attorney Peter Carlisle said circumstantial evidence can be enough to find someone guilty of a murder.
"The fact that a murder may successfully dispose of the body of a victim does not entitle him to avoid prosecution," Carlisle said.
---
Blood, witnesses and glasses called clues to homicide
Court documents give details of evidence that likely will be used in the murder case
A Japanese visitor gone for more than two weeks is still missing, but her blood and glasses were found in the work truck of a man charged with her murder, prosecutors said yesterday.
Court documents outlined the evidence gathered to support a charge of second-degree murder 22-year-old Kirk Matthew Lankford of Kalihi for the death of Masumi Watanabe, 21.
The evidence includes Watanabe's glasses and blood found inside Lankford's work truck and a witness who saw Watanabe enter the truck.
Police are still searching for Watanabe's body and there is no evidence of a weapon or crime scene.
But city prosecutor Peter Carlisle said he is confident there is enough to proceed.
"There is a myth that circumstantial evidence is inadequate to prove any case beyond a reasonable doubt," Carlisle said.
Watanabe was reported missing on April 12 by her host family. She was last seen at about 10 a.m. that day walking mauka on Pupukea Road.
A witness stated that she saw Watanabe enter a Hauoli Termite and Pest Control truck at the Pupukea Foodland, where Watanabe routinely walked in the mornings.
Documents state the witness said, "Watanabe looked confused, not talking to the male, but that the male was talking to her."
Lankford, who was a technician at the pest control company until he was fired recently, told police he was working in the area that morning, but denied seeing Watanabe or any women walking in the area.
The next day, a witness called police stating he had confronted a man with a flashlight at about midnight April 12 digging a hole near Kahana Bay. The witness' girlfriend, Linda Hannon, was found murdered in the area on Feb. 25.
According to court documents, the witness confronted the man, identified later as Lankford, who said he was looking for a gold chain he lost two months prior.
Lankford left the scene, but the witness wrote down the truck's license plate number, which matched Lankford's truck.
Officials declined to comment on whether Lankford is also being investigated in connection with the unsolved murder of Hannon.
Lankford's wife said after they attended church at Potter's House on King Street that night, Lankford told her he had a side job in Waipahu and left for the night. When he returned home, his wife said he had muddy socks, a statement she later retracted.
A Hauoli manager said Lankford returned to work on April 12 with a cracked windshield on the front passenger side. Lankford claimed it was caused by a bird.
Police searched and seized both Lankford's personal truck, seen at Kahana Bay, and the company truck.
Police found a pair of glasses, wedged in between the backrest and front passenger seat of the company's truck, that matched Watanabe's prescription. DNA from the glasses, as well as blood found on the door and passenger seat, matched Watanabe's.
Lankford's bail has been set at $1 million and is scheduled to appear in court Wednesday afternoon. If convicted, he faces life in prison.
Carlisle said Lankford is accused of either killing Watanabe, or intentionally or knowingly harming Watanabe, then failing to render aid.
Lankford's parents have told local media they believe their son is innocent. Lankford has no criminal history. Lankford's neighbors have also defended him, citing him as a loving, caring father who is deeply religious.
Yesterday's press conference was attended by several media outlets from Japan, including NHK and Nippon Television, and the case has received publicity there.
But Makoto Hinei, Japanese senior consul general, said he doesn't feel the murder case will result in a negative perception of Hawaii among Japanese visitors, the state's No. 2 visitor market.
Kevin Lloyd, a vacation coordinator at Waikiki's Activity Store on Kalakaua Avenue, agreed. Lloyd said that, if anything, the attention will only make visitors more careful about walking in secluded areas.
"They'll know now that they should always be with somebody, a family or a friend, when going to a secluded or unfamiliar area," Lloyd said.
---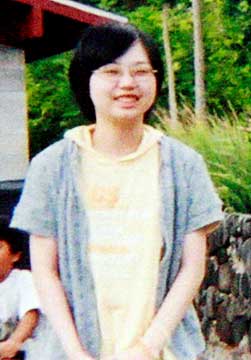 HONOLULU POLICE DEPARTMENT
Victim's parents to stay until they have answers
Masumi Watanabe's parents, heartbroken at the news of her possible murder, say they won't return to Japan until they find out what happened to their daughter.
Hideichi and Fumiko Watanabe released a statement yesterday through Jessica Rich, executive director of the Visitors Aloha Society of Hawaii.
"We are devastated by this event, and we ask anyone who might know anything about this case to please call the police," Rich said for the Watanabes.
Watanabe first visited Hawaii in September 2006, and loved it so much she returned through an informal arrangement with the Miura family in February.
She volunteered at Sunset Beach Elementary School. The Watanabes also said their daughter loved to sketch, especially dogs and animals.
The parents thanked Pupukea neighbors and residents for helping in the search for their daughter.
The parents are in regular contact with the Japanese Consulate General and the Visitors Aloha Society of Hawaii, which assists visitors who face extraordinary circumstances or tragedy during their stay in Hawaii.