BOOKS
Heavy-handed allegory zings Christian theology
The Danish philosopher Soren Kierkegaard (1813-55) wrote a parable called "The Man Who Walked Backwards." Its point was that "walking backwards," that is, facing your friends and assuring them of your love and interest while actually separating yourself, is cruel, deceitful and psychologically harmful.
"The Man Who Walked Backward Down the Na Pali Coast"
By Stephen McMillin

(The Palace Grounds Press)

Paperback, 284 pages, $20
In "The Man Who Walked Backward Down the Na Pali Coast," Stephen McMillin mentions neither Kierkegaard nor his parable, but his tale seems heavily influenced by both. The story's narrator, Peter McDonald, whose name is too similar to McMillin's to avoid identity, is a jaded photographer -- a cynical recorder of events, like a novelist. After a lifetime as a photojournalist, he is interested only in money and a quiet time.
In this spirit, McDonald agrees to photograph the progress of a mysterious cult leader called John who walks backward wherever he goes. In the story John (almost always referred to as The Man) leads a small band of followers down (or up) the Na Pali coast of Kauai in pursuit of a vague and ill-defined karma.
Exactly why they follow him is unclear, though John seems to promise some kind of spiritual completion. It's all very New Agey. McDonald trails along, taking pictures but also increasingly irked by The Man's portentously empty pronouncements.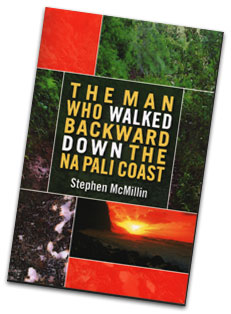 Unfortunately, this attractive start quickly morphs into a rather ponderous Christian allegory. The Man becomes a deity, and his followers split into bitterly divided sects. Their biggest battle is over whether they should "never forget" or "always remember," a caricature of the semantic differences (as McMillin takes it) separating some churches.
It's a little like "Lord of the Flies" for grown-ups, except that McMillin seems more intent on pricking the bubble of Christian theology than explaining its rise in psychological terms (as does Golding). At one point a herd of feral goats surrounds a sect leader and bleats "Bah!" at him as he sermonizes. McDonald turns away from the whole thing in disgust.
As this suggests, "The Man Who Walked Backward" is often filled with heavy-handed symbols. The heaviest is the narrator's repetition of the phrase "I got the picture." He's a photographer, but also the only one who understands what's really going on.
Kierkegaard's conclusion is that the unfulfilled promise of intimacy "leaves a residue of despondency and dejection, which perhaps soon again leaves behind only greater languor." This is the tone of "The Man Who Walked Backward Down the Na Pali Coast" and the sense it, too, leaves behind.
"The Man Who Walked Backward ..."
can be ordered from
ww.thepalacegrounds.com
.
Michael Egan
is scholar in residence at Brigham Young University-Hawaii, adjunct professor of English at TransPacific Hawaii College and author of "The Tragedy of Richard II, Part One: A Newly Authenticated Play by William Shakespeare." E-mail him at
drmichaelegan@hawaii.rr.com