HiLIFE
Serious about cosplaying
Passive fun isn't for hard-core anime fans who toil to dress the part
It's around 8 p.m. on a recent Friday, and some of Jolene Sasaki's friends are just starting to trickle in to her Village Park home.
Kawaii Kon 2007
Place: Hawaii Convention Center, third floor

When: 9 a.m. to midnight Friday and Saturday; 9 a.m. to 6 p.m. Sunday

Admission: $25 single-day pass, $35 for two days, $45 for three; children $15, $25 and $35

Information: www.kawaii-kon.org
On the menu tonight: pita pockets and assorted snacks. Byron Kamimura brings some ground beef that he gets to cooking in the kitchen as Sasaki starts making cupcakes. A dozen soda boxes sit elsewhere in the room.
A few more people straggle in. Talk soon turns to dinner, school, work, family and the crime dramas playing on TV.
About an hour and a half later, Sasaki says in her gentle voice, "So, anyone want to start on buckles?" The eight group members clear away dinner, head for the soda boxes and bring out ... costume pieces. Half contain Styrofoam pieces that will become shoulder pads. The other half are full of vinyl pieces cut into arrow shapes that will become buckles for jackets -- the main reason for tonight's get-together.
They bring out their partially completed costumes -- adapted from the upcoming video game "Final Fantasy XIII: Agito" -- and tools, and get started.
So begins another long night in one segment of the cosplay community -- those who have such a love for anime (Japanese animation) and manga (Japanese comic books) that they dress up as the characters. It's a love that will be in full display this weekend as Kawaii Kon, Hawaii's own anime convention, plays out at the Hawaii Convention Center.
Cosplay, a Japanese term combining the English words "costume" and "play," generally describes this fandom segment that also goes out for video games and tokusatsu (Japanese live-action superhero shows like "Kikaida" and "Kamen Rider V3").
The amount of attention and detail that groups such as Sasaki's go to may make the hobby seem daunting to aspiring cosplayers, particularly the thought of having to wield a needle and thread. But experienced cosplayers say anyone can start off with "quasi-cosplay," taking existing clothing and modifying it.
"The first costume should be an easy one, not real complicated," said Sasaki's boyfriend, Ron Kaneshige, 26, who last year dressed as Ishida, a bespectacled, bow-wielding character from the anime "Bleach."
Oahu Anime Explorer president Kell Komatsubara, 40, wore a suit from his days as a part-time racer as his first costume in 2003, when "Initial D," an anime about drift racers on the mountain roads of Japan, was popular. Since then, he and other members of his group buy made-to-order costume elements from Hong Kong, and turn to eBay and garage sales for other accessories.
"If you're talented enough to cut and sew your own, that's great, but not all of us can do that," Komatsubara said.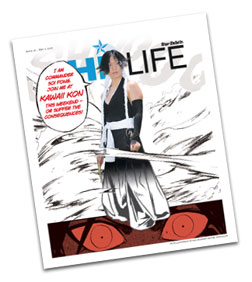 More experienced cosplayers stress that costume-making involves a lot of experimenting. Sasaki, 25, a University of Hawaii student and graphic designer who has dressmaking experience, does a lot of deconstructing of character artwork and pattern-making before the actual sewing. Even then, "it's a lot of trial and error," Sasaki said. Within her group, "my costume is always a prototype."
But making the costume is only part of the fun; much of the cosplay experience comes in going public. Audra Furuichi, 28, a cosplayer for seven years, has two particular favorites for this purpose: intergalactic pop star Lynn Minmay from the movie "Macross: Do You Remember Love," and Riza Hawkeye, a member of the State Military in the popular anime series "Fullmetal Alchemist."
"It was just really exciting to be a part of that group of people who were playing around in character, running around, and people taking their pictures," Furuichi said.
Even the simplest costume can draw attention. Furuichi's boyfriend, Scott Yoshinaga, dressed up as a coffee-shop worker from "Azumanga Daioh" at Kawaii Kon in 2005. He used an apron set purchased from a kitchen supply store and a cat-ear hat hand-crafted from a paper template and some stitched-together burgundy fleece.
Yoshinaga sold the hat at the convention for $40.
"I was like, 'Wow, I didn't think anybody was gonna buy it,' " Yoshinaga said. "As soon as I put it out there, maybe 10 minutes later, they're like, 'I WANT THIS! Who's selling this thing?' "
Sometimes a costume can seem too realistic. Last Halloween, Komatsubara dressed as crazed killer Bijomaru, from the live-action Japanese movie "Azumi," for Oahu Anime Explorer's annual gathering in Waikiki. It was too much for a Japanese child of about 8 who shared an elevator with Komatsubara.
"The kid looks at me and screams," Komatsubara said. "The dad and mom laugh -- they told me he just saw that movie. I get in the elevator and go down and the kid's just hiding."
Costume accuracy can net awards. Lauren Lee, 19, claimed the masters division title at Kawaii Kon's costume contest last year for her rendition of Princess Tutu, titular character in a fairy-tale anime about ballet. The Honolulu Community College fashion design major has made her own costumes since 2003, wearing at least one different costume for every day of a convention. She wore three in one day at the nation's largest anime convention, Anime Expo in Southern California.
"It's a good way to meet other people," Lee said. "Random strangers will come up to me, ask for a picture, and we'll start talking and eventually you make friends."
Deep friendships do evolve. "We're a whole community now," Lee said of friends met through Kawaii Kon and Anime Expo.
For Sasaki, cosplaying and Kawaii Kon have widened her circle of friends. "The first Kawaii Kon, we had about five or six people. Then it went to 12, then to 16," she said. Now the group meets at her home for costume making nearly every weekend during the pre-convention months, often staying as late as 3 a.m.
But "it isn't just about the costume," Kaneshige said. "We have a lot of fun times while sewing. ... A lot of it's not spent sewing. The rest is eating, goofing off, laughing at people, making jokes."