| | |
| --- | --- |
| | Island Mele |
---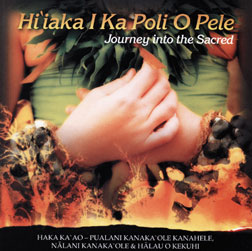 "Hi'iaka I Ka Poli 'O Pele"
Pualani Kanaka'ole Kanahele, Nalani Kanaka'ole and Halau O Kekuhi
(The Mountain Apple Co.)
The hula legacy of Edith Kanaka'ole is such an important part of island culture that every album released by her daughters, Pualani Kanaka'ole Kanahele and Nalani Kanaka'ole, and the Halau o Kekuki is significant. This one shares -- in Hawaiian chant and English narration -- the story of how Pele and her brothers and sisters came here from Tahiti, and of the development and metamorphosis of one of her sisters, Hi'iaka I Ka Poli 'O Pele.
The story describes the group's arrival in the northwest islands and their movement through the main Hawaiian islands until Pele finally settles on the Big Island. Anyone with prior knowledge of these tales will anticipate the conflicts that follow.
The chanted passages -- some by groups, some by individuals -- are mesmerizing, those of the soloists particularly so.
English translations are not included but additional information is available at www.edithkanakaolefoundation.org.
---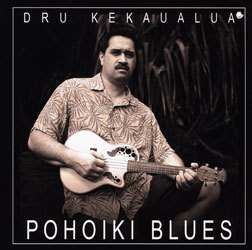 "Pohoiki Blues"
Dru Kekaualua
(no label)
Three distinct repertoires are found in the solo debut of Dru Kekaualua. Some selections present him as a earnest songwriter who still must master nuances of rhyme and meter, but who clearly has ideas to share. Others find him interpreting pop chart oldies with mixed success. He also sings Hawaiian-style falsetto, and those selections are the most impressive over all -- "Kalaupapa" and "Kanani A'o Ka'u" display his ability to sing very high falsetto. Make no mistake about it, this guy can really get up there!
Kekaualua writes in the liner notes that these are songs that he's always dreamed of recording. That's reason enough, perhaps, to justify the otherwise jejune remakes of "Welcome to My World," and "I'm Stone in Love with You" and the worst of all, "Help Me Make It Through the Night."
On the other hand, an astute change of tempo on "Sad Eyes," making it not quite Jawaiian but distinctly different from familiar pop tempo, puts that pop tear-jerker in a fresh and interesting context.
Kekaualua also distinguishes himself with the title song. The combination of dark minor chords and a bright ukulele lead evokes memories of a long-gone Big Island trio, Ka'u, and serves notice that Kekaualua is an artist to keep an eye on.
---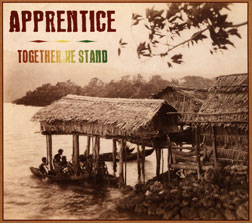 "Together We Stand"
Apprentice
(Sharpnote)
The popularity of reggae extends to the Solomon Islands of Melanesia, the home of this nine-man group. Apprentice sounds a lot like Big Mountain, and that should suffice to secure prime-time airplay on Hawaii's island music radio stations.
Lead vocalist Nelson Mamae gets solid support from the rhythm section, and the rest of the band fills in smoothy around him. Guitarist Timothy Orudiana provides bright melodic embellishments and the two keyboardists are effective substitutes for an old-school horn section. Several members of the group contribute as songwriters; "Mother Earth, a call for ecological responsibility from Mamae and Orudiana, covers a familiar but important subject in articulate and commercial style.
The only thing missing from this polished mainstream reggae album is any hint of the groups' own culture, musical heritage and regional political concerns. Most Americans know very little about the culture of the Solomon Islands, and a taste of it could have made Apprentice stand out, rather than being the latest group that sounds like Big Mountain -- no matter how commercial that can be.


John Berger
, who has covered the local entertainment scene since 1972, writes reviews of recordings produced by Hawaii artists. See the Star-Bulletin's Today section on Fridays for the latest reviews. Reach John Berger at
jberger@starbulletin.com
.