Indie film by Vietnamese has high-profile debut
NOW IS a good time to be a movie buff in Honolulu -- and I'm not talking about the latest blockbusters, either.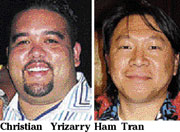 As the Hawaii International Film Festival's "Spring Showcase" wraps up a successful run this week, another independent project makes its debut Friday at the Regal Dole Cannery 18. "Journey from the Fall" is a gripping tale about a Vietnamese family in the late 1970s who are split up when the father is sent to a socialist "re-education camp" while the man's wife, child and mother decide to make a treacherous trip by boat out of the country to gain their freedom.
"It's not one of those stories that's in history books," said California-based director Ham Tran. "But it's happened to seven out of every 10 Vietnamese-Americans."
Tran made the trip to Hawaii to host a special premiere screening at the state capitol on Monday, with Gov. Linda Lingle showing up to make a brief appearance at a reception beforehand. The movie made its debut in California last month, and will appear on screens in Oregon, Georgia and Massachusetts this summer before being released on DVD in October. Check out www.journeyfromthefall.com for more info, or to buy tickets online.
And if you like B-movies, the University of Hawaii at Manoa's Center for Hawaiian Studies hosts "Attack of the Killer B's" this Saturday and next. Free screenings will start at 1 p.m. ...
ANOTHER BAND is getting ready to invade the mainland, and they need your help paying for it.
Upstanding Youth is a local ska group with three Hawaii Music Awards to their credit, and have opened shows for bands like Reel Big Fish, Papa Roach, Sum 41 and Everclear. They plan to tour California, Arizona, New Mexico, Utah and Nevada from May 13 to 27 in support of their latest release, "Still."
On Friday, they'll play with Linus, Golfcart Rebellion and Pacifica during at 18-and-over show at Sound|House. Doors open at 9 p.m. ...
CATCHING UP: Christian Yrizarry isn't slowing down after Ho'onu'a announced its breakup last year. He's partnered with Sani Apuakehau to launch a new band, Beach 5, and will release a new album later this year. Expect material that was supposed to be on the next Ho'onu'a record ... Johnny Helm was at Jack Johnson's "Kokua Festival" last weekend, sitting in with Ernie Cruz Jr. He'll also serve as Ernie's brother John Cruz's road manager when he leaves for a mainland tour later this year. For now, catch him at Holokai Grill in Waikiki from 9:30 to 11:30 p.m. Tuesdays and Saturdays ... Makani Tabura has landed another radio gig after leaving Island 98.5. He'll debut on KALZ-FM in Fresno, Calif. early next month, but plans to return home to host various events from time to time ...
UH STUDENTS don't have to travel far for a quality show on Friday.
KCCN FM-100 hosts the annual "UH Aloha Bash" from 5 to 10:30 p.m. at Andrews Amphitheatre, featuring live performances by the Opihi Pickers, Ho'aikane and Fiji. They'll open for reggae legends The Wailers, who were just on tour in Europe with Go Jimmy Go ...