---
FAST FACTS HAWAII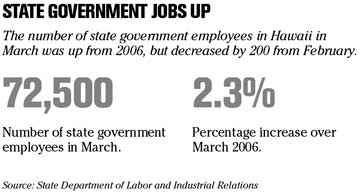 ---
Central Pacific sets stock buyback
Central Pacific Financial Corp.,
the state's fourth-largest bank in terms of assets, said yesterday its board authorized a stock buyback of up to 600,000 shares.
Central Pacific's repurchase plan represents about 2 percent of the company's outstanding shares and will be in place until April 30, 2008. The new repurchase authorization rescinds any remaining shares available under the prior buyback plan.
"Renewal of our stock repurchase authorization will enhance shareholder value by allowing management to take advantage of market opportunities to optimize our capital level," Chief Financial Officer Dean Hirata said.
The board also declared a second-quarter dividend of 24 cents a share, payable June 15 to shareholders of record as of May 18. The parent of Central Pacific Bank has now kept its dividend the same for the last two quarters.
NCL switching to e-tickets
Norwegian Cruise Line
, parent company of Hawaii-based NCL America, will become one of the first cruise lines to implement all-electronic documents.
The company will begin booking all cruises electronically on May 28. For reservations that are paid in full and finalized, e-documents will be available up to 60 days prior to sailing. Passengers can access NCL travel documents on its Web site.
NCL's e-documents will include a welcome-aboard letter, cruise ticket, passenger terms and conditions, hotel and cruise-transfer vouchers, airline e-ticket if applicable, and printable electronic luggage tags.
To prepare for the shift to e-documents, NCL is asking its travel partners to visit www.ncl.com/agencyupdate between April 26 and May 28 to update their profiles.
Industrial space still tight
Oahu's first-quarter industrial vacancy rate at 1.92 percent, according to data released yesterday from
Colliers Monroe Friedlander
, marking the fifth consecutive year below 3 percent.
The first-quarter vacancy rate is slightly higher than the 1.86 percent Colliers recorded in mid-year 2006, as well as the decade low of 1.71 percent, reached at year-end 2004.
Several large blocks of space became available in the Aiea, Mapunapuna and Halawa markets, but many large leases also absorbed much of the market.
E Noa Tours leased 55,000 square feet at the former Otani Building on Waikamilo Road, while Whirlpool Corp. took 42,500 square feet in Waipahu.
Naniloa workers win $100,000
After two recent labor setbacks related to the sale of the Hawaii Naniloa Resort, the International Longshore and Warehouse Union, Local 142 scored some judicial relief for former union workers at the hotel.
Senior United States District Court Judge Samuel P. King awarded former union workers at the Hawaii Naniloa Resort $100,000 in additional severance pay. Hawaii Outdoor Tours laid off 118 members of Local 142, the International Longshore and Warehouse Union when it purchased the Hilo-based hotel in 2005.
Only about 20 of the roughly 140 workers at the hotel were rehired by new owner Ken Fujiyama, who said he rehired only those who he felt could best fit with his goal of turning the hotel, now known as the Naniloa Volcanoes Resort, into a first-class, luxury destination in East Hawaii.
Local 142 has accused Fujiyama of trying to eliminate union representation at the Naniloa. Last month, a union challenge to Fujiyama's purchase of the Hawaii Naniloa Resort was thrown out of court by Circuit Judge Glenn Hara and an attempt to restore union representation failed.
---
Nissan net drops
TOKYO »
Nissan Motor Co.
marked its first drop in annual profit in seven years yesterday, the first such setback under the leadership of Carlos Ghosn, who salvaged the Japanese automaker from collapse. He also acknowledged Nissan would need an extra year to meet a key production target.
The big problem at Japan's No. 3 automaker, which also makes the Infiniti luxury brand, has been faltering sales in important markets at a time when offerings from Japanese rivals Toyota Motor Corp. and Honda Motor Co. are hot-sellers.
Nissan said its group net profit plunged 54 percent in the January-March quarter to 70.6 billion yen ($595 million), down from 152.4 billion yen, job-reduction costs and higher taxes offset improved sales. Quarterly sales rose 7 percent to 2.8 trillion yen ($23.6 billion).
Mortgage rates slip
WASHINGTON » Rates on 30-year mortgages edged down for a second week as financial markets interpreted weakness in consumer confidence and home sales as evidence that the economy is still mired in a period of lackluster growth.
In its weekly survey, mortgage giant Freddie Mac reported yesterday that 30-year, fixed-rate mortgages averaged 6.16 percent nationwide this week, down slightly from 6.17 percent last week.
The decline put the 30-year rate close to its low of the year of 6.14 percent in early March.
Rates on 15-year fixed-rate mortgages, a popular choice for refinancing, dipped to 5.87 percent, down from 5.89 percent last week. Five-year adjustable-rate mortgages averaged 5.88 percent, compared with 5.92 percent last week. One-year adjustable-rate mortgages edged down to 5.43 percent from 5.45 percent last week.
Microsoft profit up
SEATTLE »
Microsoft Corp.
's fiscal third-quarter profit jumped 65 percent, buoyed by sales of its new versions of Windows and Office and by upgrade coupons for the operating system issued over the holidays.
Earnings for the quarter ended March 31 rose to $4.93 billion, or 50 cents per share -- analysts had forecast 46 cents -- from $2.98 billion, or 29 cents per share in same period last year.
Revenue for the quarter rose 32 percent to $14.4 billion. Wall Street was looking for $13.89 billion in sales.
Microsoft's "client" division, responsible for Windows, brought in $5.27 billion in sales, 67 percent higher than a year ago.
---
BUSINESS PULSE