| | |
| --- | --- |
| | Newswatch |
---
ANZAC REMEMBRANCE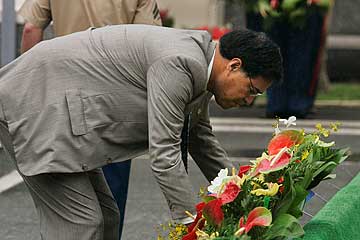 Man indicted in beating death
A grand jury indicted a 53-year-old man yesterday on a second-degree murder charge for allegedly beating a disabled Waianae man who later died.
Gary Avilez, who has no local address, beat Domingo "Junior" Correa, 69, in the Waianae Burger King on April 7, leaving him on his back, floating in and out of consciousness, according to the indictment.
He inflicted "serious or substantial bodily injury" upon Correa, the indictment says.
A restaurant employee said she heard an argument and, upon checking, saw Avilez choking Correa with both hands, according to the indictment. She went to look for her manager and then returned to find Avilez was not with Correa, but still in the restaurant.
Paramedics took Correa to the hospital in serious condition.
Correa was a regular customer, employees said.
Avilez's bail was set at $50,000.
Senate panel to hear Akaka Bill
U.S. Sen. Daniel Akaka is going back for another try with his bill to set up a process to recognize a native Hawaiian government.
The so-called Akaka Bill, which has been introduced but not passed for the past seven years, will get a hearing before a Democratic-controlled Senate next week.
Akaka said he is encouraged about the bill's chances of success. "I remain optimistic about finally providing the parity between native Hawaiians and our country's other indigenous people that is long overdue," Akaka said in a news release.
The hearing is set before the Senate Indian Affairs Committee next Thursday. The measure has previously passed the Indian Affairs committee, but opponents have filibustered the bill, preventing it from being voted on by the entire Senate.
Lingle vetoes vacancies measure
Gov. Linda Lingle vetoed a bill yesterday that would require her to choose from a list of candidates submitted by Hawaii's political parties when filling vacancies in the state Legislature or the U.S. Senate.
Under the proposal, the political party of the former incumbent would submit a list of three names from which the governor would choose a replacement. Currently, Lingle can choose anyone, as long as he or she is from the same political party as the incumbent.
"This bill places the ability for determining who may be appointed by the governor with the political party leadership," Lingle wrote in her veto message. "This is in spite of the fact that these individuals are not elected by the public and, as such, are not accountable to them."
The bill is meant to prevent a fiasco like the one involving former Rep. Bev Harbin. Lingle, a Republican, chose Harbin in 2005 to succeed a Democratic member of the state House, even though she was not on a list of candidates submitted by the Democratic Party.
Lingle later called for Harbin to resign after it was learned she had a criminal record. Party officials had also complained Harbin joined the party just three days after her predecessor announced his resignation plans. Harbin lost her seat after failing to win her Democratic primary last year.
Democratic leaders have said they might attempt to override Lingle's veto next week.
Torney to head Youth Services
Martha T. Torney is the new executive director of the state Office of Youth Services.
Gov. Linda Lingle named her to the post yesterday.
She had been acting executive director since last December when former Executive Director Sharon Agnew resigned. At the time, Torney said she had no plan to pursue permanent appointment to the job. She joined the OYS as a youth development officer in January 2006.
Torney previously served as the youth services officer for Hawaii Youth Correctional Facility from 1987 to 1991 and worked for the state Department of Public Safety in various other jobs for 22 years. She was also a contract psychotherapist for juveniles at HYCF and adult state prisoners.
---
SHINING STARS
---
EPA recognizes Jack Johnson's efforts
Kokua Hawaii Foundation
and founder
Jack Johnson
were recognized by the U.S. Environmental Protection Agency for their efforts to protect and preserve Hawaii's environment in 2006. Johnson, a singer-songwriter, promoted environmentally conscious music, enterprises and charitable events through the nonprofit educational organization.
---
Curves Hawaii collected 16,462 pounds of food for Hawaii Foodbanks on all islands by organizing a food drive at its 32 locations in March.
---
St. Joseph School in Hilo was given the We the People "Pursuit of Happiness" Bookshelf, a set of classic books on American culture for young readers, from the National Endowment for the Humanities. The school was among 2,000 school libraries nationwide selected to receive the gift.
---
Goodwill Industries of Hawaii received $20,000 from the Sophie Russell Testamentary Trust for the replacement of computer equipment and network servers.
---
The Hawaiian Humane Society received grants from the George P. and Ida Tenney Castle Fund, which donated $60,000; and the Sophie Russell Testamentary Trust, which gave $30,000.
---
"Shining Stars" runs Monday through Thursday.
| | |
| --- | --- |
| | Police, Fire, Courts |
---
WAIKIKI
Man's body found near sea wall
An off-duty lifeguard found the body of a man floating off Waikiki yesterday.
The lifeguard reported finding the body at 7:39 a.m. off the sea wall near the 2500 block of Kalakaua Avenue across from the Pacific Beach Hotel. Police said the man appeared to be in his early 40s, about 5 feet 10 inches tall and 160 pounds. He was wearing only a pair of maroon shorts.
Police said the man could have either fallen off the wall or dived onto the reef. Foul play is not suspected, they said.
HONOLULU
Man faces sex assault charge
Police have arrested a 64-year-old Kalihi man for allegedly inappropriately touching a boy.
The boy, whose age is not being released, reported being inappropriately touched on Friday. Further details were not released.
The suspect was arrested on suspicion of third-degree sexual assault.
2 arrested on stolen-car charge
Police arrested two men yesterday after a caller reported they were stripping a vehicle in Kalihi.
Police arrived at Halona Street at about 2:30 p.m. and found the men, 19 and 22, standing in front of a silver Honda that appeared to be abandoned. Another vehicle nearby was found to be stolen.
Police said the 22-year-old man reported that the younger man was operating the vehicle.
The owner of the vehicle told police that he did not know the two men.
Police arrested the 22-year-old man on a warrant and the 19-year-old man on suspicion of operating a stolen vehicle.
Try to steal candy leads to arrest
Police arrested a 33-year-old man yesterday who allegedly attempted to steal three pieces of candy from a Kalihi store.
The man allegedly used force against a security officer, a 25-year-old man, in an attempt to escape with the candy.
Police arrested the man at about 3:45 p.m. on suspicion of second-degree robbery.
CENTRAL OAHU
Juvenile fights off kidnap attempt
Police are searching for a man in his 20s who attempted to kidnap a juvenile in Mililani on Tuesday.
At about 2:40 p.m. Tuesday, the man pulled up to a bus stop and offered the victim a ride, police said. The victim, who did not know the man, refused, and the man got out and grabbed the victim's arm.
The juvenile struck the man's face, and he let go and fled in his vehicle, police said. Police did not release information about the victim's sex or age.
Speeding car was stolen; driver held
Police arrested a 29-year-old man who was allegedly caught speeding in a stolen car.
Police said that at about 1:10 a.m. Monday, an officer saw a vehicle driving 70 mph in a 55-mph zone on the H-2 freeway.
The officer ran a check on the license plate and learned that the car was stolen, police said.
The officer pulled over the car and arrested the man for investigation of auto theft.
LEEWARD OAHU
Suspect attempts to rob passenger
A 34-year-old man was arrested Tuesday night after a failed attempt to rob a teenager in his car, police said.
Police said an 18-year-old man was sitting in his car in Ewa Beach at about 8:45 p.m. when the suspect approached him and threatened him with bodily harm if he did not hand over his personal items.
The victim tried to flee, but the suspect allegedly reached in and started attacking him.
Police were called, and after officers found the suspect, they arrested him for investigation of second-degree robbery and unauthorized entry into a motor vehicle.
NEIGHBOR ISLANDS
Search fails to find kayaker
A search for a kayaker who might be missing off the west coast of the Big Island failed to find any trace of the person yesterday, and no search is planned today unless new information becomes available, the Hawaii County Fire Department said.
Fire rescue personnel received a report Tuesday night of a possible kayaker in distress offshore from Puako, but no friend or relative reported anyone missing.
A search by county helicopter and a coast guard C-130 plane failed to find any trace of a missing person yesterday.