---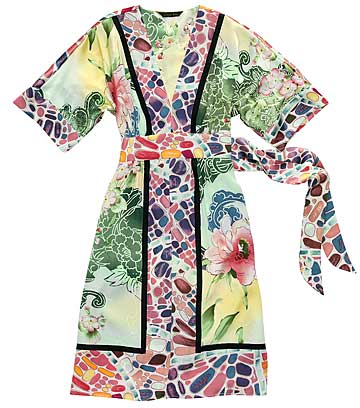 NEIMAN MARCUS
This NM exclusive multicolor printed silk charmeuse kimono dress from Single Dress is $265.
Hot stuff at NM
As the days get warmer, the timing is perfect for Neiman Marcus' Hot Event today through Saturday, for those who haven't yet found their season's statement dress.
Those who make a $500 purchase from the store will receive a $100 discount (valid only during the event) toward a regular-price dress of their choice, including NM exclusive dresses from Diane von Furstenburg, Milly, Laundry by Shelli Segal, Nicole Miller, Vera Wang, Theory and more.
To get an idea of what's available and how to accessorize, there will be informal modeling from noon to 2 p.m. all three days.
Also at NM:
May 3 to 5: Frederic Fekkai stylist event with stylist Kasai, from the Beverly Hills salon, who will launch Fekkai's summer hair care collection. Receive a personal consultation on hair care and styling by making an appointment at 948-7390. Times are 11 a.m. to 5 p.m. May 3, noon to 7 p.m. May 4 and noon to 6 p.m. May 5.
Red, red weekend
Bonnie's Closet will be marking the ninth anniversary of the Red Hat Society with wine, cheese, red-hat contests and discounts on all red and purple clothing from 4 to 7 p.m. tomorrow.
For the young'uns who haven't heard about the society, it was founded in the spirit of fun to allow women over the age of 50 to flout all rules of modesty and color sense by leaving their homes on designated days dressed in flamboyant purple dresses and red hats. There are approximately 75 Red Hat chapters in Hawaii. (Those younger than 50 may participate by donning lavender dresses with pink hats.)
Shoppers will also receive discounts from noon Friday, and noon to 5 p.m. Saturday, with another red-hat contest at 2 p.m. Saturday and raffle drawings both days.
Bonnie's Closet is at 1026 Nuuanu Ave. Call 585-8116 for more information.
Rewards at Ward
Ward Centers will host a Friends and Family ReWARDS Weekend Saturday and Sunday, with more than 50 merchants participating by offering up to 50 percent off merchandise.
Pick up a ReWARDS Card at any participating merchant and spend more than $25 on either day to be entered to win one of 10 Consolidated Ward 16 Family 4-Packs, including movie tickets, a large popcorn and four regular drinks. (Or enter online at www.wardcenters.com.)
Off celebs' backs
With all the fascination over wearing what celebs wear, the next step is taking the clothes off their stylish backs, and now you can do just that via the "Beautiful Skin Is Fashionable" celebrity charity auction hosted by Jergens Skincare to celebrate its 125th anniversary, and the Clothes Off Our Back Foundation.
The foundation was created by Jane Kaczmarek ("Malcolm in the Middle") and Bradley Whitford ("The West Wing," "Studio 60 on the Sunset Strip") to auction celebrity clothing to raise money for children's charities.
Stars who have donated their clothing include Charlize Theron, Jessica Biel, Jacinda Barrett, Penelope Cruz, Maria Sharapova and Tori Spelling.
View the auctions at www.jergens.com or www.clothesoffourback.org. All auction winners will also receive a complete wardrobe of Jergens. The auctions end May 3.
---
Soldier's solace
Deployed soldier-dads who will not be able to spend Father's Day with their families may instead win a portrait of their children.
Island Style Images
is giving away two portrait sessions, based on letters from family and friends on behalf of soldiers stationed in Hawaii. Letters will be accepted through May 18.
The winners' children will be photographed and a care package with portraits, a DVD slide show and other items will be shipped to him.
Mail nominating letters to Island Style Images, P.O. Box 240291, Honolulu 96824 or e-mail Joanne@IslandStyleImages.com. Include name, telephone number, address, soldier's name, rank, mailing information, number of children and ages. Portrait sessions will be scheduled between May 21 and 28.
King for a week
Aloha Festivals is seeking applicants of Hawaiian ancestry for the Maui Royal Court.
Applicants for king and queen must be at least 30 years old, and prince and princess candidates must be between 16 and 20.
Deadline to apply is Monday.
Call Toni Rojas at (808) 573-7626, e-mail tonirojas@hawaii.rr.com or visit www.alohafestivals.com. For information on qualification criteria, contact Charlian Wright, 589-1771.