---
FAST FACTS HAWAII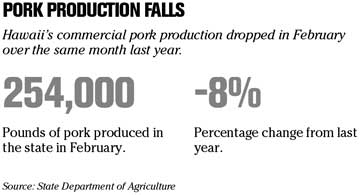 ---
[ HAWAII INC. ]
NEW HIRES / PROMOTIONS
» Kulana Malama has announced the following new hires:
Jon Kobayashi
has been named administrator. He previously served as administrator for Leahi Hospital and has more than 25 years experience in health care.
Byron Aoki
has been named medical director. He previously served as director of Kapiolani Medical Center's pediatric intensive care unit and has more than 20 years of pediatric health care experience in both Hawaii and California.
Sherry Loo
has been named associate medical director. She previously served as a neonatologist in Kapiolani Medical Center's neonatal intensive care unit.
Paul Bursey
has been named director of nursing services. He has more than 29 years of health care management in emergency medicine and intensive care units of both adult and children's facilities, including managing care for medically fragile children and their families.
Wendell Inouye
has been named respiratory therapist. He will be responsible for all respiratory care evaluations, therapeutic treatments and diagnostic procedures, and help develop and modify individual patient care plans.
Patria Weston-Lee
has been hired as case manager. She will be plan, facilitate and advocate options and services to meet individual care needs for the children at the hospital.
» Kauai Coffee Co., a subsidiary of Alexander & Baldwin Inc. has hired Wayne Katayama as president and general manager. He replaces Frank Kiger, who will serve as vice-chairman and senior vice president of factory operations for Hawaiian Commercial & Sugar Co. Katayama will be responsible for orchard and factory operations and shops, the visitor center and mail order program, and administration. He previously served as president of both Kilauea Agronomics and Hawaiian Fruit Specialties and has more than 20 years of management and agricultural experience.
AWARDS / CERTIFICATIONS
» Marriott International has awarded Waikiki Beach Marriott Resort & Spa general manager
Chris Tatum
with the 2007 Marriott International General Manager of the Year Award. The award is given to a general manager for exemplary leadership, contributions to business and serving as a role model for professional expertise, innovation and achievement.
---
Pacific Wings names mainland unit
Maui-based
Pacific Wings
, which last month was awarded Essential Air Service contracts in New Mexico for Albuquerque, Hobbs and Carlsbad, has named its new division New Mexico Airlines and taken delivery of its first Cessna Grand Caravan aircraft.
The airline is finalizing regulatory and other details necessary to confirm a startup date. The carrier, which is in negotiations on its second and third new planes, has launched a Web site at www.newmexicoairlines.com.
New Mexico Airlines also plans to provide nonstop service between Midland/Odessa from Hobbs and El Paso from Carlsbad, as well as connecting service to Santa Fe. Pacific Wings provides more than 90 scheduled daily flights to 10 cities on five Hawaiian islands.
---
Delta bankruptcy exit approved
NEW YORK » A federal bankruptcy judge approved on Wednesday a Delta Air Lines plan to exit bankruptcy after the nation's third-largest airline spent nearly 20 months in a wrenching reorganization that cut 6,000 jobs and slashed $3 billion in costs.
Atlanta-based Delta Air Lines Inc. expects to emerge from court protection Monday. It estimates it will be worth $9.4 billion to $12 billion, after Delta reduced labor costs, restructured its fleet and terminated a pilots pension plan.
More than 95 percent of creditors voted to endorse the plan for Delta to leave bankruptcy.
Disneyland-area housing advances
ANAHEIM, Calif. » The City Council decided yesterday to pave the way for low-income housing at Disneyland's doorstep, delivering a jolt to the cozy relationship that Anaheim and its largest employer have enjoyed for more than half a century.
The council approved a zoning change that would permit construction of 1,500 condominiums, including more than 200 affordable housing units, inside a 2.2-square-mile resort district. The housing proposal includes a 26-acre parcel just a few blocks from Disneyland and across the street from Disney-owned land that could be the site of a future theme park.
The group Save Our Anaheim Resort Area, which includes Disneyland and owners of nearby hotels and businesses, wants the issue to be decided by voters.
Boeing earnings climb 27 percent
CHICAGO »
Boeing Co.
put more pressure on its European rival
Airbus
yesterday in the dog fight for the slot as the world's No. 1 airplane maker.
Boeing reported a 27 percent boost in first-quarter earnings that beat Wall Street projections, while its backlog surged to another record level. Meanwhile, its revenue grew 8 percent.
Chicago-based Boeing earned $877 million, or $1.13 per share, in the quarter ended March 31, compared with $692 million, or 88 cents per share, a year earlier.
Earlier this year, Boeing surpassed Airbus in plane orders, but the European company delivered more aircraft and held its position as the world's top airplane manufacturer. Boeing is expected to outpace Airbus' deliveries next year.
Sharp reports 15% profit jump
TOKYO » Profit at Japanese electronics maker
Sharp Corp.
jumped 15 percent in the latest fiscal year on strong sales of flat-panel televisions, mobile phones and refrigerators, the company said yesterday.
Net income surged to 101.7 billion yen ($861.9 million) in the year through March, while sales climbed 12 percent to 3.13 trillion yen ($26.5 billion), Sharp said.
Both results beat the company's own forecasts for full-year profit of 100 billion yen ($847.5 million) and sales of 3 trillion yen ($25.4 billion).
Sharp's rising fortunes come as many Japanese electronics makers struggle to compete against falling prices and increased competition from Asian rivals such as South Korea's Samsung Electronics Co.
Profits were lifted by hot-selling liquid crystal display televisions, whose sales surged 49 percent, and mobile phones, which jumped 29 percent.
---
BUSINESS PULSE