---
FAST FACTS HAWAII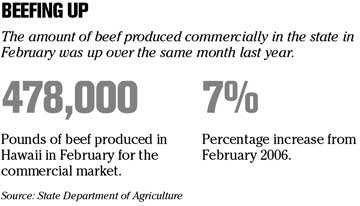 ---
Firms snag $4.5M in tech awards
The Center of Excellence for Research in Ocean Sciences (CEROS) will dole out more than $4.5 million to 14 Hawaii companies for fiscal year 2006.
Among the grant recipients are: BBN Technologies Corp., Creative Technology Applications, HR Biopetroleum, Innovative Technical Solutions, Knapp Engineering dba Structural Solutions, Lockheed Martin Orincon Defense, Makai Ocean Engineering, MIKEL, Navatek, Neptune Technologies, Oceantek, Science Applications International Corporation and Scientific Solutions.
The grant amounts ranged from $25,000 to $504,942. Four others are still being negotiated.
Founded with a grant from the U.S. Defense Advanced Research Projects Agency in 1993, CEROS' mission is to support Department of Defense technology requirements, encourage research and development in ocean sciences and technology in Hawaii.
[ HAWAII INC. ]
NEW HIRES / PROMOTIONS
» Roberts Hawaii has hired
Konrad Ikei
as director of marketing. He will be responsible for developing marketing strategies and branding for the company's products, tour and transportation services. He previously served as director of marketing for Coldwell Banker Pacific Properties and has 16 years of marketing experience.
» Sheraton Waikiki has promoted Rob Macias to outlet manager for the Hanohano Room from assistant outlet manager. He will oversee all operations including service quality, product quality, staffing, outside sales development and marketing, guest experience, entertainment and strategic program development. Before joining the hotel in 2006, he worked at various restaurants in Sacramento, Calif.
» Hale Kipa has named Jaque Kelley-Uyeoka deputy director of outreach services. She will oversee all program services in Hawaii. She previously was program director of outreach services and has served Hale Kipa since 1979.
» Heide & Cook Ltd. has hired Jason Fujihara as general manager for its Air Reps Hawaii subsidiary. He will oversee the company's line of air conditioning and cooling products. He previously served as vice president at Pacific Marine & Supply and will maintain his current position as president of Maintec Inc.
» Bank of Hawaii has hired Shari S. Motooka-Higa as manager of its new reverse mortgage loan center. She will be responsible for managing clients, loan officers and conducting continuing education courses on topics related to reverse mortgages, long-term care insurance and real estate. She previously served as principal, vice president and certified senior adviser for Financial Mortgage USA.
» First Hawaiian Bank has announced the following promotions: Eleanor Y. Chung has been promoted to trust operations officer. She will oversee documentation in support of the personal trust department. She has 30 years of trust area experience with the bank. Tracie Y. Jacinto has been promoted to business systems officer from information management analyst. She will be responsible for providing IT support and developing custom applications and databases to improve workplace efficiency. She joined the bank in 2006. Kristy N. Nishida has been promoted to investment officer from investment specialist. She will be responsible for client communications and account management. She joined the bank in 2006 and has more than five years of financial and investment experience.
» The Wilshire Grand Los Angeles has named S. Chris Park vice president and general manager effective March 1. He will oversee all Wilshire Grand Hotel personnel and outlets, as well as those at the Waikiki Resort. He will also provide strategic direction to optimize the hotel's position as the second-largest hotel in downtown Los Angeles during its extensive renovation. He previously served as general manager of the Sheraton Grande Walkerhill in Seoul, South Korea.
» Hawaii National Bank has announced the following promotions: Robert Nobriga has been promoted to senior vice president and chief financial officer. He previously served as chief financial and operations officer for the UH John A. Burns School of Medicine. Bryan Luke has been promoted to senior vice president of corporate strategy from vice president and consultant. He will oversee corporate strategy, human resources, marketing, training and branch systems. Other promotions to manager and assistant vice president are Louis Chun, Michael Lau, Jarrett Oshiro, Keith Shimomura and Joe Yit.
» The Pacific and Asian Affairs Council has promoted Jill Takasaki to executive director from associate director effective March 2007. She replaces Lisa Maruyama, who served for nine years. Takasaki will be responsible for overall management of the organization and working to achieve its mission to promote a greater awareness and understanding of foreign affairs issues with a focus on Hawaii's role in the Asia-Pacific region.
---
Ex-Apple officers face SEC charges
SAN JOSE, Calif. » The Securities and Exchange Commission filed civil charges yesterday against two former
Apple Inc.
officers over their alleged roles in backdating stock options.
The agency immediately announced a settlement with one of them.
Former Chief Financial Officer Fred Anderson, 62, has agreed to pay about $3.5 million in fines and penalties to settle the case, the SEC said.
The case against former general counsel Nancy Heinen, 50, will proceed. Her attorneys have vowed to fight the charges.
The commission accused Heinen of participating in fraudulent backdating and altering company records to conceal the fraud.
The SEC said it will not pursue any further action against Apple itself, which cooperated fully with the probe.
AT&T doubles gain in first quarter
SAN ANTONIO » Telecommunications heavyweight
AT&T Inc.
reported yesterday it doubled its profit and sales in the first three months of the year, primarily because of its completed acquisition of BellSouth.
Profit reached $2.85 billion, helped by the BellSouth acquisition and growth in wireless revenue. The earnings, which included $2.3 billion in acquisition-related charges and a $409 million gain from the sale of some assets, amounted to 45 cents per share for the period ended March 31.
First-quarter revenue rose 84 percent to $28.97 billion, up from a pre-merger tally of $15.76 billion in the same period a year ago.
High-end theft
A computer was stolen from a Neiman Marcus consultant that contained personal information, including names and social security numbers, on nearly 160,000 current and former employees, the luxury retailer said yesterday.
---
BUSINESS PULSE