HIGH SCHOOL BASKETBALL
No play-in state D-I game
There will be no play-in game between four leagues for the final Division I state basketball tournament berth.
Hawaii High School Athletic Association executive director Keith Amemiya confirmed that the Oahu Interscholastic Association will have six of the 12 berths. The ILH, Maui Interscholastic League and Big Island Interscholastic Federation will each have two berths.
Evolution
There are teams evolving with each day, and there are teams that are simply a year away.
Senior-heavy Punahou has found its identity, which is saying a lot since the Buffanblu lost All-State stars Shawna-Lei Kuehu and Shaena-Lyn Kuehu to injuries before the season.
The Buffanblu go 10, sometimes 11 deep with a relentless, in-your-face defensive pressure that covers all 94 feet of hardwood. Coach Mike Taylor never stops tinkering, adding layer upon layer of new strategy, new X's and O's. They are in third place in the Interscholastic League of Honolulu, but could surprise a lot of doubters by emerging as a force in the postseason.
Mid-Pacific, which got to see Punahou's development up close in a 57-37 loss on Saturday, is one of those teams that is so talented, yet so young.
As a group, the Owls are probably the best group of 15-and-under players in the state. The maturity level necessary to battle in the ILH, however, isn't easy to reach.
It won't be a surprise, though, if Mid-Pac rises to a new level next season. Post scorers Keaton McFadden and Jenna Savusa are only freshmen, as is guard Jordan Kealoha. High-scoring Johnnelle Kapua is just a sophomore.
All Hearts
The Lancers of the Academy of Sacred Hearts are relishing their time in Division II. After years of struggling with the bigger, established programs in ILH D-I, they are taking to the lower classification well.
With Saturday's last-second win over Punahou II, Sacred Hearts is now 10-0 in league play.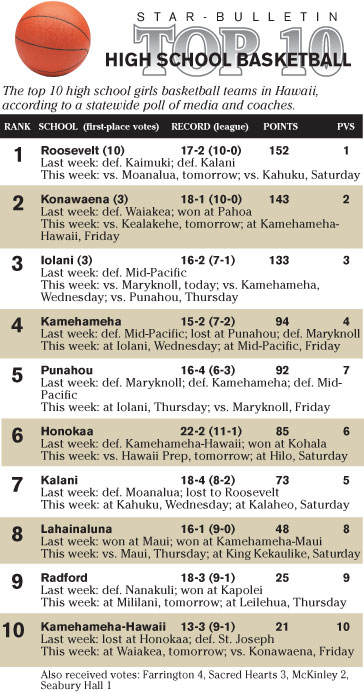 STANDINGS AND STATISTICS
ILH
| | | |
| --- | --- | --- |
| STANDINGS | W | L |
| Iolani | 7 | 1 |
| Kamehameha | 7 | 2 |
| Punahou | 6 | 3 |
| Mid-Pacific | 2 | 7 |
| Maryknoll | 0 | 9 |
SCORING
G
Pts
Avg
High

Nicole Fu, Mryk
9
142
15.8
26

Jamie Smith, Iol
8
113
14.1
18

Johnelle Kapua, MPI
9
107
11.9
23

Analee Viena-Lota, Kam
8
91
11.4
13

Alana Matayoshi, Iol
8
71
8.9
14

Melanie Feldman, Pun
8
70
8.8
18

Janelle Nomura, Pun
9
77
8.6
25

Jenna Savusa, MPI
9
75
8.3
14
3-pointers made

Chanel Hirata, Iol
9

Tiana Abbley, Kam
8

Nicole Fu, Mryk
8

Tami Konishi, Iol
8

Alexis Furtado, Kam
7

Sarah Turgeon, Iol
7

Johnelle Kapua, MPI
6

Jordan Kealoha, MPI
6

Kristen Canencia, Mryk
5

Dayna Jandoc, Iol
5

Janelle Nomura, Pun
5

Lindsey Wong, Kam
5
OIA Red East
| | | |
| --- | --- | --- |
| STANDINGS | W | L |
| Roosevelt | 10 | 0 |
| Kalani | 8 | 2 |
| Farrington | 7 | 4 |
| Kalaheo | 5 | 5 |
| Kahuku | 3 | 7 |
| Moanalua | 2 | 8 |
| Kaimuki | 1 | 10 |
SCORING
G
Pts
Avg
High

Shanadee Canon, Kalh
10
158
15.8
26

Jamie Ronolo, Moan
10
147
14.7
23

Iwalani Rodrigues, Roos
10
144
14.4
19

Courtney Gaddis, Kaln
10
133
13.3
22

Britni Ronolo, Moan
7
90
12.9
18

Megan Kamehiro, Kaln
10
118
11.8
23

Olivia Phommachanh, Kaim
11
125
11.4
26

Tiana Sugui, Roos
10
98
9.8
17

C'ani Kealoha, Far
11
106
9.6
21

LeNora Nauahi, Kah
10
90
9.0
14
3-pointers made

C'ani Kealoha, Far
21

Megan Kamehiro, Kaln
14

Elane Leaupepe, Far
12

Tiana Sugui, Roos
11

Olivia Phommachanh, Kaim
11

Tiyana Nakasone, Roos
10

Chloe Martin, Kaln
8

Jayna Tasaka, Roos
8

Deja Bryce, Far
6

Caira Pires, Kalh
6

Delicia Wilson, Kalh
6

Dianna Zane, Roos
6
OIA Red West
| | | |
| --- | --- | --- |
| STANDINGS | W | L |
| Radford | 9 | 1 |
| Aiea | 8 | 3 |
| Pearl City | 7 | 4 |
| Nanakuli | 3 | 7 |
| Kapolei | 3 | 7 |
| Mililani | 3 | 7 |
| Leilehua | 3 | 7 |
SCORING
G
Pts
Avg
High

Ta Nitra Byrd, Rad
10
152
15.2
23

Brittaney Stafford, Lei
10
147
14.7
24

Natasha Helsham, Aiea
11
143
13.0
23

Capri Holiona, Aiea
11
137
12.5
29

Jazmin Pahukoa-Malia, PC
11
136
12.4
19

Ashley Gonzales, Lei
10
115
11.5
16

Marlena Malepeai, Rad
5
54
10.8
14

Sasha Montez, Nan
10
105
10.5
20

Joleen Realin, Mil
9
84
9.3
14
3-pointers made

Ashlee Dela Cruz, Kapo
12

Natasha Helsham, Aiea
9

Jamielyn Kaleiwahea, Mil
9

Tahnee Foki, Kapo
8

Jazmin Pahukoa-Malia, PC
7

Sasha Montez, Nan
5

Brittaney Stafford, Lei
4

Chelsea Basilio, Mil
4

Ashley Gonzales, Lei
4

Kimi Ebina, Lei
4
OIA White
| | | |
| --- | --- | --- |
| EAST | W | L |
| McKinley | 10 | 1 |
| Kailua | 7 | 3 |
| Castle | 6 | 5 |
| Kaiser | 2 | 8 |
| Anuenue | 0 | 10 |
| WEST | W | L |
| Campbell | 10 | 1 |
| Waianae | 5 | 4 |
| Waialua | 5 | 5 |
| Waipahu | 1 | 9 |
SCORING
G
Pts
Avg
High

Chelsie Sato, McK
11
176
16.0
23

Jessica Dusich, Kais
10
143
14.3
25

Danielle Lovell, Wain
9
112
12.4
23

Chelsey Ramirez, Wail
10
121
12.1
19

Margaret Siligo, Waip
10
110
11.0
18

Ashley Jacobs, Kail
10
108
10.8
16

Aloha Dias-Kekahuna, Camp
11
114
10.4
24

Kimberly Meyerowitz, Wail
9
94
10.4
22

Chelsea Okuma, Kais
10
103
10.3
16

Kristen Corrales, Kail
10
101
10.1
14
3-pointers made

Chelsie Sato, McK
22

Kaitlyn Ikehara, McK
20

Chelsey Ramirez, Wail
20

Jackie Tihano, McK
17

Ashley Jacobs, Kail
16

Kristyn Mathenson, Kais
13

Kristen Corrales, Kail
12

Kori Berinobis, Cast
12

Chelsea Okuma, Kais
10

Kylie Sato, McK
10

Jessica Dusich, Kais
9

Cheyna Tagura, Camp
9
Sports
Hawaii News
Features
Business
Editorial
Tools