---
FAST FACTS HAWAII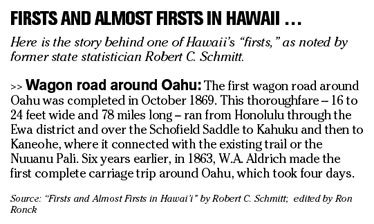 ---
NATION
How to survive coming job cuts
There you were, minding your own business, showing up to work every day, when everything changed. Your company, like many others in recent weeks, announced a restructuring that will lead to mass layoffs.
Before you quit your day job, here are a few tips to follow during those anxious weeks before the company identifies which departments will be targeted, according to John Challenger of employment consultants Challenger, Gray & Christmas of Chicago.
» Postpone your vacation and keep a perfect attendance record.
"You don't want to be out of sight because you could be out of mind," he said.
» Become an information sponge and be aware of trends in your industry.
» Work hard to develop strong relationships with the new leadership, and don't complain about changes.
» Avoid the temptation to fly under the radar. Keep your supervisor apprised of your achievements.
» If a pink slip still shows up on your desk, don't take more than a couple of weeks off. Once the sting wears off, start sending out resumes; it's prime time for other employers to snatch up your hardworking, talented self.
Corporations adopt matchmaking
The art of matchmaking, once reserved for meddlesome aunts and online dating services, has found its way into the corporate world. A new service identifies, profiles and matches job seekers with employers through a process that's not so different from
match.com
.
A series of assessments includes questions about the candidate's management style, problem-solving abilities and personal motivators, followed by a resume review, reference calls, and, gulp, background check, said Ashley Bowers of corporate matchmaker Solutions 4 Hiring.
The service offers one promise you won't find when it comes to matters of the heart: The eventual hire is guaranteed to stay in the job for at least four months, Bowers said.
Consider guidelines for wireless
Admit it. You can't ignore that little electronic ping that alerts you to a new e-mail or an incoming call.
More than a quarter of us report being so attached to our cell phones and laptops that we leave them alone only when we're asleep, according to a recent survey by career Web site Yahoo! HotJobs.
The survey also reports that 26 percent of respondents feel wireless devices keep them on a permanent corporate leash. While such devices can offer freedom and flexibility, setting guidelines can prevent them from consuming your personal time, said Tom Musbach, managing editor of Yahoo! HotJobs.
"You've got to talk to your manager about expectations and about boundaries," he said. "They don't come with rules of engagement."
Screen calls and promise yourself you won't check your Blackberry or work e-mail while on vacation, Musbach said. Don't use wireless devices while exercising either, or you'll just create stress instead of burning it off.
Lastly, don't forget to take advantage of the benefits, and use them to schedule fun and relaxation along with your next conference call.
Data for the survey was collected through an online questionnaire from more than 900 professionals who use wireless devices.
---
BUSINESS PULSE