| | |
| --- | --- |
| | Newswatch |
---
Remembering Don Ho
We would like you to share your memories and photos of Don Ho.
The Star-Bulletin will be publishing stories and photos celebrating Don Ho's life and we want to hear from readers about how you remember the legendary entertainer. E-mail your comments and photos to donho@starbulletin.com. Or mail to Honolulu Star-Bulletin, 500 Ala Moana Blvd. Suite 210, Honolulu, HI 96813.
Please limit your contributions to 100 words or less.
CAUSE FOR CHANGE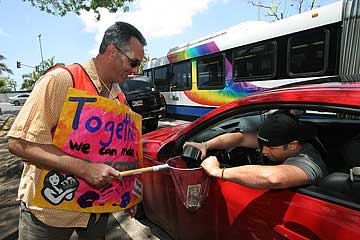 Senate panel OKs Van De Car
Lloyd Van De Car, a deputy attorney general in Hilo, is one step closer to becoming a Big Island Family Court judge.
The Senate Judiciary Committee voted unanimously yesterday to recommend confirmation for Van De Car.
The recommendation goes to the full Senate this week.
Van De Car would fill the vacancy left by Family Court Judge Ben Gaddis.
Road work closes part of Likelike
Townbound lanes on Likelike Highway between Kahekili Highway and Valley View Drive will be closed from tonight through Friday morning because of a resurfacing project.
The state Department of Transportation will be resurfacing the roadway and working on curbs and gutters this week. The closures will be from 8 p.m. to 4 a.m. Drivers are advised to use the H-3 Freeway or Pali Highway as alternate routes.
36 public schools will offer summer classes
Thirty-six public schools will offer summer classes this year, despite a shortened break taking effect this summer.
Tuition will be $160 for 120-hour sessions, prorated for shorter sessions. Some schools are already accepting registration, while some begin registration in May, according to the state Department of Education.
The DOE's online eSchool will also offer summer classes.
Summer classes are limited this year because changes to the school calendar shortened the summer recess to add a one-week break in the fall and another week to the winter and spring breaks.
In addition to the open enrollment schools, some schools are offering credit-recovery and remedial programs.
For more information, contact Keoni Inciong at 733-9141, ext. 260, or visit doe.k12.hi.us.
UH building redesign gets funds
Gov. Linda Lingle released $951,000 in design funds for the renovation of Gartley Hall at the University of Hawaii at Manoa campus.
The renovation will provide modern office and conference room space, correct health and safety code standards and make the facility accessible to people with disabilities.
Constructed in 1921, Gartley Hall is one of the oldest buildings in the "Old Quadrangle," which also includes Crawford Hall, George Hall, Hawaii Hall and Dean Hall. All five buildings are listed in the State and National Registers of Historic Places.
Gartley Hall houses the Department of Psychology.
A design consultant is expected to be selected by the end of this month and the work is expected to be completed next year.
The total cost of the renovation is estimated at $12,066,000.
The money for construction, however, is not in either the Senate or House versions of the budget, said Howard Todo, the UH vice president of finance.
| | |
| --- | --- |
| | Police, Fire, Courts |
---
11-year fugitive caught on Maui
A fugitive on the run for almost 11 years was arrested in Maui on Thursday night.
Erik Anderson was indicted in May 1996 in Pennsylvania for conspiracy to distribute and possession with intent to distribute LSD. Investigators hit a wall tracking him because his name is so common.
This month, a newly assigned deputy at the U.S. Marshals Service learned that Anderson was arrested in Honolulu in September last year for alleged domestic abuse. Anderson was released on probation in October, and was located in Haiku, Maui, where he was arrested.
---
HONOLULU
Driver of stolen mo-ped suspect in identity theft
A man driving a stolen mo-ped was arrested in McCully on Thursday and charged with vehicle and credit card theft, police said.
Michael Weigle, 30, was allegedly driving a stolen mo-ped when a patrol officer pulled him over on Kapiolani Boulevard near Wiliwili Street about 4:50 p.m.
When the mo-ped owner, a 20-year-old man, got the vehicle back, he found a shopping bag inside with items that did not belong to him, police said. They found several identification and bank cards not belonging to either the suspect or the mo-ped owner.
Weigle was charged Friday, and bail was set at $11,000.
Man accused of sex assault
Police arrested a man in his 20s after an acquaintance, 23, said he had forced her into sex.
The man was arrested in Waikiki yesterday around 6:30 a.m. on suspicion of first-degree sexual assault.
LEEWARD OAHU
Juvenile arrested in forgery case
A juvenile was arrested yesterday after attempting to use a counterfeit $100 bill in Waianae.
Police responded to a call from a restaurant where the juvenile tried to buy food about 6:20 p.m., and made the arrest for investigation of a felony forgery.
Police did not release the juvenile's sex or age.