BOOKS
Isle Pages
New releases from Hawaii authors
"The Actress and the Pope"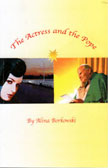 By Alina Borkowski
(Rose Dog Books)
102 pages, paperback
$13, www.rosedogbookstore.com
As a native of Poland who settled in Hawaii, the author was elated when Karol Wojtyla became Pope John Paul II. She writes of discovering and staging a play written by the pope, "The Jeweler's Shop," and later meeting the pontiff at the Vatican. The very personal account includes her photographs and newspaper articles about the play.