SUNDAY COMICS
New kids on the block
The tabloid section offers a mix of fresh comic features and some old favorites
Three months ago to the day, we asked you for suggestions on revamping the comic strip selection in our daily and Sunday editions. We wanted to know what strips you liked most and what strips you wouldn't mind seeing go.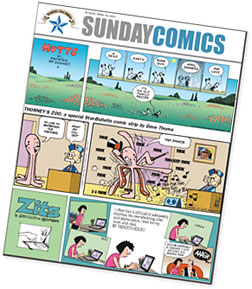 Considering we weren't offering any kind of prize for feedback, the response -- close to 160 heartfelt commentaries received via snail mail and e-mail -- was heartening, and proves that a well-read comics page is crucial to any daily newspaper.
Today, we debut our Sunday comics in a new tabloid design -- a comic concentrate, so to speak -- mixing your favorites with new strips we hope you'll like. This format should compare favorably to the rather cluttered former section. At most, three strips will share a page.
Note to fans of the "Isaac Asimov's Super Quiz": It's been moved out of the comics section into the Today section and will be offered Sundays through Fridays.
Webmaster's Note
The Sunday Comics are only in the print edition of the Star-Bulletin.
IN A perfect world, the first thing we would've done is pick up the Sunday version of the most popular strip from our daily edition, Lynn Johnston's "For Better or for Worse." But the Sunday version of that strip is carried by our competitor. With the exception of "Doonesbury" and "Garfield," syndicators provide exclusive agreements -- this means competing newspapers don't run the same strips.
But, take heart, we will continue to publish four of your favorites, according to votes received: "Zits," "Pickles," "Baby Blues" and "Sherman's Lagoon." Plus, you'll find other positive vote-getters such as "Luann," "Betty," "Mutts," "Get Fuzzy," "Hi and Lois" and "Over the Hedge."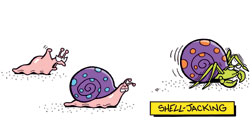 An example of the skewed humor to be found in Mark Parisi's "Off the Mark."
Gone are "Zack Hill," "Preteena," "Pardon My Planet," "The Amazing Spiderman," "Zippy the Pinhead," "PC & Pixel," "Rudy Park," "Big Nate," "Shylock Fox and Comics for Kids" and "Tina's Groove."
Bill Griffith's surreal "Zippy" strip, an acquired taste, was the least favorite of our Sunday strips. When someone like Harvey Yatogo of Waipahu politely requests, "Please get rid of 'Zippy.' Thank you," it's tough to say no. Sorry, Bill!
Tony Cochran's "Agnes" also drew more than its share of negative votes, but fans of "Agnes" really like her. Favorable comments ran along the lines of those from Birdgirl3, who e-mailed, "I am in love with 'Agnes' and have been reading her since I came here in 2000. Don't ever take her away from me. I cut her out of the paper and send her to my Granma because there are so many similarities and it keeps us close."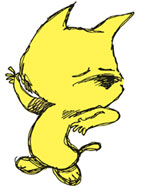 The coyote pup Winslow is the companion to Carmen in "Prickly City."
Some other strips -- notably "9 Chickweed Lane," "Candorville," "Spot the Frog," "Pooch Café," "Lucky Cow" and "Todd the Dinosaur" -- also drew lower numbers of votes, but we've kept them because of their distinctive drawing styles and outlooks on life and humor.
Many respondents to our survey took the time to add thoughtful comments.
"I look forward to (your Sunday comics)," Donald Buchholz of Koko Head wrote. "They're not just jokes; they're cultural statements reflecting our values. Perhaps not as obviously political as, say 'Doonesbury' -- which is a cultural icon, don't even think about losing that one -- but what they have to say is often important as critical social commentary.
"And please remember that the comics section is not a children's section. Children are a long way from understanding what a lot of these comics are about."
That was not the opinion of 10-year-old Nina Oishi of Manoa, who believes her audience is being unfairly overlooked. Nina is the kind of reader we like -- not only did she offer survey comments three months ago, she also wrote a letter to the editor last week, soon after our revamped weekday comics page debuted.
In her original comments, she wrote, "I think that you should get rid of the political comics because I am a kid and to me, they stink."
Now she misses her favorites, "Preteena" and "Zack Hill." In her letter to the editor Wednesday, Nina said she would be happy to volunteer her "kid's opinion" the next time we change up. And, Nina, we might just take you up on that.
But we hope that she'll grow into enjoying the rest of our strips. Keep reading, Nina!
New strips feature a working mom and 20-somethings
Welcome Terri Libenson from Cleveland. Her comic strip,
"The Pajama Diaries,"
debuts today in our new Sunday comics tabloid, along with local alternating strips by Dave Thorne and Jon Murakami (see Page F1), "Brewster Rockit: Space Guy!" and "Housebroken" (which also run in our daily editions), and six other syndicated strips.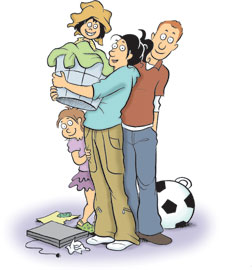 Follow the life of a busy Jill Kaplan and her family in "The Pajama Diaries."
Libenson's main character, Jill Kaplan, is very much a woman of today -- balancing freelance work, family and friends -- but keeps track of her busy days via her computerized diary.
"There are a number of things that I think set the strip apart," Libenson said via e-mail. "First, it is written partially in diary format, so it really delves into a female character's mind-set. It's a bit voyeuristic. I think it's also a very updated, realistic portrayal of a young family with kids and a multitasking, contemporary mother. We see the day-to-day gritty things the character Jill deals with, tempered with humor. ... (And) the characters grow older. Since I tend to write from personal experience, this helps keep the material fresh.
"Even though this is more of a grown-up's strip, I think there's something in it for everyone. In the past year since 'Pajama Diaries' launched, I've been fortunate to have readers tell me the strip really echoed their lives," she said.
LIBENSON'S "DIARIES" joins a diverse group of strips debuting today:
» Matt Janz's "Out of the Gene Pool" follows the misadventures of the residents of Middletown, mainly of 20-something single guy Sam ("in search of a good job, true love and financial security") and his roommate, the cuddly -- and annoying -- bearlike Zoogie.
» Skewed humor is the specialty of Mark Parisi ("Off the Mark") and Jerry Van Amerongen ("Ballard Street"). Both strips were 2004 and '06 nominees for the Best Newspaper Cartoon Panel of the Year Award by the National Cartoonists Society, with "Ballard Street" winning those years.
» Another award-winning strip is "Non Sequitur," by Wiley Miller (usually credited as just "Wiley"). While not a character-driven strip, look for recurring appearances by Danae Pyle, a pessimistic little Goth of a girl; her good friend Lucy, a pygmy Clydesdale horse who occasionally talks; and the superhero Obviousman, who battles his arch nemesis Professor Obfuscate in a never-ending battle over the cattlelike mentality of most Americans.
» Named for the prickly pear cactus of the American Southwest, "Prickly City" is the creation of Birmingham News conservative editorial cartoonist Scott Stantis. His characters, the pigtailed Carmen and her coyote pup Winslow, are at opposite sides of the political spectrum. You should be able to guess who represents what after a month or so of strips.
» And, finally, Mark Tatulli's "Lio" is a collection of darkly humored stories told in "pantomime strips," his main character being a rather devious and mischievous boy who frequently visits an imaginative world.