SUNDAY COMICS
Cartooning, local style
The Honolulu Star-Bulletin Comics Rapid Response Team, whilst revamping our Sunday comics section, wanted to do one thing from the get-go: add a locally written strip. So we contacted the A-Team of local cartooning.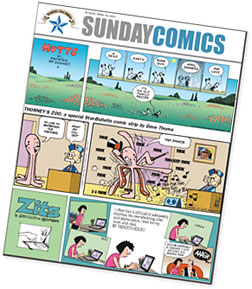 After 1.6 seconds of arm-twisting, Dave Thorne and Jon. J. Murakami agreed to submit strips. They'll alternate every week. Today, Thorne's "Thorney's Zoo" debuts, and next week it'll be Murakami's "Calabash."
Although we could take the multigenerational approach to this subject -- Thorne is, face it, an old guy, and Murakami is younger than Thorne, but between them they have more than 200 years of cartooning experience. Or we could take the multicultural approach -- Murakami is Japanese American and Thorne is from Kalamazoo, Mich. The bottom line is that they are not only the best cartoonists in Hawaii, they are also the best known.
Thorne, a two-fisted ex-Coast Guardsman and now-retired artist with the Hawaii Department of Education, has single-handedly kicked off more cartooning careers than anyone else in the island, doing so not only through his cartooning classes, but with one-on-one encouragement and networking.
In past articles about Thorne, he's been called "the Jedi master of Hawaii cartooning." Noted comics writer Scott Shaw! (yes, the exclamation is part of the name) calls Thorne "Hawaii's beloved cartoon sensei." Writer and cartooning blogger Mark Evanier refers to him as "Hawaii's goodwill ambassador of cartooning." Usagi Yojimbo's Stan Sakai calls Thorne "the cartoonist guru in Hawaii."
"Thorney's Zoo" is an idea that has been perculating in Thorne's imagination for some time, one that highlights his fondness for the "funny animals" genre of cartooning. "I had been playing around with a strip that featured ducks, but this way I get to draw a whole menagerie," said Thorne.
Murakami's "Calabash" is a whole bowl full of Hawaiian-style gags, a style polished by the young cartoonist over the years in his greeting card line. Will regular characters and a story line appear? "I don't know yet!" laughs Murakami. "Stay tuned!"
Murakami is that kid in the corner of the class whose pen was always moving. You might know him best from his contributions to Local Kine greeting cards; his assistance to University of Hawaii professor Peter Coraggio's series "The Art of the Piano Performance in Illustrated Form"; his many T-shirt designs and logos, freelance illustrations, cartoons and clip art; or maybe the original comic book art he's drawn with globetrotting cartoonist and literacy advocate Phil Yeh. Or, if you're of a certain age, "The University of Diverse City" comic strip he created for the University of Hawaii student newspaper Ka Leo o Hawaii.
Whew. What made us think they have time for us?
BTW, Murakami and fellow artist Deb Aoki have collaborated on a collection of their UH cartoons, "Slice of Life/The University of Diverse City," and they'll be signing books at noon next Sunday at Borders Ward Centre. Call 591-8995.