| | |
| --- | --- |
| | Wood Craft |
---
Symphony Pops to feature Beatles' 'Sgt. Pepper's' album
There's a
Symphony Pops
concert coming up that
Beatles
fans will applaud. Maestro
Matt Catingub
and the Pops will mark the 40th anniversary of the Beatles' "Sgt. Pepper's Lonely Hearts Club Band" album by playing songs from it and other hits by the world-famous group Friday and next Saturday at 8 p.m. and April 29 at 3 p.m. The symphony has added a third performance as the show should be a big draw.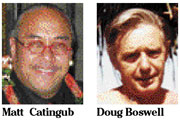 Singers
Anita Hall
and
Zanuck Lindsey
are guests. I heard the orchestra play Beatles music with Anita as a guest at a Symphony Ball and it was terrific. Matt will probably do some singing, too ... Last Saturday was a bad day for "Wood Craft."
Ray Catingub's
photo was used in place of his brother Matt, and Dr.
Larry Tseu's
last name was misspelled. The Catingub pictured with this column is definitely Matt ...
Roy's, another of Waikiki Beach Walk's signature restaurants, is holding an opening gala Friday that will benefit the Visitor Aloha Society of Hawaii. VASH assists visitors who are crime victims or suffer illnesses or other adversities while here. Appetizers, champagne, tequila and martinis will be available for those who buy $175 tickets. Tihati Productions is providing entertainment. There will also be a silent auction. Co-chairs are Carol Pregill and Ron Parsons. Diva Schroeder is GM of the new Roy's ...
Doug Boswell is at the golf course
Longtime Star-Bulletin political writer
Doug Boswell
now sits next to the 17th tee at the crest of Makaha Valley Country Club. Carrying Doug's ashes, his daughter
Kathy Boswell
joined the other members of Doug's weekend foursome since 1983 -- home builder
Ron Slenk
, Cox Radio GM
Mike Kelly
and Star-Bulletin editorial writer
Lee Catterall
-- for their regular outing recently and deposited the ashes. The course has been their venue, known as the East Course, where Doug shot his age while in his 70s. Doug died in November 2005 at age 86 ...
Hawaii Public Radio raised $660,690 in its Challenge 2007 fundraiser, exceeding its goal of $657,000 by $3,690, HPR reports. Station Prez Michael Titterton said it's important that more than 63 percent of the support comes from station members. It costs $60 to become a member ...
Ben Wood
, who sold the Star-Bulletin in the streets of downtown Honolulu during World War II, writes of people, places and things in our Hawaii. E-mail him at
bwood@starbulletin.com