---
FAST FACTS HAWAII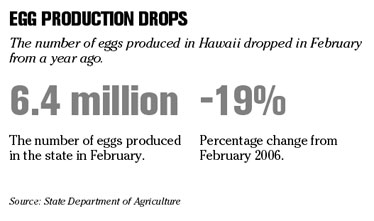 ---
HAWAII
Kiguchi contributions lauded
Bank of Hawaii
Senior Vice President Stafford Kiguchi will receive a lifetime achievement award from the International Association of Business Communicators during the 2007 Ilima Awards Thursday.
Kiguchi is being recognized for his contributions to the communications field, including his demonstrated leadership and commitment through his wide variety of internal and external communications responsibilities at the Bank of Hawaii and other Hawaii companies. He's also being lauded for his volunteer work on behalf of a variety of professional associations and charities.
The Ilima Awards honors the best communications work done in Hawaii in 2006, with awards in 11 possible categories from writing to graphic design and comprehensive public relations campaigns.
Go! offers shifting discounts
Mesa Air Group
's go! is offering $19 Web-only special one-way fares for select flights and dates through Dec. 31.
"The flights on which these special fares will be offered will change constantly so we encourage travelers to visit iflygo.com frequently to catch the best fares for their preferred travel dates," Chairman and Chief Executive Jonathan Ornstein said.
The fares don't include applicable fees and taxes.
NATION
McDonald's 1Q net jumps
CHICAGO »
McDonald's Corp.
extended its hot streak to four years with a 22 percent jump in first-quarter earnings, and also said yesterday it will sell nearly 1,600 restaurants in Latin America and the Caribbean to a franchisee -- a gain it pledged to return to shareholders.
The planned transaction involving restaurants in 18 countries will result in a non-cash impairment charge of $1.6 billion in the second quarter. But it reduces the company's financial exposure in a challenging region and will net McDonald's about $700 million in cash, which it said will be used to increase share buybacks and dividends.
Boosted by surging sales in Europe and strong demand for its changing U.S. menu, McDonald's is "firing on all cylinders," Goldman Sachs analyst Steven Kron said in a note to investors.
Profit for the first three months of the year was $762 million, or 62 cents per share, matching its April 13 estimate. That was up from $625 million, or 49 cents per share, in the same period a year ago.
Revenue rose 11 percent to $5.46 billion from $4.91 billion.
Pfizer's results beat estimates
NEW YORK »
Pfizer Inc.
, the world's largest drug maker, said yesterday its profit fell 17.5 percent in the first quarter, hurt by one-time charges and disappointing sales of diabetes drug Exubera. Adjusted results beat Wall Street expectations by a wide margin.
Net income fell to $3.39 billion, or 48 cents per share, from $4.11 billion, or 56 cents per share, a year ago. Excluding one-time items, the company reported adjusted profit of $4.8 billion, or 68 cents per share, up from $4.35 billion, or 59 cents per share, last year. Pfizer, which early in the quarter announced it would trim its work force by 10 percent, reported restructuring costs of $812 million, up from $299 million a year ago.
Revenue rose 6 percent to $12.47 billion from $11.75 billion last year. Sales of the company's best selling drug, cholesterol reducer Lipitor, grew 8 percent to $3.36 billion, topping most Wall Street estimates. Price increases, fewer rebates and favorable foreign-exchange rates made up for declining U.S. prescriptions of Lipitor, which has come under heavy competition from cheaper, generic cholesterol drugs.
---
BUSINESS PULSE