Boy Choir co-founder leaves rich legacy
Roy Hallman / 1925-2007
They had performed together since college -- her at the piano, while he took the microphone and sang. Later, they would end up married for 58 years.
Childhood friends and college sweethearts, Roy and Nyle Hallman were inseparable. Together, they spread their musical talents to children across the United States and in Hawaii, where he founded the Honolulu Boy Choir in 1974.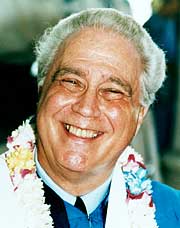 Roy Hallman
REMEMBRANCE
Services for Roy Hallman, founder and director of the Honolulu Boy Choir, are May 1 at the Central Union Church Sanctuary at 1660 S. Beretania St.:
» 3:30 to 5 p.m.: visitation services
» 5 p.m.: memorial services
In lieu of flowers, the family asks for donations in Hallman's name to the Central Union Church organ fund or the Kauai Bible College in care of the Calvary Chapel in Kauai.
"He was almost never without his wife, Nyle," said Kalani Brady, the Hallmans' longtime musical student and friend. "The two of them were two sides of a coin. They complemented each other perfectly -- as perfectly as anything can get on this earth."
Their musical love story ended early yesterday morning. Together until the end, Nyle was with Roy in their Hawaii Kai home when he died peacefully in his sleep. Hallman was 82.
He also leaves behind his daughters Gretchen and Kathryn, son Robert, four grandchildren and six great-grandchildren.
Hallman was born in Chicago and raised in the Northwest, mostly in Portland, Ore., where he met Nyle, who lived in Vancouver at that time. They studied music at the same college and conducted church choirs in Tulsa, Okla.; El Paso, Texas; Philadelphia; Minneapolis; and Hawaii.
Hallman, who was in his father's boy choir growing up, always wanted to inspire young boys through music.
After moving to Hawaii in 1969, Hallman was choral director of Central Union Church. He founded and directed the Honolulu Boy Choir for boys ages 7 through 14, a tuition-free educational program that still exists today. Nyle was the choir's accompanist.
Their daughter, 51-year-old Kathryn Hallman, said her father was especially touched by one quote he once heard: "Children are like letters we write to another time we will never see."
"He loved the thought of planting seeds and having an impact when you're gone," she said.
He taught thousands of boys until retirement in 1998. He worked with some of Hawaii's successful musicians who were once part of the boy choir, such as Hailama Farden, Sean Naauao and Kaleo Trinidad, his daughter said.
Brady, a tenor soloist with Central Union Church, knew Hallman for nearly 30 years. He said Hallman was different from other conductors.
"Roy wanted to go beyond," Brady said. "He wanted a showman's performance, and that was evident by the way he directed."
But more important, Hallman "was always warm, always complimentary," Brady said.
On the boy choir's Web site, alumni left messages on how their life changed because of Hallman.
Brady said Hallman was like Santa Claus, which was fitting because his favorite time was Christmas for the annual Christmas concerts. "He lit up like a Christmas tree," his daughter said. "The boy choir was his passion, his love."