HAWAII INTERNATIONAL FILM FESTIVAL
Spring showcase: 23 films from 10 countries
The seven-day fest will be held at Regal Dole Cannery Stadium 18
This year's Spring Showcase from the Hawaii International Film Festival will feature a favorite from last fall's festival.
"Hula Girls," the Japanese movie featuring a soundtrack by Jake Shimabukuro, will get four screenings throughout the almost weeklong festival at the Regal Dole Cannery Stadium.
HIFF Spring Showcase
Place: Dole Cannery Stadium

Time: Friday through April 26

Tickets: $10 general and $9 military, students and seniors

Call: 550-8457 or visit www.hiff.org
Directed by Lee Sang-il, the movie tells a tale of a once-thriving coal mining town in the cold northern region of Japan. With coal no longer a mainstay, the town officials make a desperate move to convert themselves into a "Hawaiian paradise" to try to attract tourists. With plans to feature a hula show, they face a major obstacle -- nobody knows how to dance the hula.
Enter a dance instructor from Tokyo who will try to create worthy hula dancers out of amateur coal miners' daughters.
It's based on a true story of the origins of the Joban Hawaiian Center (now the Spa Resort Hawaiians).
Other showcased films that could be potential faves include three Korean box-office hits: "200 Pound Beauty," "Radio Star" and "Tazza: The High Rollers" (see review) and another Japanese film, "Udon."
Featured highlights of the Spring Showcase among the 20-plus films include:
» A fascinating documentary on an 85-year-old Japanese-American artist living on the streets of New York. "The Cats of Mirikitani" tells of how filmmaker Linda Hattendorf invites Jimmy Mirikitani into her home after the chaos of 9/11, and together they seek out his family and friends, and research his painful past that included internment at the Tule Lake camp in California during World War II.
» Winner of the 2006 Cannes Film Festival Jury Prize, "Red Road" is British director Andrea Arnold's feature debut about a lonely security guard who is confronted by a man she never wanted to see again. It is set in a rough Glaswegian neighborhood in northern Scotland.
» Legendary Hong Kong action director Johnny To has two features in the showcase, "Exiled" and "Triad Election," filled with all kinds of juicy underworld goings-on.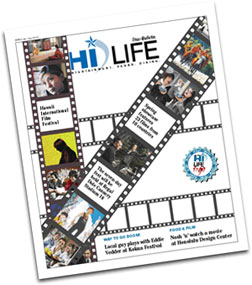 » The Sundance Film Festival favorite, "Waitress," stars Keri Russell as a baker par excellence who draws loyal customers to her small Southern shop. She, unfortunately, finds out she's pregnant by her loutish husband. Then she starts a torrid affair with the town's new doctor, who shares the secret of her pregnancy. The cast includes Jeremy Sisto, Nathan Fillion, Cheryl Hines and director Adrienne Shelly, who was tragically killed in her New York apartment office before her film debuted at Sundance earlier this year. (Shelly made her career working with veteran indie director Hal Hartley, who's "Fay Grim" is at the showcase, starring another staple in indie films, actress Parker Posey.)
» "Hana" is the latest offering from Japanese director Hirokazu Koreeda, who came to international notoriety with "Nobody Knows." It's the tale of a young samurai who falls in love with a beautiful widow amid the squalor of the capital of Edo (now Tokyo). But will it detract him from his initial search for the man that killed his father?
» And the New Zealand comedy "Eagle vs. Shark" is described as an offbeat love story between a couple of misfits -- she's a fast-food waitress and a hopeless romantic, and he's a video game clerk who has spent the last 10 years plotting his ultimate vengeance on a bully who tormented him in high school. When these two connect at a "dress as your favorite animal," Lily is an anemic shark and Jarrod is a fluffy-headed eagle.
Jarrod is played by Jemaine Clement, who is one-half of the folk parody duo Flight of the Conchords, who will have their own improv comedy series on HBO sometime this summer.
Louis Vuitton Hawaii International Film Festival
www.hiff.org
---
HIFF Screening Schedule
Friday
(Simultaneous screenings in two theaters):
»
6 p.m.:
"200 Pound Beauty"
»
8:45 p.m.:
"Hula Girls"
Saturday
» Noon: "Bamako"
» 12:15 p.m.: "Buddha's Lost Children"
» 3 p.m.: "Hula Girls"
» 3:15 p.m.: "The Cats of Mirikitani"
» 6 p.m.: "Red Road"
» 6:15 p.m.: "Udon"
» 9 p.m.: "Dreaming Lhasa"
» 9:15 p.m.: "Radio Star"
Sunday
» Noon: "Dreaming Lhasa"
» 12:15 p.m.: "Udon"
» 3 p.m.: "Red Road"
» 3:15 p.m.: "The Cats of Mirikitani"
» 6 p.m.: "Vanaja"
» 6:15 p.m.: "Trade"
» 8:45 p.m.: "Hula Girls"
» 9:15 p.m.: "Triad Election"
Monday
»
3 p.m.:
"Trade"
»
3:15 p.m.:
"Radio Star"
»
6:15 p.m.:
"Waitress"
»
6:30 p.m.:
"Hana"
»
8:45 p.m.:
"Fay Grim"
»
9 p.m.:
"Exiled"
Tuesday
» 3 p.m.: "The Tokyo Trial"
» 3:15 p.m.: "Waitress"
» 6:15 p.m.: "Hana"
» 6:30 p.m.: "Inland Empire"
» 8:45 p.m.: "12:08 East of Bucharest"
Wednesday
» 3 p.m.: "Vanaja"
» 3:15 p.m.: "Fay Grim"
» 6:15 p.m.: "The Tokyo Trial"
» 6:30 p.m.: "Guru"
» 8:45 p.m.: TBA
April 26
» 3 p.m.: "Guru"
» 3:15 p.m.: "Tazza: The High Rollers"
» 6:15 p.m.: "Eagle vs. Shark"
» 6:30 p.m.: "Tazza: The High Rollers"
» 8:45 p.m.: "Tekkon Kinkreet"
» 9 p.m.: TBA