Matisyahu coming to Hawaii for three concerts
START MAKING plans to attend
Star 101.9's
annual "Band Camp" concert on June 17 at the Waikiki Shell. Two years after building a buzz with the album "Live at Stubb's," Jewish reggae artist
Matisyahu
will make his Honolulu debut following dates on Kauai June 14 and Maui June 16.
Underoath
and the
Plain White T's
are also scheduled to perform on Oahu.
Born Matthew Miller, Matisyahu was a big Phish fan growing up, and getting a chance to play with the band was a key factor in advancing his own musical career. Two years later, he was nominated for a Grammy Award for his 2006 release, "Youth."
Most recently, Matisyahu released "No Place to Be," a CD/DVD set that includes remixes of previously released tracks as well as a cover of the Police hit "Message in a Bottle." The DVD contains concert footage filmed in Israel.
Also in the works is a stint on the "Summer Unity Tour 2007" with 311, which starts shortly after his visit to the islands. Tickets for the Honolulu show go on sale April 28 ...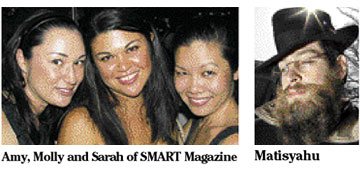 MORE CONCERT NEWS: Dynamic and Island 98.5 host Virgin Isles reggae band Bambu Station at Pipeline next Thursday. The "Break the Soil Hawaii Tour" will also feature sets by local acts Ooklah the Moc and the Isouljahs, with DJ Zacharijah on the decks. $20 presale tickets are available now at Hawaiian Island Creations ... BAMP Project has announced an additional 30 Seconds to Mars show. The band, fronted by actor Jared Leto, will also play May 11th at Pipeline, two days before their previously announced May 13th gig ... And which legendary east coast hip-hop icon is rumored to be heading our way? I can't tell you just yet, but after dismissing talk of a concert on Cinco de Mayo, sources tell me that Memorial Day weekend will be epic ...
CONGRATS TO local modeling crew Island Hunnies, who celebrate their three-year anniversary this weekend.
Owner Yvonne Walker has worked hard to establish her ladies as some of the classiest and most beautiful women in Hawaii. Chances are, if you've spent any time in a nightclub or at a car show during the past few years, you've crossed paths with go-go dancers or spokesmodels who pledge allegiance to the group.
Walker and the Hunnies will be at Lily Koi Restaurant and Lounge on Friday for "The Black Card," a 21-and-over affair with a $25 cover charge. If you don't want to make the trip to the Leeward side, wait until Saturday to visit Che Pasta downtown. Real Ish Entertainment will co-host another anniversary bash, with DJ Chavo on the decks until 2 a.m. ...
OTHER PICKS for this weekend: SMART Magazine marks its second year of publication at the W Honolulu on Friday. Congrats to Amy Alston, Sarah Honda and Molly Watanabe ... Also on Friday, Lotus Soundbar hosts a one-time party with Good Life Entertainment and Japanese promoters Club Asia. DJs Masako and Mikan will make the trip from Japan to spin ... Latin band Son Caribe celebrates five years on Sunday during their weekly gig at the Sheraton Waikiki's Esprit Lounge from 8:30 p.m. to midnight ...
AND IT LOOKS like Xyloh is jumping right into the deep end of the mainstream club pool -- after telling you last week about the spot, I've been informed that promoter Rick Rock is stepping in with 102.7 Da Bomb to host the return of "Sinsation Saturdays" to the venue. You might remember that party from the days of Reign and Zen at the same location. Xyloh's main entrance is now back on Kona St., by the way ...