| | |
| --- | --- |
| | Newswatch |
---
WORLD-CLASS CHEERS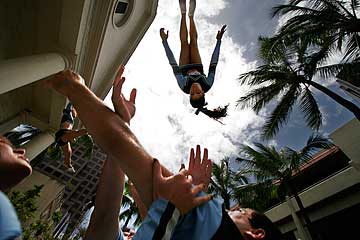 Burns leaves Court of Appeals
James Burns finished his last day on the job as chief judge of the Intermediate Court of Appeals yesterday.
"I've enjoyed it," said Burns, who had held the position for 25 years. "It's a job where you can make a contribution to the judicial system and the state of Hawaii, and hopefully I have."
Burns became a judge in 1976, as a per diem district court judge in Honolulu.
Former Gov. George Ariyoshi appointed Burns as a full-time Circuit Court judge in 1977. When the Intermediate Court of Appeals was created in 1980, Ariyoshi appointed Burns as an associate judge.
"They said I was too young," Burns recalled. He became the court's chief judge in 1982.
State judges are required to retire at the age of 70 under Hawaii's Constitution. Burns, who turns 70 today, said he would not have retired if the Constitution had allowed him to stay.*
Gov. Linda Lingle nominated Mark Recktenwald, director of the state Department of Commerce and Consumer Affairs, to replace Burns.
Recktenwald is expected to be sworn in as chief judge on April 30.
"Work hard," Judge Burns said as advice for Recktenwald. "And keep the court moving in the right direction."
Governor approves Peace Day
Hawaii residents will celebrate Peace Day on Sept. 21 each year under a measure Gov. Linda Lingle signed into law yesterday.
But Peace Day will not be an official state holiday, meaning no one will get the day off from work or school.
Peace Day is designed to be a time to heighten awareness about domestic violence and to improve international relations.
The idea for Peace Day came from the Hawaii Federation of Junior Young Buddhist Association, which decided to seek a day of serenity at its annual statewide convention last year.
The group said Peace Day is needed as a time to reflect on escalating terrorism and cultural differences.
The Sept. 21 date was chosen because it coincides with the United Nations' International Day of Peace. No other state has passed a law establishing a Peace Day.
Goodwill disavows lottery scam
Goodwill Industries of Hawaii is warning residents of a lottery scam using the company's name.
The scam could go by the name of "Goodwill Lotto" or "Goodwill International Lotto" in a letter or e-mail from someone from another country. In some cases a check for a small amount is enclosed, with instructions to cash it and mail back part of the money and bank account information to redeem the rest of the fake winnings.
Goodwill officials said in a press release that they are not affiliated with the lottery.
High U.N. official to speak at UH
United Nations Under-Secretary-General Anwarul K. Chowdhury will be the keynote speaker at a peace forum and exhibit on Saturday at the University of Hawaii at Manoa, according to a university news release.
Chowdhury will speak at the Aloha Peace Community Forum at 1 p.m. in the School of Architecture Auditorium and will open the exhibit "Creating a Culture of Peace: The Right to Human Security" at 2:30 p.m. in Sinclair Library.
Chowdhury is a leader of the United Nation's culture of peace initiative since its inception in 1999.
The "Creating a Culture of Peace: The Right to Human Security" was created by lay Buddhist association Soka Gakkai International -- USA.
For more information about the events, contact Taeko Yasutake at 343-2266 or taekoy@hawaii.edu.
---
SHINING STARS
---
Senior citizens honored for volunteerism
Ken Chun
, 86, and
Caroline K.Y. Tom
, 77, were named Honolulu's top male and female senior citizen volunteers of 2007 in Mayor Mufi Hannemann's Senior Recognition Program.
Chun has delivered meals to homebound seniors for more than 28 years in the Hawaii Meals on Wheels program. He once rescued an elderly woman who had fallen. Chun was also a first responder for Kuakini Hospital Lifeline for more than 22 years, and has volunteered for several other organizations.
Tom accompanies frail seniors on shopping trips, works at the front desk of the Lanakila Multi-Purpose Senior Center and coordinates its activities and programs. She received the center's 2006 Volunteer of the Year award. Tom also helps at the Chinese Cultural Club and a large variety of other organizations.
Also honored were Beatrice Terumoto, Yukie Sakai, Ethel Yamane, Edward Medeiros and Dolores Bautista, who received Akamai Living Awards for exemplary volunteerism.
---
Goodwill Industries of Hawaii received two matching grants of $150,000 from the James & Abigail Campbell Family Foundation and the James Campbell Co. The grants will be used to fund the Ohana Career and Learning Center project in Leeward Oahu.
---
"Shining Stars" runs Mondays through Thursdays.
| | |
| --- | --- |
| | Police, Fire, Courts |
---
Police seek suspects in attack
Police are asking for help in finding four men who allegedly attacked another man at a bus stop.
At about 10:50 p.m. last Thursday, Dickson Sin was found lying alone at the intersection of 16th and Waialae avenues. He was in a coma for three days.
Sin was initially taken to the Queen's Medical Center in critical condition.
Police determined he was attacked when leaving the bus at 16th Avenue. He has multiple abrasions and swelling to the head. Anyone with information on the incident is asked to call CrimeStoppers at 955-8300.
---
HONOLULU
Woman allegedly kicks boyfriend
Police arrested a 36-year-old woman after she allegedly kicked her boyfriend in the groin.
Police said the woman and the boyfriend, 49, were arguing at about 9 p.m. Tuesday at their Linapuni Street home in Kalihi. The suspect allegedly kicked her boyfriend in the groin. Police said he needed stitches for his injury.
Police arrested the woman for investigation of second-degree assault.
Man found asleep in stolen car
Police arrested a 24-year-old man after he was found sleeping in a car he allegedly stole the night before.
A 54-year-old Kalihi man called police at about 4:30 a.m. Tuesday to report that his car had been stolen Monday night. At about 8 a.m. Tuesday, police responded to a report that a suspicious vehicle was blocking a driveway on Olomea Street.
Officers found a car with the engine running, blocking the driveway, and the driver asleep, police said. Officers then learned that the car was the one that had been reported stolen in Kaimuki. An officer woke up the driver, said "good morning" and arrested him for investigation of auto theft, police said.
LEEWARD OAHU
Man arrested after tussle with officer
Police arrested a 46-year-old man after he allegedly punched a police officer.
Police said that at about 12:30 p.m. Tuesday, an officer was sent to 94-180 Farrington Highway in Waipahu to investigate a report of a man sleeping in the grassy area near the road. The man reacted slowly as the officer tried to wake him up, but then jumped up and became disorderly, police said.
The suspect then walked toward the road and into traffic, police said. The officer grabbed his arm and pulled him away from traffic, and the suspect allegedly punched the officer three times and pushed him, causing pain to his shoulders and chest.
The suspect was then arrested for investigation of assault on a police officer.
WINDWARD OAHU
Kahana is searched for missing woman
Police searched Kahana Valley yesterday for a 21-year-old Japanese woman missing from a Pupukea home since Thursday, but found nothing.
Masumi Watanabe was last seen taking a walk on Pupukea Road near Alapio Road at 9:20 a.m. Thursday.
Police declined to comment on the case yesterday and would only say that no suspect had been arrested.
Watanabe arrived in Hawaii in February and was living with a host family. She is considered shy, speaks little English and was showing signs of mental instability, police said.
She is described as 5 feet tall, weighing 100 pounds with black hair, brown eyes, and wearing silver-rimmed prescription glasses.
CENTRAL OAHU
'Ice' is found in stolen vehicle
Police arrested a 39-year-old man who was allegedly found in a stolen car with crystal methamphetamine.
Police said that at about 12:15 a.m. yesterday, a patrol officer in Wahiawa pulled over the suspect on a traffic violation. The officer learned that the car had been reported stolen.
The officer then found a glass pipe with what appeared to be "ice" in the car, police said.
The suspect was arrested for investigation of auto theft, promoting dangerous drugs and drug paraphernalia possession.
NEIGHBOR ISLANDS
Puna man arrested on drug charges
Big Island police arrested and charged 60-year-old Joseph Cerio on various drug charges Friday after they searched his Puna home.
Police armed with a search warrant searched a property Cerio had been leasing on Naholowaa Road in the Hawaiian Homes Makuu Farm Lot area of Puna.
Police recovered 48.5 grams of black tar heroin, a small amount of marijuana and $35,370 cash. Police also found various drug paraphernalia for packing heroin.
Two other residents, a 24-year-old man and a 30-year-old woman, were arrested on suspicion of drug violations but later released pending investigation.
Cerio was charged with first-degree promotion of a dangerous drug and possession of drug paraphernalia. His bail was set at $50,000.
CORRECTION
Friday, April 20, 2007
» James Burns, who retired this week as chief judge of Hawaii's Intermediate Court of Appeals, said he would have remained a judge if the state Constitution did not oblige judges to retire at age 70. A Page A3 "Newswatch" item yesterday misquoted him as saying he would have retired anyway even if the Constitution allowed him to stay.