---
FAST FACTS HAWAII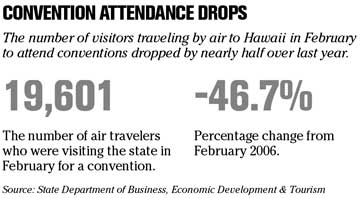 ---
Go!Express gets going
Mokulele Airlines
has begun its new chapter as go!Express.
The code-share partner of Mesa Air Group Inc.'s go! began offering service between Kapalua, Maui, and Honolulu this week with one of its newly acquired nine-seat turboprop Cessna Grand Caravans.
Mokulele, which held a soft opening for go!Express on Monday, offers eight flights between the two destinations from Thursday to Monday, and four on Tuesday and Wednesday. Tickets are as low as $29 each way.
It also is offering a $9 one-way fare from Kahului to Kapalua and separately for the return leg between those cities.
Mokulele also continues to operate under its own brand using nine-seat, piston-engine Piper Chieftains, but will be replacing them with Grand Caravans that are expected to be delivered in the next month.
[ HAWAII INC. ]
NEW HIRES / PROMOTIONS
» A&B Properties Inc. has hired
Stanton Oishi
as project manager of acquisitions. He will be responsible for identification, feasibility and due diligence analysis, and negotiation of investment opportunities. He previously served as an associate attorney for Starn O'Toole Marcus & Fisher.
» Outrigger Enterprises Group has hired Estelle Le Blanc as manager of interactive commerce. She will oversee the company's business units on brand development, e-marketing solutions, planning and implementation. She previously served as director of project management for Outrigger's Web design and development company for five years.
» Castle & Cooke Hawaii has promoted Carleton Ching to vice president of community and government relations. He has more than 30 years of experience in real estate and development, corporate administrat- ion and management.
» Prudential locations has announced the following new hires and promotion: Stephanie Chan has been promoted to partner. New agents hired are Robert Choi, Lori Sharpe and Rene Castro.
» Maui Divers Jewelry has hired John Monteiro as senior vice president. He will oversee the company's stores outside of Hawaii and its continuing expansion program and e-commerce division. He previously served as chief operating officer of PHOTO TLC Inc. and has more than 25 years of retail management experience.
» ResortQuest Hawaii has hired Neville King as regional director of food and beverage. He will oversee operations on Oahu, Maui and Kauai, evaluate new food and beverage business opportunities, and ensure compliance and quality standards. He previously served as corporate chef and general manager at Cloud Nine Resorts in Utah and has more than 20 years experience in the food and beverage industry.
» Molokai General Hospital has announced the following promotions: Dr. William Thomas has been named medical director of clinical and internal affairs. He joined the hospital in 2002 and has served as chief of staff since 2004. Dr. Noa Emmett Aluli has been named medical director of external affairs.
» Ruth's Chris Steak House and Romano's Macaroni Grill have named Emi Chang Espinda as regional sales and special events manager. She will oversee the expansion of both restaurants in Hawaii as sites for charity events, business luncheons, weddings and showers, and family events. She previously served as member services and marketing director for Mid-Pacific Country Club and has more than 20 years experience in the sales and hospitality industry.
BOARD ELECTIONS
» Sopogy Inc. has elected
Henry Montgomery
to its board of directors. He has more than 40 years of experience in financial and corporate management and is currently chairman and founder of Montgomery Professional Services Corp.
---
Clear Channel accepts higher bid
SAN ANTONIO »
Clear Channel Communications Inc.
agreed yesterday to a private equity group's $19.35 billion offer -- an almost 4 percent increase from the group's previous bid that had met with strong shareholder opposition.
The offer of $39 per share plus the assumption of $8 billion in debt raises the price for the billboard and radio company by about $690 million. It came the day before a scheduled vote on a lower offer that was facing strong resistance from several large shareholders. The new offer now faces a shareholder vote on May 8.
In Hawaii, Clear Channel owns top-rated KSSK-FM 92.3/AM 590 as well as KIKI-FM 93.9, KDNN-FM 98.5, KUCD-FM 101.9, KHVH-AM 830 and KHBZ-AM 990.
IRS cuts TurboTax users slack
SAN FRANCISCO » The Internal Revenue Service said yesterday it would not penalize TurboTax and ProSeries users whose 11th-hour electronic returns were delayed by
Intuit Inc.
's overloaded servers.
A record number of returns from both individual taxpayers and accountants started causing delays early yesterday in customers receiving online confirmation that their tax returns were submitted successfully, said Intuit spokesman Harry Pforzheimer.
As the midnight filing deadline approached, the problem got worse. During times of peak demand, Intuit was processing 50 to 60 returns per second, he said.
BlackBerry back on again
BlackBerry addicts breathed sighs of relief yesterday as e-mail began to trickle into their portable devices after more than 12 hours of down time and little explanation from the company.
---
BUSINESS PULSE