---
FAST FACTS HAWAII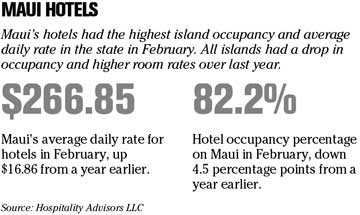 ---
Yahoo earnings disappoint
SAN FRANCISCO »
Yahoo Inc.
's first-quarter profit fell 11 percent, disappointing investors who have been betting that the Internet icon had regained its stride after stumbling through much of last year.
The Sunnyvale-based company said yesterday that it earned $142.4 million, or 10 cents per share, during the first three months of the year. That compared with net income of $159.9 million, or 11 cents per share, at the same time last year.
The results were a penny below the average earnings estimate among analysts surveyed by Thomson Financial. Revenue for the period rose 7 percent to $1.67 billion.
New chip process helps Intel
SAN JOSE, Calif. » Benefiting from its rapid shift to a new chip-making process and a big tax windfall,
Intel Corp.
's first-quarter profit surged 19 percent as lower production costs helped the company withstand another round in a fierce price battle with rival
Advanced Micro Devices Inc.
Intel also raised its full-year profit margin guidance and said it would spend slightly more on research and development in 2007 than the company had previously forecast. Meanwhile, AMD has slashed its revenue forecast and is expected to post a loss of 48 cents per share when it reports its own first-quarter results tomorrow.
British pound at 14-year high
LONDON » The British pound broke through the $2 mark yesterday for the first time in nearly 15 years after new data showed an unexpected surge in inflation, prompting speculation of interest rate increases.
The pound was at its highest level since "Black Wednesday" in September 1992, when Britain crashed out of the European Exchange Rate Mechanism.
Tourism operators expect the new round figure to jog interest in bookings to the United States, with shopping breaks in New York proving popular last time the pound threatened $2 in November.
BCE in discussions to be sold
TORONTO »
BCE Inc.
, the parent of Canada's largest telecommunications company, confirmed yesterday that it is in discussions to sell the company to a group of pension fund managers that would take the telecom private.
Kohlberg Kravis Roberts & Co. and three Canadian pension funds acknowledged in statements that they are interested in what would be the country's largest buyout ever.
Under the Bell Canada brand, BCE's services include phone services, high-speed and wireless Internet access, IP-broadband services, information and communications technology services and direct-to-home satellite and VDSL television services.
---
BUSINESS PULSE