---
FAST FACTS HAWAII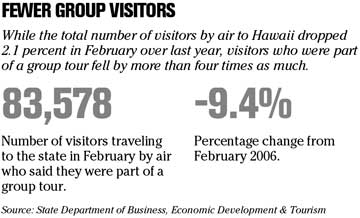 ---
HVCB launches Waikiki promotion
Hawaii tourism officials along with Mayor Mufi Hannemann are headed to New York this week to kick off their campaign to promote Waikiki's $1 billion revitalization to travel trade professionals, wholesalers and media.
The theme of the promotion will be Waikiki -- Share the Experience.
"The level of investment and quality of improvements by both government and private industry has reinvigorated Waikiki's luster, and reinforced its standing in the upper echelon of destinations worldwide," said Hannemann, who will be joined on the trip by more than 30 other visitor industry representatives.
The Hawaii Visitors and Convention Bureau will host a reception at Conde Nast Publications Inc.'s headquarters on Thursday, followed another in Beverly Hills, Calif., on April 24, and at the Society of American Travel Writers' (SATW) Western Chapter meeting in Waikiki in June.
Home prices flat for first quarter
Prices for Honolulu's residential real estate market remained relatively flat during the first quarter of 2007 while sales plummeted.
More than half of the single-family home buyers in Honolulu paid $620,000 for a home, which was no change from the 2006 first-quarter median. The $320,000 median price paid by condominium buyers during the first quarter of this year was up 3.6 percent over the same period last year.
There were 865 homes that changed hands in Honolulu during the first quarter, a drop of 8.3 percent over last year's first quarter sales figures. Condominium sales dropped to 1,361 units, a 19.3 percent drop from the first quarter of 2006.
Pasha fit for cleaner fuel
Pasha Hawaii Transport Lines
, which ships vehicles between Hawaii and California, said yesterday it has completed a major retrofitting of its vessel, the Jean Anne, in response to new California environmental regulations.
Those regulations require the burning of low-sulfur fuel alongside the coast and within 24 miles of land. Marine diesel oil is a lighter and cleaner fuel, and will support the Jean Anne's propulsion system through 200 meters of new piping.
The retrofitting was performed with no downtime or impact to the Jean Anne's sailing schedule, Pasha said.
---
Delta creditors back reorg plan
ATLANTA »
Delta Air Lines Inc.
said yesterday unofficial voting results show its reorganization plan has received enough creditor support to be approved, paving the way for it to emerge from bankruptcy protection on April 30.
The Atlanta-based airline said in a statement that the results show that more than 95 percent of ballots cast were in favor of the plan. Creditors also voted in favor of a reorganization plan for Delta's wholly owned regional airline subsidiary Comair, Delta said.
A confirmation hearing is scheduled for April 25, and Delta has said it expected to emerge from Chapter 11 on April 30. Delta, the nation's third-largest carrier, filed for bankruptcy protection in September 2005
Jet gets nose job
Spirit Aerosystems employees get a closer look at the first production nose section of the Boeing 787 yesterday during the rollout in Wichita, Kan. The first flight of the 787 is expected in August, with the initial delivery to airlines in May 2008.
---
BUSINESS PULSE