HIGH SCHOOL BASKETBALL
Roosevelt rides on up
to top of poll
There is no dominant team, not this year.
That's why, even with Roosevelt at No. 1 for the first time this season, the Star-Bulletin Girls Basketball Top 10 should actually read 1a, 1b, 1c, 1d, 1e and so on.
Unlike previous weeks, though, when one or two teams hoarded most of the first-place ballots, this week's tally was split up by a fickle panel of media and coaches.
The Rough Riders got eight first-place votes.
Konawaena, also undefeated in league play, collected six first-place votes, while Iolani (five) and Kamehameha (three) grabbed their share.
The parity of this season was cemented after Punahou's All-State twins, Shawna-Lei and Shaena-Lyn Kuehu, suffered knee injuries last fall. The picture is panoramic. Kalani lost at Roosevelt by just a bucket, and for that, the Lady Falcons are perched at No. 5.
Honokaa, with UH recruit Keisha Kanekoa at the controls, is right behind Kalani, and two-time defending state champion Punahou is seventh with a busy week ahead.
Now that there's a brighter spotlight on the uptempo Rough Riders, time will tell how they respond to the attention.
Iwalani Rodrigues, a prominent factor since her freshman year, was the spark that got Roosevelt going against Farrington on Friday. At least that's what Govs coach Jenic Tumaneng said.
Rodrigues and her teammates have a knack for good spacing, ball movement and passing skills to get good looks at the basket.
When Iwalani Rodrigues attacks the boards and sets the Roosevelt fast break in motion, it's easy to assume that there is no other team quite like this one.
Not this year. Dianna Zane, a junior now in her third season as the starting point guard, has emerged as an elite floor leader. When she's in playmaking mode, the Rough Riders get easy drive-and-dish plays both underneath and on the perimeter.
That means opportunities for sharpshooters Tiana Sugui and Tiyana Nakasone, and layups for Shandree Armstead and Tasia Kamakawiwoole.
So far, the magic show has been all red roses. Roosevelt is 8-0 in league play after stifling Farrington on Friday, and as of today, the Rough Riders are the new No. 1 team in the Star-Bulletin Girls Basketball Top 10.
"I feel good. We're 8-0 now," Rodrigues said after grabbing eight first-half rebounds against Farrington. "I didn't play that good, but we played as a team. Sugui and Dianna played great today."
Roosevelt's ascent isn't a shock. The Rough Riders reached the state final last season. This year, they're taking things one step at a time, or at least coach Bobby Keanini is.
The longtime guru wouldn't mind if his squad were completely ignored by everyone but Roosevelt fans. Keanini participated in the voting, but didn't cast a vote for his own team.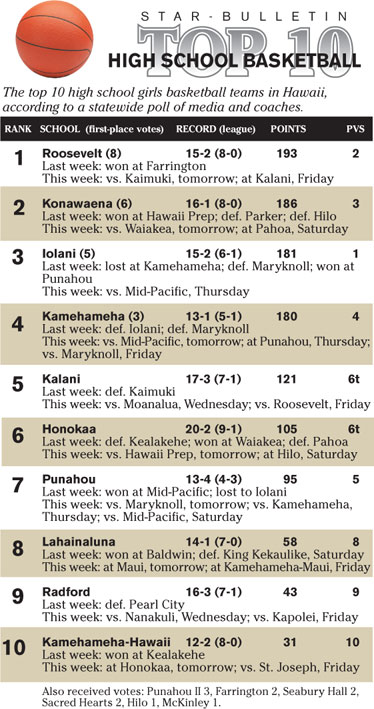 STANDINGS AND STAT LEADERS
ILH
| | | |
| --- | --- | --- |
| Standings | W | L |
| Iolani | 6 | 1 |
| Kamehameha | 4 | 1 |
| Punahou | 3 | 3 |
| Mid-Pacific | 2 | 4 |
| Maryknoll | 0 | 6 |
| | | | | |
| --- | --- | --- | --- | --- |
| Scoring | G | Pts | Avg | High |
| Nicole Fu, Mryk | 7 | 100 | 14.3 | 22 |
| Jamie Smith, Iol | 7 | 95 | 13.6 | 18 |
| Analee Viena Lota, Kam | 6 | 69 | 11.5 | 13 |
| Johnelle Kapua, MPI | 6 | 66 | 11.0 | 23 |
| Melanie Feldman, Pun | 5 | 53 | 10.6 | 18 |
| Janelle Nomura, Pun | 6 | 62 | 10.3 | 25 |
| Jenna Savusa, MPI | 6 | 61 | 10.2 | 14 |
| Alana Matayoshi, Iol | 7 | 62 | 8.9 | 14 |
| Lindsey Wong, Kam | 6 | 47 | 7.8 | 16 |
3-pointers made

Chanel Hirata, Iol
8

Tami Konishi, Iol
7

Alexis Furtado, Kam
6

Kristen Canencia, Mryk
5

Nicole Fu, Mryk
5

Sarah Turgeon, Iol
5

Kimberly Henderson, Mryk
4

Dayna Jandoc, Iol
4

Janelle Nomura, Pun
4

Lindsey Wong, Kam
4
OIA Red East
| | | |
| --- | --- | --- |
| Standings | W | L |
| Roosevelt | 7 | 0 |
| Kalani | 7 | 1 |
| Farrington | 5 | 3 |
| Kalaheo | 4 | 5 |
| Kahuku | 3 | 6 |
| Moanalua | 2 | 6 |
| Kaimuki | 1 | 8 |
| | | | | |
| --- | --- | --- | --- | --- |
| Scoring | G | Pts | Avg | High |
| Shanadee Canon, Kalh | 9 | 137 | 15.2 | 26 |
| Iwalani Rodrigues, Roos | 8 | 116 | 14.5 | 19 |
| Jamie Ronolo, Moan | 8 | 109 | 13.6 | 23 |
| Britni Ronolo, Moan | 6 | 81 | 13.5 | 18 |
| Courtney Gaddis, Kaln | 8 | 107 | 13.4 | 22 |
| Megan Kamehiro, Kaln | 8 | 101 | 12.6 | 23 |
| Olivia Phommachanh, Kaim | 9 | 90 | 10.0 | 26 |
| Taeja Afalava, Kah | 9 | 84 | 9.3 | 16 |
3-pointers made

Megan Kamehiro, Kaln
13

C'ani Kealoha, Far
13

Tiyana Nakasone, Roos
8

Elane Leaupepe, Far
7

Tiana Sugui, Roos
7

Olivia Phommachanh, Kaim
6

Caira Pires, Kalh
6

Delicia Wilson, Kalh
6

Deja Bryce, Far
5

Chloe Martin, Kaln
5

Jayna Tasaka, Roos
5
OIA Red West
| | | |
| --- | --- | --- |
| Standings | W | L |
| Radford | 7 | 1 |
| Pearl City | 6 | 3 |
| Aiea | 6 | 3 |
| Kapolei | 3 | 5 |
| Nanakuli | 3 | 5 |
| Mililani | 3 | 6 |
| Leilehua | 2 | 7 |
| | | | | |
| --- | --- | --- | --- | --- |
| Scoring | G | Pts | Avg | High |
| Ta Nitra Byrd, Rad | 8 | 133 | 16.6 | 23 |
| Brittaney Stafford, Lei | 9 | 136 | 15.1 | 24 |
| Jazmin Pahukoa-Malia, PC | 9 | 119 | 13.2 | 19 |
| Capri Holiona, Aiea | 9 | 117 | 13.0 | 29 |
| Natasha Helsham, Aiea | 9 | 111 | 12.3 | 23 |
| Ashley Gonzales, Lei | 9 | 97 | 10.8 | 16 |
| Marlena Malepeai, Rad | 5 | 54 | 10.8 | 14 |
| Sasha Montez, Nan | 8 | 85 | 10.6 | 20 |
| Joleen Realin, Mil | 8 | 73 | 9.1 | 14 |
3-pointers made

Ashlee Dela Cruz, Kapo
10

Natasha Helsham, Aiea
9

Jamielyn Kaleiwahea, Mil
9

Tahnee Foki, Kapo
8

Jazmin Pahukoa-Malia, PC
6

Sasha Montez, Nan
4

Brittaney Stafford, Lei
4

Chelsea Basilio, Mil
4
OIA White
| | | |
| --- | --- | --- |
| East | W | L |
| McKinley | 8 | 1 |
| Kailua | 6 | 3 |
| Castle | 5 | 4 |
| Kaiser | 2 | 7 |
| Anuenue | 0 | 8 |
| West | W | L |
| Campbell | 8 | 1 |
| Waianae | 5 | 3 |
| Waialua | 4 | 5 |
| Waipahu | 1 | 7 |
| | | | | |
| --- | --- | --- | --- | --- |
| Scoring | G | Pts | Avg | High |
| Chelsie Sato, McK | 9 | 146 | 16.2 | 23 |
| Jessica Dusich, Kais | 9 | 130 | 14.4 | 25 |
| Danielle Lovell, Wain | 8 | 104 | 13.0 | 23 |
| Chelsey Ramirez, Wail | 9 | 112 | 12.4 | 19 |
| Kimberly Meyerowitz, Wail | 8 | 94 | 11.8 | 22 |
| Ashley Jacobs, Kail | 9 | 104 | 11.6 | 16 |
| Margaret Siligo, Waip | 8 | 93 | 11.6 | 18 |
| Aloha Dias-Kekahuna, Camp | 9 | 103 | 11.4 | 24 |
| Kristen Corrales, Kail | 9 | 96 | 10.7 | 14 |
| Cheyna Tagura, Camp | 9 | 92 | 10.2 | 21 |
| Jenny Sweeney, Camp | 9 | 90 | 10.0 | 18 |
3-pointers made

Chelsey Ramirez, Wail
20

Chelsie Sato, McK
17

Ashley Jacobs, Kail
16

Kaitlyn Ikehara, McK
15

Jackie Tihano, McK
14

Kristyn Mathenson, Kais
13

Kristen Corrales, Kail
11

Kori Berinobis, Cast
10

Jessica Dusich, Kais
9

Chelsea Okuma, Kais
9

Kylie Sato, McK
9

Cheyna Tagura, Camp
9