---
FAST FACTS HAWAII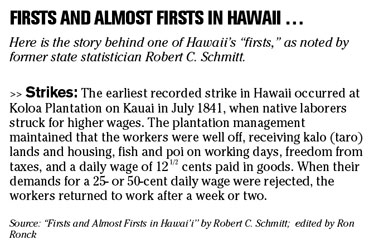 ---
Market looks good for graduates
The labor market is strong this year and employers are hunting for new recruits.
According to a new survey, 76 percent of employers plan to hire 2007 graduates this summer, up from 72 percent last year.
Graduating students don't lack for confidence, either, as 89 percent of prospective graduates expect to receive at least one job offer by graduation, while 74 percent anticipate two or more, according to an annual nationwide survey conducted by MonsterTRAK, the student division of career web site Monster.com.
But don't let the pomp distract you from the circumstances: Employers plan to receive an average of 73 applications for each available entry-level position.
"It's going to be competitive, so do basic things to be prepared," such as getting an internship to gain experience, said Julie Goldthwait, MonsterTRAK vice president and general manager.
The survey was conducted from Feb. 15 to March 7 among more than 985 MonsterTRAK customer companies, and approximately 2,545 college students and recent alumni who are MonsterTRAK members.
How to stand out from the pack
New graduates will stand out from the pack when they go on job interviews by following a few simple tips, according to Barbara Pachter, author of "New Rules at Work: 79 Etiquette Tips, Tools and Techniques to Get Ahead and Stay Ahead."
» Be prepared. Know how to relate your relevant experience, including from school clubs or summer jobs. Think of examples ahead of time, Pachter said.
» Make a strong first impression. Wear a suit, turn off your cell phone and for goodness' sake, don't chew gum. "It's more than just clothes. Do you look the person in the eye? Do you shake hands?" she said.
» Fake it until you feel it. Behave confidently even if your knees are knocking; your interviewer won't know the difference.
» Send a thank you note. Sounds simple, but even a small touch can set you apart.
» Accept an interview even if you don't want the job. You'll gain valuable practice and better position might become available at the company.
Hiring and firing takes some skill
Employers looking for new workers need to know what kind of personality and skills they need. It might be tempting to hire the smooth talker, but the quiet, meek candidate might be better suited to the position, says Ruth Haag, author of "Hiring and Firing."
Read resumes carefully to weed out weak candidates. For example, if you've had to fire graduates from a certain school or training institution in the past, don't hire another one, Haag said.
And if you do have to let someone go, first, be sure you did everything possible to help the employee succeed, such as provide proper training and equipment. Then, have a one-on-one meeting to explain specifically where the employee fell short and give them two weeks to shape up.
If things still don't change, follow through and bring down the ax, Haag said.
"Keep them any longer and it poisons the staff," she said.
---
BUSINESS PULSE