BOOKS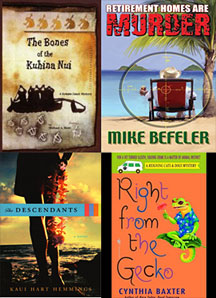 Murder they wrote; 'Hawaiian' novels, not!
Why are so many novels about Hawaii so bad? One reason is that they all have the same made-for-TV plot. Cynthia Baxter's "Right from the Gecko," set on Maui, features a lady veterinarian who solves a murder. Mike Befeler's "Retirement Homes Are Murder," set on Oahu, features a group of elderly men who solve a murder. Michael A. Herr's "The Bones of the Kuhina Nui," set on the Big Island, features a young woman who solves a murder. In each case there's a final "Aha! So it was you!" followed by a punch to the jaw (or variations).
"Right from the Gecko"
By Cynthia Baxter

(Bantam Dell, 2007, 319 pages, $6.99)
"Retirement Homes Are Murder"
by Mike Befeler

(Five Star, 2007, 295 pages, $25.95)
"The Bones of the Kuhina Nui"
by Michael A. Herr

(Lulu.com, 2006, 163 pages, $14.95)
"The Descendants"
by Kaui Hart Hemmings

(Random House, 2007, 283 pages, $24.95)
It's not that these stories are poorly written. It's just that the Hawaii landscape rolls by like vague scenery. A town, street or restaurant might be mentioned, then quickly forgotten.
In other words, these are not true Hawaiian novels. Their major characters, like their writers, are simply visitors. They skim over things like windsurfers -- generic stories by nice folk who took a few notes on vacation.
In "Right from the Gecko," Jessica Popper, veterinarian-turned-amateur sleuth, attends a conference on Maui. She and boyfriend Nick stay in a hotel. Throughout the story their experiences seem to reflect those of its author, literally climaxing at Ka 'Eleku Caverns among a group of tourists. On the way we pause at Puohokamoa Stream to admire the pools and waterfalls, hike in Kaumahina State Wayside Park and enjoy a quick stop at Keanae Overlook "to ooh and ah and take a few photos."
Meanwhile, to keep the action going, from time to time Jessica notices a sinister car following her up Hana Highway and almost literally into the cavern. The famous legend of its pool is of course retold. Baxter even quotes "The Penny-Pinching Traveler's Guide."
In "Retirement Homes Are Murder" we're taken to Sea Life Park, Doris Duke's home, Turtle Bay and other popular destinations. The story reaches a climax when its hero, an 80-year-old man, swims two miles from a sea cave to Lanikai Beach, spurred on by delicious smells coming from Buzz's Steak House.
"The Bones of the Kuhina Nui," an auspicious title, seems more effectively grounded, and it starts off well. The dying matriarch of a local family needs to pass on the historic duty of preserving the mana or bones of Queen Kaahumanu, but she's undecided which of her children should inherit the honor -- and the family property that goes with it. Unfortunately, the story quickly metastasizes into a standard domestic squabble and then on to the murder mystery. The promising Hawaiian theme fades away.
Despite the fact that Kaui Hart Hemmings is a local writer, "The Descendants" turns out to be just another family drama only nominally set in the islands. Her hero, Matt King, is of royal Hawaiian descent and owns 300,000 acres of Kauai, but he talks and acts like a mainlander. The plot has little or nothing to do with his ancestry. It deals rather with his discovery that his dying wife, in a coma after an accident, had an affair with a real-estate developer. Like the other novels, the action could be set as easily in California, Ohio, Boston, anywhere.
In "The Bones of the Kuhina Nui," the central figure, a Japanese-Hawaiian woman who lives on the mainland with her Caucasian husband, is yet again another tourist in disguise. She even stays at the Queen's Beach Resort Hotel. Between episodes in the inheritance saga, she enjoys the local scenery with all the other visitors.
Call these books tourist novels. They are best identified by their attempts to handle the unique characteristics of island speech, with lots of "eye-dialect" writing -- d for th, ah for er and the omission of definite and indefinite articles (the and a).
In "The Bones of the Kuhina Nui," for example, a Portuguese Hawaiian who nearly dies in an auto accident says, "Oh no, I see dat. I figgah we going hit head on so I close my eyes, stomp on da brakes, an' pray da Virgin. I pray 'Oh, please Virgin Mary, let me get out dis one alive an' I light 10 candles to you.'"
What's missing is the lilt, the rhythms and inflections that give Hawaiian accents their distinctive quality. Hemmings gets closest to it when four boys at the airport are asked why they're not wearing shoes: "'We knew we had to take 'em off,' one says. 'So we never wear any.'"
Not excluding Michener's Hawaii, we are still waiting for the Great Hawaiian Novel.
Michael Egan
is a published author, scholar in residence at Brigham Young University-Hawaii and adjunct professor of English at TransPacific Hawaii College. E-mail him at
drmichaelegan@hawaii.rr.com