ML Macadamia hits snag on purchase of MacFarms
ML Macadamia Orchards LP's chief executive said yesterday the company's deal to purchase MacFarms of Hawaii LLC has hit a snag, but he still hopes to complete the purchase by this summer.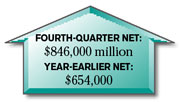 CEO Dennis Simonis disclosed the status of the transaction on the same day that ML Macadamia, the state's largest mac nut grower, announced a 29.4 percent increase in fourth-quarter net income due to the timing of the harvest, lower farming costs and a higher nut price.
ML Macadamia, which owns and leases 4,169 acres of orchards on the Big Island, signed a nonbinding letter of intent in October to buy the assets of MacFarms, which would allow ML Macadamia to expand into processing and marketing. The deal also allows ML Macadamia to lease the 3,912-acre macadamia orchard owned by MacFarms affiliate Kapua Orchard Estates LLC.
Simonis said yesterday that the sides are still negotiating and, if an agreement were reached by the end of April, that it would close 90 days later, following a review by the Securities and Exchange Commission, the mailout of a proxy and approval by shareholders.
"When you're negotiating, events happen, and those events cause people to (reevaluate) and create new issues -- and that doesn't mean you don't get there, but sometimes it takes a little longer," Simonis said. "I still think we're proceeding on track and expect it to close."
In the fourth quarter, ML Macadamia posted earnings of $846,000, or 11 cents per Class A unit, compared with $654,000, or 9 cents per Class A unit, a year earlier. Macadamia nut sales rose 5.7 percent to $7.6 million from $7.2 million, but overall revenue slipped 3.4 percent to $8.8 million from $9.1 million as contract farming revenue declined 38.7 percent to $1.1 million.
Simonis said the lower contract farming revenue had to do with the timing of the harvest.
The company harvested its own orchards in December, which helped its net income for the fourth quarter, but didn't harvest the contract farmers' land until January, he said.
"When we harvest for our growers, that's when we recognize the revenue," he said. "And because we cut off the year in the middle of the crop year, sometimes what's done in December is done in January, and that can make a big difference."
For the year, ML Macadamia's net income rose 4.3 percent to $804,000, or 11 cents per Class A unit, from $771,000, or 10 cents per Class A unit. Revenue decreased 1.8 percent to $17.1 million from $17.4 million as contract farming revenue fell 18.7 percent to $3.8 million. Macadamia nut sales over the year rose 4.5 percent to $13.3 million from $12.9 million.
ML Macadamia, which signed new contracts with four nut purchasers between December 2004 and January 2006, received 60.9 cents a pound (wet-in-shell, at 25 percent moisture) for its nuts in 2006 compared with an average price of 55.5 cents in 2005.
Independent Hawaii growers are receiving between 45 and 55 cents a pound and kernel prices are generally slightly below $3.75 a pound, the company said.
"Grower prices are very low right now," Simonis said. "World kernel prices are very low right now. There are probably 150 growers in Hawaii that don't have a place to sell their nuts right now."
ML Macadamia's output for the year was 21.2 million pounds, or 500,000 pounds lower than 2005.