---
FAST FACTS HAWAII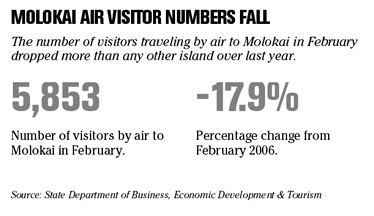 ---
NATION
Nardelli's haul: $134.5M
ATLANTA » The former chief executive of the
Home Depot Inc.
, Bob Nardelli was granted $134.5 million in compensation last year as valued by the company, according to an analysis of a regulatory filing by the world's largest home improvement store chain yesterday.
A sizable chunk of the compensation was related to Nardelli's severance package from the Atlanta-based company.
Nardelli, who resigned from Home Depot in early January after six years with the company, received a salary of $2,331,538, a bonus of $3 million, non-equity incentive plan compensation of $3 million and other compensation of $100,202,137. He also received stock and option awards last year that had an estimated value of $25,924,250 on the days they were granted.
Home Depot's annual proxy said Nardelli also received $40,441 in preferential earnings on deferred compensation.
Report: Sallie Mae may go private
RESTON, Va. » Shares of
Sallie Mae
, the nation's largest student-loan provider, jumped 15 percent yesterday following a newspaper report that it is in buyout talks with a private equity firm for more than $20 billion.
The New York Times reported yesterday that Blackstone Equity Group is a potential bidder to take Sallie Mae private.
Reston-based Sallie Mae, formally known as SLM Corp., was created by Congress in 1972 as a company to which private lenders could sell their student loans. But it was privatized in the 1990s and became a fully independent, publicly traded company in 2004.
Sallie Mae and Blackstone spokespersons declined comment on the report.
Ex-CA exec to lose yacht, Ferraris
NEW YORK » A judge has signed off on a restitution agreement requiring the former chief executive of
Computer Associates International Inc.
to pay at least $52 million -- including proceeds from the sale of his yacht and pair of Ferraris -- to victims of a huge accounting fraud at one of the world's largest software companies.
U.S. District Judge Leo Glasser approved the deal yesterday following a brief hearing in Brooklyn at which a special master overseeing a restitution fund announced that tens of thousands of people who lost money on the company would recover only a small fraction of their investments.
The agreement with Sanjay Kumar, who was sentenced to 12 years in prison in November for his role in the scandal, would theoretically make him liable for as much as $798.6 million in payments to investors.
Prosecutors acknowledge, though, that Kumar and his family will probably never have enough money to pay that amount.
The deal, which was filed earlier this month, calls for Kumar to instead make installment payments of $40 million, $10 million and $2 million by December of 2008, then pay 20 percent of his annual income once he is released from prison.
McDonald's sales sizzling
CHICAGO »
McDonald's Corp.
yesterday reported stronger-than-expected March sales and possibly its best month ever in Europe, results it said will propel first-quarter earnings well above Wall Street estimates. Its stock jumped to the highest level since 1999.
The world's largest restaurant company said sales at its outlets open at least 13 months rose a stellar 8.2 percent last month and 6.3 percent for the quarter compared with the same periods a year earlier. That included a 6.2 percent climb at its U.S. outlets in March, where the snack wrap and other new products continue to buoy sales.
It said it expects to report quarterly profit of about 62 cents a share when it discloses full results on April 20 -- up roughly 27 percent from the first quarter of 2006 and 5 cents a share better than the consensus estimate of analysts surveyed by Thomson Financial.
GE overcomes subprime woes
HARTFORD, Conn. »
General Electric Co.
, helped by sales of big-ticket items such as jet engines and train locomotives, posted first-quarter earnings of $4.5 billion yesterday, up 2 percent from the same period in 2006.
The diversified manufacturing, media and financial services conglomerate also said the results were dogged by the sagging subprime mortgage industry and weak performances in its industrial and NBC units.
Per-share earnings of 44 cents were in line with estimates by analysts polled by Thomson Financial.
Revenue of $40.2 billion for the quarter was up by 6 percent from the same period last year.
____


---
BUSINESS PULSE