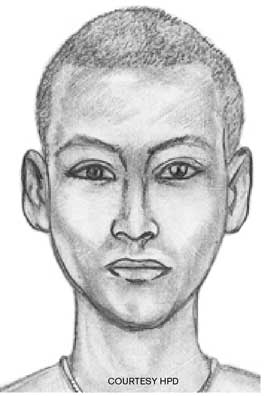 Anyone with information about the incident is asked to call CrimeStoppers at 955-8300 or *CRIME on a cell phone.
Victim assaulted after car stalls
Police search for a suspect after the rape in Kalihi
Police want the public's help in finding a man in his 40s who allegedly kidnapped and raped a 44-year-old woman whose car stalled in Kalihi Kai.
The woman was stopped across from 2014 Homerule St. at about 7:30 p.m. Wednesday when a man got out of his car and asked if she needed help.
The woman declined, and the man, a sketch of whom is pictured above, drove off but returned a short time later. He reportedly grabbed her from behind while she was looking under the hood of her car.
The man then took her to nearby Hart Street, where he raped her, police said.
---
Police are searching for a man who posed as a good Samaritan before allegedly abducting and raping a 44-year-old woman whose car broke down after dark on a Kalihi Kai road.
The woman told police she declined the man's offer to assist her after her car broke down at about 7:30 p.m. Wednesday across from 2014 Homerule St., a side street makai of Nimitz Highway in a warehouse area.
The man then drove off, but returned a few minutes later and grabbed the woman from behind while she was checking under the hood of her overheated car.
He pushed her into his car and drove to Hart Street near D Otani Produce, three or four blocks away, where he raped her, police said.
"This is a brazen act, right here," said police Sgt. Kim Buffett, Honolulu CrimeStoppers coordinator.
Buffett said such crimes are rare in Honolulu, and she could not recall the last time a similar incident occurred.
The woman fought off her attacker and freed herself, Buffett said. She got help and went to Kapiolani Medical Center for Women & Children, where she was treated for sexual assault and minor injuries.
The woman described her assailant as a man in his 40s who spoke with a heavy accent, has brown eyes and short brown hair and is about 5 feet 4 inches to 5 feet 5 inches tall, weighing 150 pounds.
The suspect's car is described as a dark green, two-door sports car with gray primer spots on the hood, tinted windows and a spoiler. Police said wires also were hanging out from the ignition, an indication that the car probably was stolen.
"Somebody should have seen the car," Buffett said yesterday.
Police are hopeful that with the public's help, a sketch of the suspect and a detailed description of the car, they will find the woman's assailant.
The area where the woman was abducted and the location where she was raped are busy during the day but deserted at night after businesses close.
"Nighttime no more car," said Robert Fujino, owner of SSK Service. His business is across the street from where the woman was kidnapped.
Police recommend a person should remain inside his or her car if it breaks down, to lock the doors and call police using a cell phone.
Alternatively, a person without a cell phone could walk to a nearby, well-lit business that is open and call for help, said Buffett, who did not know whether the woman had a cell phone.
"Be aware, assess the risks, make the best decision on what you have out there," said police Capt. Frank Fujii. "If you have a cell phone, call 911."
He said if someone stops to assist, "tell them, 'I've already called police. Can you make a second call?'" while remaining inside the car.
"We need to be aware of our surroundings, which is key to personal safety," Fujii said.