HiLIFE
Nightlife rolls along in Aiea
Party duo's neon spin on bowling turns clubbers into Aiea alley cats
IT'S A little past midnight, and the party is raging in Aiea. Classic '80s party tracks are blasting from speakers attached to a pair of turntables, drinks are flowing and at least 15 people are lined up with their posteriors wiggling to the beat.
'Moonlight Mondays'
Place: Aiea Bowling Complex in Aiea Shopping Center

Time: 9 p.m. Mondays

Cost: $125 per team of five bowlers (includes shoe rental and at least three games)

Call: 636-7322
"The next person who gets a strike, I'm buying you a drink!" someone yells into a microphone plugged into the sound system, and pandemonium ensues.
Welcome to cosmic bowling, "Moonlight Mondays" style at the new-and-improved Aiea Bowling Complex.
THAT SOMEONE with mike in hand is Rick "Mr. Rock" Rocamora, currently one of Honolulu's most veteran party promoters.
"Thirsty Thursdays" at Zanzabar Nightclub and "Foreplay Fridays" at Pipeline Cafe remain two of the biggest parties on Oahu for the 18-and-over mainstream club crowd. But Rocamora wanted to do something different.
"I've basically decided to rebrand and reinvent," he said. "The people that I started off with (in the club scene), from the Rhythm House and all that, they're much older now."
The answer? Booze and bowling.
With help from Angels Entertainment's Jenn Abreu, he approached Aiea Bowling Complex owners Gregg and Glenn Uyeda with a proposal for the weekly event. While cosmic bowling isn't a new concept, Rocamora promised to generate some buzz and bring more customers into the building.
"He's definitely made a difference," said Glenn Uyeda. "He brings another group of people who don't usually come here ... younger, active and wanting to come out and have a good time."
FOR ABREU, the goal was to break the monotony of clubbing -- seeing the same people on the same nights at the same places.
"We both agreed that we needed to find an alternative nightlife outlet," she said of her partnership with Rocamora. "I wanted people to step out of the box ... it was time that something new happened that people could get excited about."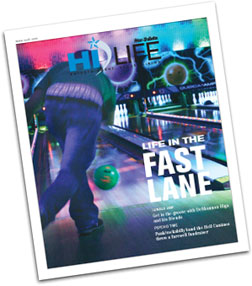 So every Monday after league play, the lights get dimmed and the funky-looking bowling balls come out. More than a million dollars was spent on renovations to give the lanes a fresh look, and the Uyeda brothers have revamped the kitchen to offer a full Asian fusion menu at dinner.
With cocktail servers and DJ Mike D all imported from Pipeline, speedy drink service and quality music is the norm. During the first night of bowling on March 26, a number of five-person teams were taking advantage of bottle service to get themselves well-lubricated.
"I was very impressed," remarked SMART Magazine's Molly Watanabe. "I haven't bowled in maybe two years. ... It's something much more interactive than the usual standing-around-the-club kind of thing."
Promoter Russ Inouye of Vertical Junkies also gathered up his crew to take part the first week, noting it wasn't very often they were all able to cruise together outside of work.
"It's tough, because everybody has their day jobs," he said. "Since we're always organizing the party, ('Moonlight Mondays') is a good way for all of us to get out there and just let loose."
Other teams that participated the first week included Ainokea Clothing, Red Bull, Club 939, Revolution Motorsport, and Butigroove.
WHILE THE majority of teams so far have come from the entertainment and bar industries, Rocamora and Abreu say "Moonlight Mondays" is attracting interest from other professions as well.
"We're going to try and touch them all," Rocamora said. "Medical, dental, real estate, military, the hotels. ... We might even do restaurant battles."
Teams are comprised of five players, with at least one female member per team. The $25 entry fee includes shoe rental and at least three games between 9:30 p.m. and 2 a.m.
"You don't have to worry about how cool you look," Rocamora said. "It's just a night of super good fun. ... Definitely not your grandpa's bowling alley."