Exclusive nightclub embraces the spotlight
LOOKS LIKE one local nightclub that was trying to keep a low profile is now ready for the spotlight.
Xyloh
opened last year with little fanfare, promoting itself to a select few and issuing VIP cards to restrict access. But I've seen more and more fliers for the club in recent weeks, and now word comes that a new weekly has launched there on Saturdays.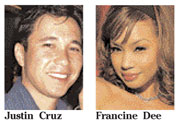 B-Blue and Buddha Entertainment present "Geisha House" for the 18-and-over crowd, with half-price drinks for the big kids before midnight. I'm not sure who is spinning there yet, but a flier promises a mix of hip-hop, R&B and house music.
It also appears Xyloh is also targeting the tourist crowd; the reverse side of the "Geisha House" flyer is written almost completely in Japanese ...
CHECKING IN: Vertical Junkies members Kanoe Sandefur and Maka Vasconsellos left earlier this week with Natural Vibrations for the band's mainland tour. The Junkies are handling the tour management and promotions for "From the Heart," due in stores Tuesday ... 93.1 the Zone morning jock Justin Cruz has announced his departure from the station in order to do weather on KHON. He'll join Ron Mizutani and Tannya Joaquin at 5 p.m. and stick around to give reports during the 6 and 10 p.m. newscasts with Joe Moore and Kanoa Leahey ... Local boy Lindsey Ozawa has been away from home the last few years, working hard in Las Vegas. Now he's home and set to open Nobu at Waikiki Beach Walk as the restaurant's executive chef. His sous chef and top assistants are all returning keiki o ka aina, too ...
FRIDAYS PICKS: Level H Productions' Hanson Nguyen celebrates his birthday during the monthly "Deuce" party at the O Lounge, with guest appearances by mainland import queens Francine Dee and CJ Miles ... GenuineHI.com presents "Onthe1: Bachi" from 7 to 10 p.m. at the University of Hawaii at Manoa's Hemenway Courtyard. DJ Kavet the Catalyst and MillionBillion will be joined by Nomasterbacks, Soul Pacific, Tempo Valley, Bless'd Chil' and DJ Observ. This one is free, and open to all ages ... Never Underestimate Me Productions presents "Spring Fever," a two-part fashion showcase and party that starts at 5 p.m. at Dave and Buster's. Watch a fashion show and live performances by the Red Eye Jedis, Ill Valley and Pacifica before moving to Fashion 45 at 10 p.m. for a VIP after-party. Call 382-9394 for ticket info ...
SATURDAY'S PICKS: Downe Towne for Women, Larceny and Peopleklick.com present "Pajama Party" at the Velvet Lounge. The new monthly 18-and-over theme party caters to Honolulu's lesbian community and features $1 Coors Light from 9 to 10:30 p.m. ... The "Nahe Nahe Comedy Fest" takes place at the Hawaiian Hut, with stand-up by Kaleo Pilanca, Lanai, Kenny Hune, Big Steve, Elroy and Da Hawaiian Guy. Da Mento Mahu also makes his stage debut. Call 954-1402 ... Indigo hosts "Soul Much Love," a 21-and-over night of garage and classic house with guest DJs from New York City ...
HAVE YOU checked out my new blog yet? "So Necessary ..." is online at www.sonecessary.tv with entertainment news and daily updates about what's going on in Honolulu after dark. Take a look and let me know what you think ...