---
FAST FACTS HAWAII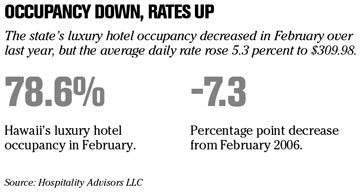 ---
A&B creates logistics unit
Conglomerate
Alexander & Baldwin Inc.
, one of Hawaii's oldest companies, said yesterday it was forming a new subsidiary, Matson Global Distribution Services, to expand the company's logistics service into warehousing and distribution, freight forwarding and non-vessel operating common carrier services.
Matson Global will be headed by 26-year industry veteran Brian Howver, formerly of Vineland, N.J.-based logistics company NFI Industries. Reporting to Matson Integrated Logistics President Bob Papworth, Howver initially will focus on warehousing opportunities on the West Coast.
"With these additional services, MIL will begin the process of becoming a true third-party logistics company, well positioned to grow and serve its domestic base while also expanding into markets in Asia," A&B Chairman and Chief Executive Allen Doane said.
MIL boosted its profits to $21 million from $3 million over the last four years, A&B said.
Hawaiian Air load factor jumps
Hawaiian Airlines
enjoyed a robust March as the carrier filled 91 percent of its seats and the number of passengers it transported jumped 18.6 percent from the year-earlier period.
The airline, which increased capacity by adding routes and aircraft, said 609,812 passengers traveled systemwide, up from 514,143 in March 2006. Its load factor of 91 percent was up 3.5 points from 87.5 percent a year earlier.
Hawaiian's available seat miles -- one seat transported one mile -- increased 16.8 percent to 758.4 million from 649.2 million while its revenue passenger miles, or the total miles flown by paying passengers, rose 21.5 percent to 690.4 million from 568.3 million.
The airline reports only its systemwide numbers and does not break out figures for its interisland and trans-Pacific routes.
Tech firms say tax credit helps
Nearly two-thirds of Hawaii's high-tech businesses said Act 221/215 had a major influence in their decision to remain, grow and expand their company in the state, according to a survey released yesterday by
Grant Thornton
, an accounting, tax and business advisory firm.
The results, based on 80 responses in an online survey conducted in February and March, also showed that 81 percent of the respondents believe increasing research and development tax credits will increase the number of high-tech jobs in Hawaii.
Although 64 percent of the respondents agreed that Act 221/215 had a major influence in their decision to remain, grow and expand in Hawaii, less than half of those responding did not consider Act 221/215 a major influence in their decisions to initially locate their company in the state.
Among other questions:
» 74 percent said that R&D tax credits are a more effective way to attract high-tech jobs than other incentives;
» 77 percent of qualified high-tech businesses (QHTB) say the repeal of the investment tax credit would have a negative impact on their company's ability to raise capital from outside investors.
[ HAWAII INC. ]
NEW HIRES
» Mauna Lani Resort has hired
Christopher Blunt
as sales manager. He will oversee all financial and insurance clientele in the Northeast United States. He previously served as director of national accounts at Marriott International Hawaiian Islands and has more than 13 years of sales and hospitality experience.
BOARD ELECTIONS
» The Association of Legal Administrators, Hawaii chapter, has elected its officers for 2007-2008:
Christine Imoto
, president;
Darlene Loo-McDowell
, president-elect;
Diane Sherman
, secretary; and
Lori Isaki
, treasurer.
AWARDS / CERTIFICATIONS
» McDonald's Corp. has honored area construction manager
Kelley G. Nakano
with the west division development award for his design renovations of the Pearl Harbor McDonald's, which includes the new McCafe specialty coffee shop and a new dining room atmosphere.
» Queen's Medical Center has honored Dr. Daniel Fischberg with the Ke Kauka Po'okela outstanding physician of the year award for 2006. The award recognizes a staff physician for exemplary practice of medicine and patient care contributing to the hospital's mission. He is medical director of the hospital's pain and palliative care department and a faculty member of the UH John A. Burns School of Medicine.
» Junior Achievement of Hawaii has received $2,500 from Alexander & Baldwin and $8,000 from Sam's Club. Through its programs, Junior Achievement of Hawaii teaches students in Kindergarten through 12th grade about business, economics and the free enterprise system.
---
New parent
Nestle SA announced yesterday that it will buy Gerber Products Co. for $5.5 billion, giving the world's biggest food and drink company the largest share of the global baby food market.
---
BUSINESS PULSE