| | |
| --- | --- |
| | Newswatch |
---
WHAT'S BASEBALL WITHOUT A HOT DOG?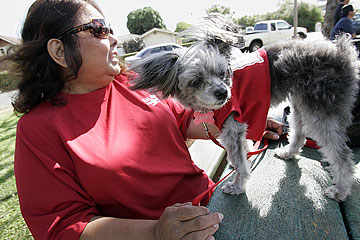 Challenge to smoking ban fails
A state judge dismissed a lawsuit yesterday that sought to prevent the state Department of Health from enforcing a ban on smoking in places open to the public, including bars, nightclubs and restaurants.
Circuit Judge Sabrina McKenna ruled that the new law, which went into effect Nov. 16, is not an improper imposition of state police powers, said Paul Yamamura, attorney for the Hawaii Bar Owners Association, which filed the suit.
The bar owners said the law was harming their businesses, is vague and deprives them of their constitutional property rights without just compensation.
Only one citation has been issued under the law so far, said Janice Okubo, state health spokeswoman.
It was issued to a woman seen smoking in a bar by a police officer, HPD spokeswoman Michelle Yu said.
H-3 lanes to close late Saturday
Kaneohe-bound lanes on the H-3 freeway will be closed from the Halawa Interchange to the Halekou Interchange between 7 p.m. Saturday and 7 a.m. Sunday for tunnel cleaning and maintenance work.
State transportation officials advised Kaneohe-bound motorists to use alternate routes such as Likelike Highway and the Pali Highway over the weekend and to allow for extra travel time.
Jellyfish stings hospitalize 2
More than 160 box jellyfish stings were reported yesterday in Waikiki during a jellyfish advisory issued by the city Ocean Safety Division.
Honolulu lifeguards reported 164 stings in Waikiki and three stings on the Windward side. In Waikiki, 296 box jellyfish were found. None were found on the rest of the island.
In two separate incidents yesterday, paramedics transported a 15-year-old girl and a 16-year-old boy of Waikiki, who experienced severe reactions from jellyfish stings, to Straub Hospital in serious but stable condition.
A 10-year-old girl stung near Makapuu Beach was treated and released.
Lifeguards will assess the beaches for more jellyfish today and post signs where they are found.
City lifeguards encourage anyone who does not want to get stung to stay out of the water.
Jellyfish usually show up about 10 days after a full moon.
Bone marrow drives this month
The Hawaii Bone Marrow Donor Registry will hold bone marrow drives this month on Oahu and the Big Island.
They are scheduled as follows:
» April 21, noon to 4 p.m., Honda Windward, 45-671 Kamehameha Highway, Kaneohe
» April 23, 10 a.m. to 2 p.m., "Disability Awareness and Resource Fair," Hawaii Community College, 200 West Kawili St., Hilo
Donors must be between 18 and 60 years old and in good general health. Donors are registered with a "buccal swab" technique, a swab of cheek cells inside the mouth.
Since the Hawaii Bone Marrow Donor Registry began in 1989, about 68,000 donors have been registered in Hawaii, Guam and American Samoa. More than 251 have donated bone marrow or blood stem cells for patients worldwide.
For more information, call 547-6154 or visit the national Web site, www.marrow.org.
East-West fair at UH Saturday
East-West Center students from 52 countries will hold their annual East-West Fest on Saturday at the Hawaii Imin International Conference Center, the center announced in a news release.
The "Unity Through Diversity" celebration runs from 1 to 6 p.m. and features Asian and Pacific cultural performances, including a taiko drum exhibition by alumnus Kenny Endo.
There will also be exhibitions, games and food. Some of the cultures represented include Mongolia, Tahiti, Vietnam, Korea, Okinawa, Chuuk and Tibet.
Admission is free and parking is available on the adjacent University of Hawaii-Manoa campus for $3.
---
SHINING STARS
---
HPU official to lead academic association
Deborah L. Nakashima
, associate dean for graduate advising at Hawaii Pacific University, was elected to chair the Pacific Region 9 of the National Academic Advising Association, starting in October for two years.
The association promotes quality advising and professional development of its membership to ensure the educational development of students.
---
Promotions in the Honolulu Fire Department include:
» Battalion Chief Albert K.T. Mahoe, assigned to the Second Battalion, Second Platoon, to oversee HFD companies in East Honolulu. He has been with HFD for 17 years.
» Battalion Chief Scott K. Mosher, assigned to the Fifth Battalion, Third Platoon, to oversee companies in central Oahu. He has 24 years in the HFD.
» Battalion Chief Sigmund K. Oka, assigned to the Fourth Battalion, Third Platoon, to oversee companies on the Leeward Coast, where he has served for 24 years.
» Battalion Chief Dave M. Takehara, assigned to the Fourth Battalion, First Platoon, to oversee companies on the Leeward Coast. He has been with HFD for 21 years.
» Battalion Chief Kenison L. Tejada, assigned to the Fire Communications Center, to oversee personnel who receive 911 calls and dispatch companies to emergencies. He has 25 years, the last 12 as captain in the Fifth Battalion.
---
"Shining Stars" runs Mondays through Thursdays.
| | |
| --- | --- |
| | Police, Fire, Courts |
---
HONOLULU
Man arrested, car seized for drugs
Police seized a 37-year-old man's car early Monday after he was allegedly found carrying drugs during a routine traffic stop.
Police said an officer made the traffic stop at 2464 Kula Kolea Drive in Kalihi at 2:29 a.m. The officer saw the man try to hide two methamphetamine pipes and ordered him out of the car, police said.
The officer then found 8.6 grams of crystal methamphetamine on the man, police said.
The man was arrested on suspicion of drug violations. His 2002 Honda Civic was seized for possible forfeiture, police said.
LEEWARD OAHU
Suspect caught in car break-in
Police arrested a man who had allegedly broken into a car seven months ago and stolen items.
On Sept. 21 a 22-year-old man reported that his car was broken into and that several items were stolen.
Police found the suspect, a 21-year-old man, Tuesday in Pearl City and arrested him for investigation of unauthorized entry into a motor vehicle.