---
FAST FACTS HAWAII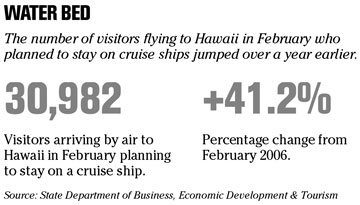 ---
Insurer cutting auto rates
State Farm Mutual Automobile Insurance Co. is lowering rates in Hawaii an average of 5.1 percent beginning May 7.
The reduction, which represents an overall savings of $5.3 million to State Farm's Hawaii customers, means its new rates in the state will be 38.1 percent lower than it was 15 years ago, the company said.
About one in every six cars insured in Hawaii is insured by State Farm.
State Farm said premiums are decreasing the most for comprehensive coverage -- which pays for losses from theft, storm damage, fire and vandalism -- but added that the cost for liability, personal injury protection and collision coverage also are going down.
The company noted that premiums for individual motorists vary depending on type of coverage, discounts, where they live, type of car, who drives it and how much it is driven.
Go! regains some altitude
Go!'s load factor rose for the second consecutive month as it filled 64 percent of its seats, according to March data released yesterday by parent Mesa Air Group Inc.
The new interisland carrier's load factor has climbed since January, when it hit a low of 58.4 percent. Its best load factor was 82.5 percent, during its first month of operation.
There are no year-over-year comparable numbers because go! began service on June 9, 2006.
Go! attracted 57,856 passengers on its 50-seat Bombardier CRJ-200 aircraft. Go! had an on-time arrival rate of 88.3 percent and completed 99.7 percent of its flights. Its available seat miles, or total seats multiplied by the total number of miles flown, were 13 million while its revenue passenger miles, or the total miles flown by paying passengers, were 8.4 million.
[ HAWAII INC. ]
NEW HIRES / PROMOTIONS
» Dixie Grill has named
Patrick Dolan
as general manager of its Aiea restaurant. He started with the company as a server in 2003, and recently returned from Ruby Tuesday. He is also a U.S. Navy veteran.
» ResortQuest Hawaii has promoted Queenie Ho to decision analytics specialist from revenue optimization support specialist. She will manage budgeting, and pricing activities and initiatives, and annual rate setting. She will also assist in enhancing the resort's business intelligence and data warehousing.
» Castle & Cooke has announced the following new hire and promotion: Rodney Funakoshi has been hired as senior project manager in the planning and development department for Castle & Cooke Homes Hawaii Inc. He will be responsible for securing entitlements, planning, engineering, architectural, governmental agency and other development activities for Koa Ridge. He previously served Wilson Okamoto Corp. and has 30 years of planning experience. Mark Takemoto has been promoted to natural resources administrator in their land, legal and community and government relations department. He will be responsible for managing, protecting and enhancing the rights and interests of the company and Dole Food Co. in their agricultural and conservation land assets. He joined the company in February 2000.
» AlohaCare has promoted Emy Yanday to marketing and sales coordinator from marketing associate. She will be responsible for leading Medicare sales campaigns and recruitment efforts. She previously served as executive secretary for Mirant Philippines and joined AlohaCare in 2005.
» Sheraton Hotels & Resorts Waikiki has hired Lisa DeCambra-Morrill as director of sales and marketing for the Royal Hawaiian hotel. She previously served as director of product development of Hawaii luxury for Classic Customs Vacations and has more than 20 years of sales and marketing experience in the luxury hospitality industry.
» Four Seasons Hotels and Resorts Hualalai has hired Robert Whitfield as general manager. He replaces Kathleen Horrigan, who transferred to Four Seasons Resort Palm Beach in Florida. Whitfield previously served as general manager of the Four Seasons Hotel Silicon Valley in Palo Alto, California and has more than 25 years of experience in the hospitality industry.
» Rider Hunt Levett & Bailey has announced the following promotions: Kevin Mitchell has been promoted to principal from associate principal, and will also serve as principal in charge of the new Big Island office. He has worked for the firm for more than five years, specializing in project management, litigation support and lender services. Emile le Roux has been promoted to associate from senior cost manager. He joined the firm's Los Angeles office in 2001, specializing in resorts, condominiums, research facilities, government and commercial projects. He has also served as a professional quantity surveyor in South Africa for eight years.
» Central Pacific Bank has announced the following new hires and promotions: Robin M. Kaneshiro has been promoted to vice president and senior business banking officer. He previously served as branch manager and commercial lending officer for Hawaii National Bank. David J. Kimura has been promoted to vice president and investment consultant. He previously served as a financial advisor for PaineWebber and has more than eight years of experience in securities and life insurance with a focus on investments. S. Glenn Coffey has been hired as Lahaina branch manager. He is a 30-year veteran of the banking industry. Dean S. Yoshida has been hired as Beretania branch manager. He previously served as regional manager of Terminix International and has more than 28 years of management experience, with 19 years in the financial industry. Christopher L. Frost has been hired as business banking officer. He previously served as a managing partner at Performance Motorsports LLC.
---
Citigroup to cut 17,000 jobs
NEW YORK » Under pressure from investors to contain burgeoning costs,
Citigroup Inc.
, the nation's largest financial institution, announced that it will eliminate about 17,000 jobs, shift 9,500 positions to "lower cost locations" and consolidate some corporate operations.
The 17,000 job cuts amount to about 5 percent of the bank's 327,000-strong work force. The elimination of the jobs won't reduce the bank's work force, but merely slow its growth, Citi executives said.
The steps -- which are expected to shave more than $2 billion from the bank's operating costs this year alone -- also should result in faster service for consumers and businesses, Citi's chief operating officer, Robert Druskin, said today.
Druskin told a conference call with Wall Street analysts they should expect Citi's headcount to grow this year because of acquisitions and plans to open new branches, especially overseas.
"But that rate of growth will be at a significantly diminished rate," Druskin said.
Eyeing options
Nasdaq Stock Market Inc.is in talks to acquire the Philadelphia Stock Exchange. Nasdaq may acquire the Philadelphia Stock Exchange, which controls about 13 percent of all options traded in the U.S., to expand in options trading after losing the race to create the first trans-Atlantic equity market, an official at the Philadelphia exchange said. Above, in February, traders worked in the index trading pit at the Philadelphia Stock Exchange. An agreement with Nasdaq is weeks away at the earliest and may not be reached, the official said.
---
BUSINESS PULSE