| | |
| --- | --- |
| | Newswatch |
---
BIRTHDAY BASH: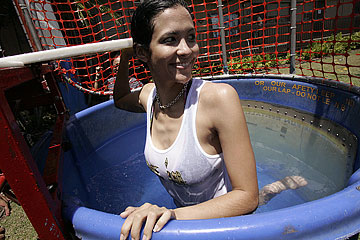 Substitutes protest over back pay
Substitute teachers protested yesterday over the state's unwillingness to give them millions of dollars in back pay.
"We are being cheated," said David Garner, a substitute teacher from Maui who participated in the demonstration at the state Capitol. "That's stolen money. What kind of example is the government showing to its kids?"
About 20 substitute teachers carried signs saying, "It's time! Settle with Hawaii's substitute teachers" as they lined the streets and met with lawmakers.
The substitutes want the Legislature to pass a $65 million settlement this session to compensate them for underpayments from 1996 to 2005.
Kauai cesspool conversion done
LIHUE » Kauai county officials announced this week that they had finished converting large-capacity cesspools to septic systems to comply with federal law.
The project, which started in May 2004, included seven county parks, some very close to the ocean, said Doug Haigh, chief of the county Building Division.
"By converting them to septic tank systems, it greatly reduces the possibility of ocean and ground water pollution in these areas," Haigh said.
The conversion was jointly funded by the U.S. Environmental Protection Agency and the state Department of Health Clean Water Branch.
ATVs, bikes get access to roads
HILO » The state has opened two roads in the Mauna Kea Forest Reserve on the Big Island to all-terrain vehicles and dirt bikes, the state Department of Land and Natural Resources announced yesterday.
Riders must obtain permits from the state Division of Forestry and Wildlife and complete a liability waiver agreement before using Skyline road and the Na Ala Hele Mauna Kea access road, the DLNR said.
The combined 40.4 miles of roadway circumnavigates Mauna Kea, following elevations from 7,000 to 10,000 feet, offering some of the most spectacular views in the state, the department said.
Meanwhile, the DLNR also announced it will prohibit off-highway vehicles from using old gravel quarries within the forest reserve. Racetracks at the quarry site have become extended into unauthorized trails that have degraded the quality of the native forest, officials said.
Rallies raise warming awareness
Local churches and environmental groups will demonstrate at the state Capitol on Friday as part of a national campaign to raise concern about global warming.
The 1 p.m. "Step It Up" rally by the Faith and Environmental Coalition will kick off a weekend event coinciding with the National Day of Climate Action, with rallies planned in every state supporting legislation to reduce fossil fuel consumption and carbon emissions. The local group's goal is to get other faith congregations involved in the environmental cause.
A "Rally for Climate Change" from 10 a.m. to noon Saturday at Church of the Crossroads, 1212 University Ave., will present speakers, educational displays, music and a sign-holding demonstration. It is sponsored by the Hawaii Interfaith Alliance, Sierra Club Hawaii Chapter, Life of the Land, Ahahui Malama I Ka Lokahi and Church of the Crossroads.
---
SHINING STARS
---
Goodwill project gets $100,000 gift
First Hawaiian Bank Foundation
donated $100,000 to
Goodwill Industries of Hawaii
to fund the Ohana Career and Learning Center building project in Leeward Oahu. The center, to open in 2008, will be a 30,000 square-foot building in Kapolei, and be used for job training and placement programs, community affairs and a retail store.
---
Bank of Hawaii awarded $100,000, and First Hawaiian Bank Foundation, $150,000, to Catholic Charities Hawaii to support its capital campaign to establish a permanent home on Keeaumoku Street. All Catholic Charities programs will be consolidated at the main Makiki location and will enable the nonprofit organization to improve and expand its services to the community.
---
VH1 Save the Music Foundation provided $100,000 in new musical instruments to four public school music programs for the 2006/2007 school year. Oceanic Time Warner Cable and the University of Phoenix contributed to the donation to help reach the foundation's goal of ensuring that 1 million students receive music education.
---
Alexander and Baldwin, Inc. awarded $2,500 to Junior Achievement of Hawaii to support its business and economics educational programs for kindergarten through 12th grade.
---
"Shining Stars" runs Monday through Thursday.
| | |
| --- | --- |
| | Police, Fire, Courts |
---
HAWAII KAI HOME DAMAGED BY FIRE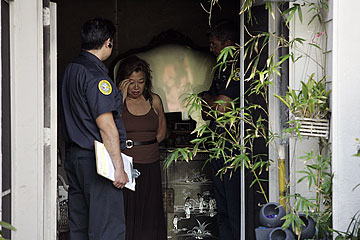 Surfer who died is identified
WAILUA, Kauai » County officials identified the surfer who died at Wailua Beach on Saturday as 62-year-old Jeffrey Ellison.
County officials said Ellison was surfing near the mouth of the Wailua River when he experienced distress. Another surfer in the area pulled him to the beach, but Ellison stopped breathing on the way in, officials said.
Lifeguards began administering cardiopulmonary resuscitation, and medics continued the procedure en route to Wilcox Hospital, where Ellison was pronounced dead.
---
CENTRAL OAHU
Conflict over gold chain results in 2 arrests
A spat over a gold chain led to two arrests in Wahiawa on Monday night.
Police said that at about 9:15 p.m., a 31-year-old man saw a 22-year-old man wearing a gold chain and demanded it. The suspect fled in a van after getting the chain, police said.
The victim saw where the alleged robber parked the van, broke into it and stole a baseball bat inside. The driver of the van was armed with a machete and chased the man with the baseball bat, police said.
Several people in the area interceded until police arrived. Officers arrested the 31-year-old man for investigation of robbery and also arrested the 22-year-old man for investigation of unauthorized entry into a motor vehicle.
WEST OAHU
Stepchildren allege father's sex abuse
A 47-year-old Aiea man surrendered to police yesterday for allegedly sexually assaulting his stepchildren five years ago.
Police said the victims reported the sexual assault, which allegedly occurred June 5, 2002, at a Pearl City residence, to police.
Police contacted the suspect, and he voluntarily turned himself in yesterday morning.
Police arrested the man on suspicion of one count of first-degree sexual assault and five counts of third-degree sexual assault.
He was released pending further investigation.
Man surrenders in sex assault case
Police arrested a 47-year-old man who allegedly sexually assaulted a teenage girl.
The victim reported the incident to her counselor, and then to police. The alleged assaults occurred sometime before yesterday in Waipahu.
The suspect turned himself in and was arrested for investigation of two counts of third-degree sexual assault.
HONOLULU
Boy, 15, accused of stealing chain
Police arrested a 15-year-old boy who allegedly stole a gold chain from a younger boy.
The suspect and the victim, 9, live in the same Kalihi housing complex at Kalaunu Street and Kamehameha IV Road, police said.
At about 3 p.m. Sunday, the suspect demanded the gold chain the victim was wearing, police said. When the victim refused, the suspect held down the victim and took the chain, police said.
The victim reported the incident that day, but police could not find the suspect. The suspect's aunt brought him to the Kalihi Police Station at about 1:40 a.m. yesterday, where he was arrested for investigation of second-degree robbery.
Neighbor catches Kaimuki burglar
A 49-year-old man caught a suspected burglar allegedly breaking into a neighbor's house in Kaimuki yesterday afternoon.
Police said the neighbor saw the suspect, a 44-year-old man, breaking in at about 2:30 p.m. yesterday.
The neighbor went next door and detained the younger man until police arrived.
Police arrested the man on suspicion of attempted burglary.
Wife and her kids targeted in attack
Police arrested a 35-year-old man who allegedly beat his wife and threatened her five children.
Police said that at about 9:30 Monday night, the man arrived at his home on Lunalilo Street and punched his 39-year-old wife. He also threatened to kill her five children, who were from a previous marriage, police said.
Police arrested the man for investigation of abuse of a household member and first-degree terroristic threatening.