| | |
| --- | --- |
| | Newswatch |
---
HONORING PRISONERS OF WAR: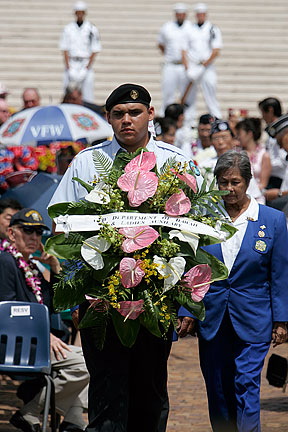 Suspect in assault goes to court
A 35-year-old man made his initial court appearance yesterday on a charge that he tried to kill another man Saturday in a Waianae fast-food restaurant.
Police charged Gary Avilez, who has no local address, for the attempted murder of a 69-year-old man in Burger King Restaurant at the Waianae Mall Shopping Center. His bail is $50,000.
A restaurant employee told police she heard an argument in the hallway fronting the bathroom and, when she went to see what was happening, saw Avilez choking the victim with both hands, according to court records.
The employee said she left the area to call her manager, and when she returned, Avilez was no longer with the victim, but remained in the restaurant.
Police said they found the victim lying on his back, with a cut on the left side of his forehead and floating in and out of consciousness. Restaurant employees said the victim is a regular customer.
The victim's condition was serious when a city ambulance picked him up but later worsened to critical, police said.
Oahu jellyfish invasion looms
The city is warning swimmers of a possible influx of box jellyfish at several Oahu beaches tomorrow.
The stinging creatures have been showing up at Waikiki Beach, especially near the Kapahulu groin, as well as at Hanauma Bay, Pokai Bay, Makaha and Waimea Bay, according to the city.
People stung by jellyfish should flush the area with white vinegar. Lifeguard stations are equipped to treat stings.
Volcanoes are focus of UH lecture
University of Hawaii-Manoa geologist Michael Garcia will discuss "Honolulu Volcanism: What, Where, When and Why" in a free public lecture from 3:30 to 4:30 p.m. tomorrow in Room 301, Hamilton Library.
Garcia and his students and colleagues from Japan and Germany are trying to determine the age, volumes and composition of volcanoes in Hawaii.
They are trying to learn "why hot-spot volcanism rejuvenates after a 1 million-year hiatus."
Garcia's lecture is part of a series by UH-Manoa faculty called "Sharing Our Work and Our Knowledge."
---
SHINING STARS
---
Iolani student Busse receives contest trip
Iolani School student
Joshua Busse
is among 60 high school juniors and seniors named as regional finalists to compete for a $50,000 scholarship in the 2006-07 Young Epidemiology Scholars Competition this weekend.
Busse's project is titled "HPV and Cervical Cancer Prevention: A Comparative Generational Study Quantifying the Efficacy of an Informational Brochure at Improving Knowledge and an Analysis of How This Knowledge Affects HPV Vaccine Acceptance."
Finalists will be judged on written reports, oral presentations and question-and-answer sessions. The competition is sponsored by the Robert Wood Johnson Foundation and administered by the College Board.
Busse receives an all-expenses-paid trip to Washington, D.C., and scholarship awards of at least $2,000. Two national winners will receive $50,000 awards.
---
Nanci Kriedman, co-founder and executive director of the Domestic Violence Clearinghouse and Legal Hotline, won the 2007 Making a Difference for Women Award from Soroptimist International of Waikiki. She received $1,000 for her favorite charity. The Soroptimists also donated $2,000 to the clearinghouse for its projects.
Kriedman co-founded the clearinghouse in 1990 and serves on several committees on family violence.
---
"Shining Stars" runs Mondays through Thursdays.
| | |
| --- | --- |
| | Police, Fire, Courts |
---
NORTH SHORE
Copter airlifts stranded tourists
Two tourists were airlifted from Mount Kaala yesterday after they got lost on a hike and spent the night on Oahu's tallest mountain.
The couple used their cell phone to call for help at 10:30 a.m. yesterday. They were rescued from a steep cliff side and brought to Waialua Elementary School grounds in the Honolulu Fire Department helicopter. Firefighters from the Sunset Beach engine company and Rescue Two unit searched for the pair, said Honolulu fire Capt. Terry Seelig.
Seelig said the couple set out on Sunday morning using a hiking guide book but got off the clearly marked Dupont trail.
WINDWARD OAHU
Officer's hand bitten in struggle
Police arrested a 33-year-old woman who allegedly bit a police officer's hand.
Police said the woman was fighting with her 63-year-old mother at about 6 p.m. Sunday in Kailua. The woman ran to Kailua Elementary School on Kuulei Road as three officers arrived to investigate a domestic abuse complaint, police said.
The officers ran after her, and during a struggle to arrest her, she bit one officer's right hand, police said.
The officer was treated at Castle Medical Center for cuts on his right hand and fingers. Police arrested the woman for investigation of second-degree assault and abuse of a family member.