---
FAST FACTS HAWAII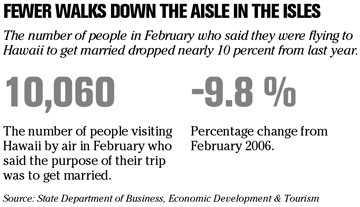 ---
Subway plans to roll out pizza
Subway
, the largest U.S. restaurant chain by number of stores, plans to add pizzas at more than half its U.S. stores.
Subway will sell pizzas at 13,000 of its 20,000 U.S. restaurants by the end of the year, spokesman Kevin Kane said yesterday. The chain has been testing the individual-size pies, selling for about $2.99 each, for several years, he said.
Subway, based in Milford, Connecticut, joins established players such as Yum! Brand Inc.'s Pizza Hut chain, Domino's Pizza Inc. and Papa John's International Inc. in the pizza market. Subway is adding new items to attract diners hungry for something other than hoagies.
The thick-crust pizzas are selling for $2.99 in test markets, though the price may vary at different locations, Kane said. The pizzas arrive at stores pre-baked with just sauce and cheese. Diners can pay an extra $1 for meat toppings and counter workers will add vegetables if customers request, he said.
Kane declined to name the pizza suppliers to Subway. The chain, owned by Doctor's Associates Inc., has more than 27,000 locations worldwide.
Apple says 100M iPods sold
Apple Inc.
has sold 100 million iPod media players in the 5 1/2 years since Chief Executive Officer Steve Jobs unveiled the device.
The sales make the iPod the fastest-selling music player in history, Cupertino, California-based Apple said today in a statement. Jobs has introduced more than 10 models since October 2001, including the Mini, Nano, a video iPod and the Shuffle.
The tally means Apple likely sold about 11 million iPods in the second quarter, up from 8.53 million a year earlier. Analysts on average anticipated 11.1 million units, UBS AG analyst Benjamin Reitzes said, adding his own estimate had been for 12.2 million. Apple had sold more than 88.7 million through December, with a record 21 million players during the holidays.
Sales of the iPod accounted for 48 percent of Apple's revenue in the holiday quarter. It is the best-selling music player in the U.S. with a more than 70 percent share of the market, according to the NPD Group Inc. in Port Washington, New York.
Google apologizes to Chinese rival
BEIJING »
Google Inc.
apologized yesterday following complaints the U.S. search company's new Internet tool for inputting Chinese characters incorporated data from a Chinese rival.
Google's new Pinyin Input Method Editor tool is meant to help a user input characters in Pinyin, a phonetic system for writing characters in Roman letters. It suggests possible characters after just a few letters are typed.
Sohu.com Inc. complained Sunday that the new software appeared to copy material from Sohu's Sogou search engine. Chinese Web surfers pointed out similarities shortly after the release of the Google tool.
But in a statement today, Google acknowledged that Web surfers have pointed out some material came from "non-Google data sources" and added, "We are willing to face up to our mistake, and offer an apology to users and to the Sohu company."
Isuzu confirms U.S. land purchase
TOKYO » Japanese truck maker Isuzu is readying a full-fledged return to production in the U.S., having recently purchased land in the southern state of Alabama for $7.8 million, a company spokesman said yesterday.
Isuzu Motors Ltd. bought land in Birmingham, previously occupied by a warehouse of Del Monte Corp., for future business activities in North America, including possibly setting up a vehicle assembly plant there, although details cannot be disclosed, Isuzu spokesman Tadashi Ioka said.
Isuzu had a joint venture in Indiana with Fuji Heavy Industries Ltd., the maker of Subaru automobiles, but withdrew in 2003, when Fuji bought out Isuzu's share in the venture and became sole operator of the plant.
Isuzu truck sales in the U.S. grew about 10 percent last year to 27,000 units, Ioka said.
Japan's top business daily The Nikkei reported yesterday that Isuzu plans to assemble midsize vehicles, starting production in 2009 or 2010. Ioka declined to comment on the report.
---
BUSINESS PULSE