HIGH SCHOOL BASKETBALL
OT decides key OIA and ILH battles
Maybe it's the fatigue of mid-season doldrums.
Or perhaps it's just undeniable familiarity.
Whichever the case, overtime is inevitable, and it could be more common as the rest of the season rolls on.
On Friday, Radford lost a double-digit lead, then held on to edge host Aiea in overtime, 44-39.
On Saturday, both games at Kekuhaupio Gym went into extra time. The first, between Christian Academy and Kamehameha II, involved a big rally by the visiting Patriots in the fourth quarter.
Ashley Medcalf scored 36 points for Christian Academy, but when she fouled out, so did the Pats' fortunes.
Kamehameha II, with clutch shooting from the perimeter, won 75-63
The second game was a chess match for a half, and then Punahou unleashed its fullcourt and halfcourt traps on Kamehameha. The Buffanblu clawed their way back into the game, took a lead in the final 2 minutes, but ended up losing in the extra period, 55-54.
With two losses in three games during the week, Punahou fans could be saddened. In reality, the losses at Iolani and Kamehameha could be building blocks for the young team. Janelle Nomura broke out with a career-high 25 points, slashing through Kamehameha's defense in transition.
"I felt like I needed to step up, especially since Mel had early fouls," she said of backcourt mate Melanie Feldman.
Nomura scored just three points in the first quarter before turning her game on.
Almost as astounding was Punahou's swarming defense. Chelsea Deptula (six steals) and Dara Tompkison (five steals) were terrors, big reasons why the Warriors had 21 turnovers.
If not for mediocre free-throw shooting (15-for-30), the Buffanblu would have left with a win.
Analee Viena Lota, who had 13 points, 13 rebounds and four steals, felt relieved.
"We wanted to make a statement. We had a rocky start to the season, but we wanted to make a new beginning," she said of the formerly top-ranked Warriors. The win over Punahou vaulted Kamehameha two notches to No. 4 in today's Star-Bulletin Girls Basketball Top 10.
Over on the Big Island, Honokaa's showdown at Konawaena on Thursday was missing a crucial element -- Dragons coach Shawna Lau Kong. She was on Oahu to tend to her father, who suffered a heart attack.
Konawaena went on to win the game, leaving only two unbeaten teams in Big Island Interscholastic Federation Division I play. Waiakea is the other unbeaten team.
Despite big wins over Kalaheo and Farrington, Kalani is lodged in the middle of the Top 10, sharing the No. 6 spot with Honokaa. The Lady Falcons continue to progress and blend together with many new players, and are 6-1 in league play.
The spotlight, at least for voters, seems to be on Roosevelt, which jumped two spots to No. 2 in today's poll.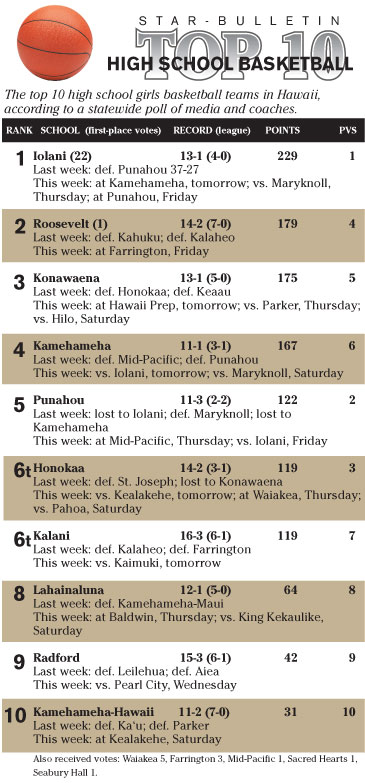 ILH
Standings (through April 7)

Team
W
L

Iolani
4
0

Kamehameha
3
1

Punahou
2
2

Mid-Pacific
1
3

Maryknoll
0
4
Scoring

Name
G
Pts
Avg
High

Jamie Smith, Iol
4
61
15.3
18

Nicole Fu, Mryk
4
59
14.8
20

Janelle Nomura, Pun
4
53
13.3
25

Analee Viena Lota, Kam
4
46
11.5
13

Johnelle Kapua, MPI
4
44
11.0
23

Melanie Feldman, Pun
3
31
10.3
16

Jenna Savusa, MPI
4
40
10.0
14

Alana Matayoshi, Iol
4
38
9.5
14

Chanel Hirata, Iol
4
33
8.3
15
3-pointers made

Chanel Hirata, Iol
8

Alexis Furtado, Kam
4

Janelle Nomura, Pun
4

Kristen Canencia, Mryk
3

Kimberly Henderson, Mryk
3

Tami Konishi, Iol
3

Sarah Turgeon, Iol
3

Analee Viena Lota, Kam
3
OIA Red East
Standings (through April 7)

Team
W
L

Roosevelt
7
0

Kalani
6
1

Farrington
4
3

Kahuku
3
4

Kalaheo
2
5

Moanalua
1
5

Kaimuki
1
6
Scoring

Name
G
Pts
Avg
High

Iwalani Rodrigues, Roos
7
107
15.3
19

Courtney Gaddis, Kaln
7
105
15.0
22

Shanadee Canon, Kalh
7
101
14.4
26

Megan Kamehiro, Kaln
7
92
13.1
23

Jamie Ronolo, Moan
6
78
13.0
23

Britni Ronolo, Moan
4
51
12.8
18

Louise Fiamate, Kaim
6
61
10.2
14

Taeja Afalava, Kah
7
63
9.0
16
3-pointers made

Megan Kamehiro, Kaln
12

Cani Kealoha, Far
10

Tiyana Nakasone, Roos
8

Elane Leaupepe, Far
7

Olivia Phommachanh, Kaim
6

Chloe Martin, Kaln
5

Tiana Sugui, Roos
5

Jayna Tasaka, Roos
5

Delicia Wilson, Kalh
5

Deja Bryce, Far
4

Courtney Gaddis, Kaln
4

LeNora Nauahi, Kah
4
OIA Red West
Standings (through April 7)

Team
W
L

Radford
6
1

Pearl City
5
2

Aiea
4
3

Nanakuli
3
3

Kapolei
3
4

Leilehua
2
5

Mililani
1
6
Scoring

Name
G
Pts
Avg
High

Ta Nitra Byrd, Rad
7
111
15.9
23

Brittaney Stafford, Lei
7
99
14.1
24

Jazmin Pahukoa-Malia, PC
7
98
14.0
19

Capri Holiona, Aiea
7
94
13.4
29

Natasha Helsham, Aiea
7
87
12.4
23

Ashley Gonzales, Lei
7
79
11.3
16

Marlena Malepeai, Rad
5
54
10.8
14

Joleen Realin, Mil
6
56
9.3
14
3-pointers made

Ashlee Dela Cruz, Kapo
9

Natasha Helsham, Aiea
7

Jamielyn Kaleiwahea, Mil
6

Jazmin Pahukoa-Malia, PC
6

Tahnee Foki, Kapo
5

Sasha Montez, Nan
4

Brittaney Stafford, Lei
3

Loleina Lapina, Kapo
3

Lahela Sylva-Kanagusuku, Nan
3
OIA White
Standings (through April 7)

Team
W
L

Campbell
7
1

McKinley
6
1

Kailua
6
1

Waialua
4
3

Waianae
4
3

Castle
3
4

Kaiser
1
6

Waipahu
1
6

Anuenue
0
7
Scoring

Name
G
Pts
Avg
High

Chelsie Sato, McK
7
121
17.3
23

Jessica Dusich, Kais
7
108
15.4
25

Chelsey Ramirez, Wail
7
96
13.7
19

Kimberly Meyerowitz, Wail
6
79
13.2
22

Danielle Lovell, Wain
7
89
12.7
23

Ashley Jacobs, Kail
7
87
12.4
16

Aloha Dias-Kekahuna, Camp
8
94
11.8
24

Chelsea Okuma, Kais
7
80
11.4
16

Margaret Siligo, Waip
7
76
10.9
18

Jenny Sweeney, Camp
8
82
10.3
18

Cheyna Tagura, Camp
8
81
10.1
21
3-pointers made

Chelsey Ramirez, Wail
18

Chelsie Sato, McK
16

Kristyn Mathenson, Kais
13

Kaitlyn Ikehara, McK
12

Ashley Jacobs, Kail
12