Proposed Punaluu resort downsized
HILO » Sea Mountain Five LLC has reduced its proposed resort at Punaluu, 56 miles south of Hilo, to 1,050 residential units, down from a previous 1,500, managing partner Pat Blew has announced.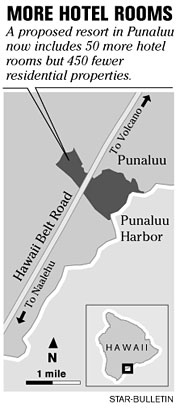 The total number of hotel rooms has increased slightly to 350 from a previous 300, but the new number is a maximum and the final number could be smaller, Blew said.
Blew made the announcement last week while giving an update on the project to correct misinformation, he said.
A resort on 434 acres fronted by a bay with a black sand beach in the remote Kau District has been controversial since it was started by former landowner C. Brewer and Co. in 1972.
Community opposition in the 1980s changed to support in the 1990s, but the Japanese owner at the time was unable to complete the project because of a downturn in the Japanese economy.
The land is currently owned by a group headed by tour bus company owner Robert Iwamoto. Blew's group has a contract to buy the land, but only after a county Shoreline Management Area permit is obtained, which could be a lengthy process, Blew said.
In the meantime, the resort is supported in the Kau community by a group called O Kau Kakou (We Are Kau) and opposed by Kau Preservation.
With no major employers in Kau, "the community is just getting killed" economically, Blew said.
People board a county bus at 3:30 a.m. and ride for hours to resort jobs in West Hawaii, then return late in the evening, seeing little of their families.
Two proposed hotels at Punaluu would provide about 500 jobs just minutes from people's homes rather than hours away, Blew said.
The smaller of the two hotels would be created by the Ocean Futures Society headed by Jean-Michel Cousteau, son of ocean explorer Jacques Cousteau, said society consultant Jim Miller. It would have an orientation toward eco-tourism and would include a marine conservation and education center, he said.
Since getting the shoreline permit poses so much uncertainty, other details are still undecided, Blew said, such as the cost of homes, the price of a hotel stay and how much the developer would pay to the community for improvements such as upgrading the small Kau Hospital.