Rockslide brings community together
A North Shore Easter service attracts a record gathering as cleanup continues
The morning before Easter Sunday, pastor Mike Stangel's phone kept ringing, with church members worried that the sunrise service at Waimea Bay would be canceled because of a landslide that closed Kamehameha Highway.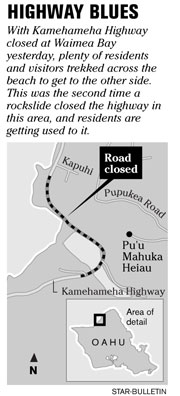 Instead, Waimea Bay became a gathering place yesterday morning for residents of Pupukea and Haleiwa -- communities familiar with road closures after a 2000 landslide crippled the area for three months.
"Everyone is saying this year's service is our best ever," Stangel said.
All 1,200 chairs were filled by 6:30 a.m. at the North Shore's Christian Fellowship 30th annual Easter sunrise service. Rather than paralyzing the event, church member Bruce Watts said it brought even more people -- nearly 1,500, he estimated.
"Everyone had to walk across the beach," Watts said. "That just brought them all here because it's the end of the road."
More than 30 tons of rocks with boulders as big as cars fell early Saturday morning, shutting down Kamehameha Highway -- the only road that connects the North Shore -- from Sts. Peters and Paul Catholic Church and Waimea Bay.
This section was deemed Oahu's second most hazardous area near state highways and roads as a potential for rockfalls, according to a 2003 study by Earth Tech Inc.
But North Shore residents are optimistic that this rockfall will not inconvenience them for as long as the last one. During that time, residents had to cross a temporary road along the beach while crews widened the highway and built a protective fence.
"They stabilized it the last time, so hopefully we don't have to go through it all again this time," said Pupukea resident Tom Sollars.
Scott Ishikawa, state Transportation Department spokesman, said he does not expect the closure to last nearly as long because of the safety measures put in place after the 2000 slide.
North Shore road to open
The state Transportation Department plans to have one contra-flow lane open for North Shore commuters during the morning and afternoon rush hour today and tomorrow on Kamehameha Highway near Waimea Bay.

The lane will be open from 4 to 8:30 a.m. and from 3 to 7 p.m., and operated by either a police officer or portable traffic lights, DOT spokesman Scott Ishikawa said. The DOT hopes to have one contra-flow lane open 24 hours by Wednesday, he said.

Crews will continue to clean up the debris from a rockslide that shut down the highway since early Saturday morning before repairing the protective fence. In the meantime, area residents said a previous slide prepared them for this one.
"The whole purpose of the fencing was to slow down the momentum and speed of the rocks," Ishikawa said. "The fencing took a beating but it did its job."
After the crew cleans up the debris, it will start repairing the protective fence, Ishikawa said.
The cleanup crew found burial caves Saturday and momentarily stopped working to ensure there were no ancient Hawaiian bones. The Department of Land and Natural Resources plans on moving the loose rocks recovered from the caves to another location today for a closer inspection, Ishikawa said.
Meanwhile, to help out residents, the city set up free shuttles from Haleiwa Beach Park to Waimea Bay and from Turtle Bay Resort to Sharks Cove. Also, residents said friends from opposite ends of the closure helped each other by offering rides after crossing Waimea Bay.
"For North Shore residents, people have a familiarity with road closures and how to deal with it," Waimea Bay lifeguard Kerry Atwood said.