---
FAST FACTS HAWAII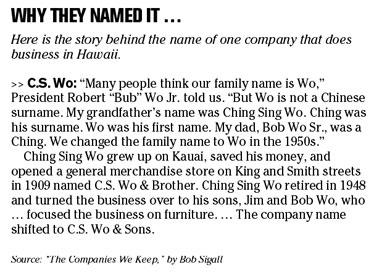 ---
NATION
Hit the mall if you're seeking a job
If you're looking for work, try visiting your local mall. But instead of shopping for peep-toe pumps or a new tie with your already dwindling cash supply, fill out an application.
Sales representatives are the most sought-after employees, topping the list of the hardest jobs to fill for the second year in a row, according to an annual survey conducted by the employment service Manpower. The category also includes business-to-business sales representatives.
Rounding out the top five positions are teacher, mechanic, technician and management/ executive, followed by truck driver, delivery driver, accountant, laborer and machine operator.
The survey, which polled nearly 37,000 businesses worldwide in January, found that 41 percent of employers report difficulty filling positions due to a lack of available talent.
"People are retiring and leaving the work force," said Melanie Holmes of Manpower. "The world is becoming increasingly competitive."
The lesson for potential employees: Keep your skills up to date. For employers: Take responsibility for finding competent workers, from building partnerships with schools to retraining your existing work force, Holmes said.
So now that you know where to find a new job, maybe just one new outfit wouldn't hurt.
Calling in sick can stress you out
On days when the weather outside is so nice, you just might be tempted to call in sick to work.
But now there's even more reason, besides your unfailing moral compass, to suck it up and show up.
Unplanned absences not only hurt your company's bottom line, they make you tense and burden your co-workers. More than half of employees report feeling additional stress when returning to work after being out, according to a survey by Nationwide Better Health, a workplace health-management service.
The survey also found that 53 percent of employees report having more work to do when their colleagues are unexpectedly absent.
A full 85 percent of respondents cited a health condition, either their own or a family member's, as the primary reason for unplanned absences. The vast majority are legitimate illnesses, though no doubt some absenteeism is due to sick-day subterfuge, said Holly Snyder, president of Nationwide Better Health.
For employers, knowing generally why your workers call in sick is key to providing health and wellness services that can cut down on sick days, she said.
"The first step employers really need to do is education, educating themselves," Snyder said.
The survey was based on telephone interviews with a sample of 862 adults, consisting of 512 men and 350 women, who were employed full time.
Church collections go high-tech
Credit and debit cards are accepted just about everywhere these days, and now you can add your local place of worship to the list.
Collection baskets are getting a 21st century makeover as officiants at churches, temples, synagogues and mosques increasingly can ask "Cash or credit?" at donation time. During 2006, the volume of religious organizations accepting credit or debits cards for donations increased 21 percent over the previous year, according to Visa USA.
In addition to onsite kiosks, worshippers can set up automatic donations online, much like they do with car or utility payments, said Bill Dobbins, vice president of merchant relations at Visa.
"Whether I don't show up to church one Sunday, the church isn't out of money," he said.
Charging your charity allows you to keep better track of payments, while streamlining record-keeping and cutting down on mailing costs for religious organizations, Dobbins said.
But still feel free to empty your pockets of all that loose change the next time the collection basket makes its way down the aisle.
---
BUSINESS PULSE