| | |
| --- | --- |
| | Newswatch |
---
SOMETHING FOR EVERYONE: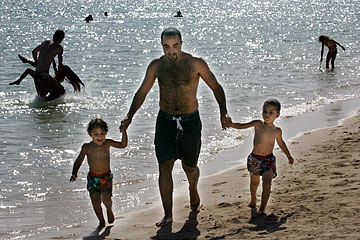 DUI checkpoints to be conducted
Honolulu police are conducting impaired-driver checkpoints through the Good Friday weekend until Monday.
The checkpoints are set up at unannounced times and locations.
The checkpoints are intended to deter not only alcohol-impaired people from driving, but also the drug-impaired.
Honolulu police arrested 3,278 impaired drivers from Oct. 1, 2005, to Sept. 30.
Twenty-five people have died so far this year from traffic collisions, compared with 23 the same time period last year.
Police found six fatal traffic collisions this year have been due to alcohol- or drug-impaired drivers, and 11 due to speeding.
Lindsey is picked for OHA board
The Office of Hawaiian Affairs trustees chose Robert K. Lindsey Jr. yesterday to fill the vacancy on the board caused by the death last month of Big Island trustee Linda K. Dela Cruz.
The vote was unanimous.
Lindsey, of Waimea, is a former Kamehameha Schools land director and Hawaii Island land assets director. He is also a former park ranger with Puukohola Heiau National Historic Site in Kawaihae and state Family Court social worker.
He will serve the remainder of Dela Cruz's term, which expires in November 2008.
Lindsey is scheduled to take office April 16.
Dela Cruz died March 15. She was first elected to the OHA board in 2000 and re-elected to a second four-year term in 2004.
Freitas is renominated for court
The Judicial Selection Commission nominated Harry P. Freitas yesterday as a District Court judge on the Big Island.
Freitas was one of Chief Justice Ronald Moon's two judicial nominations that were returned earlier this week because they were delivered to the Senate late.
Freitas serves as deputy corporation counsel for Hawaii County and is assigned to the litigation team. He has served as a deputy prosecuting attorney and a deputy public defender in Hawaii County, and as a prosecutor on Maui and Oahu.
Senate President Colleen Hanabusa returned two nominees to Moon because he failed to make the appointments within a 30-day period allotted by the state Constitution. The commission then became responsible to fill the two judgeships.
Freitas must be confirmed by the Senate.
---
Coming this weekend in your Star-Bulletin:
Saturday
Keeping Faith:
It's a holy season for major religions as Christians celebrate Easter, Buddhists memorialize the birth of Shakyamuni Buddha and Jews continue to observe Passover.
Sunday
Today:
The original "Star Trek" television show is being dusted off for the digital-replay generation, and at the forefront of the show's face lift is Hawaii's Michael Okuda and his wife, Denise. The artist and his set-designer wife study the episodes, then translate the special effects for a more savvy viewing audience. Oh, and in his spare time, Okuda designs the patches worn by the space shuttle crews.
Business: A steady progression of baby boomers, gay and green buyers have turned Puna into the fastest-growing district in Hawaii, and have caused home prices in the region to appreciate threefold during the last decade. Also in Sunday's business section, Dwight Melton, the only local stock expert to post a profitable first quarter in the Star-Bulletin survey of best investment ideas, said the market still seems to be looking for its footing.
| | |
| --- | --- |
| | Police, Fire, Courts |
---
Tractor overturns, killing driver
A 50-year-old Pacific Heights man died yesterday when the tractor he was using overturned while clearing brush in his yard.
Police said the man had been moving brush and clearing land when the small tractor flipped over and pinned him underneath.
The man was found a short time later, police said.
The accident occurred sometime after 1:30 p.m., police said.
An ambulance was called to 2808 Laola Place at 2:23 p.m., and he was pronounced dead at 2:46 p.m., said Bryan Cheplic, spokesman for the city Emergency Services Department.
---
WINDWARD OAHU
Teacher punched, schoolboy cuffed
Police arrested a boy after he allegedly punched his teacher at Castle High School in Kaneohe.
Police said that about 8:25 a.m. Wednesday, the Castle student got angry when his teacher searched his school bag and found a green leafy substance resembling marijuana.
The student allegedly punched the teacher, who suffered no injuries, but complained of pain. Police were called and arrested the boy on a second-degree assault case. Police did not release the boy's age.
HONOLULU
Boxes on stove blamed for fire
A Makiki apartment fire that destroyed one unit and damaged another on March 31 started when a stove was accidentally turned on and ignited boxes, fire officials said.
The fire gutted Apartment 707 at Piikoi Tower, located at 1556 Piikoi St., and damaged the unit above it. The unit below sustained water damage.
The day of the fire, new tenants were moving in and had placed boxes on the stove before they left, the fire investigator learned.
Baby sitter, 80, held over assault
Police arrested an 80-year-old man who allegedly fondled a child he was baby-sitting.
Police said the incident happened on March 1 while the suspect was baby-sitting the child at a Waipahu home. The victim later told the mother, who reported the incident.
The suspect was arrested Wednesday for investigation of two counts of third-degree sexual assault. Police are not releasing the victim's age or gender.
LEEWARD OAHU
Waipahu robbery suspect collared
Police arrested a 21-year-old man Wednesday who allegedly tried to rob two other men.
Police said that at about 2:45 p.m. two men, ages 65 and 71, were sitting in front of a Waipahu store when they were confronted by the suspect. The suspect displayed a handgun and demanded money, police said.
The suspect received the cash, then ran away but was followed by a security guard, police said. Officers later arrested the suspect for investigation of second-degree robbery.
NEIGHBOR ISLANDS
Police radio stolen, 3 suspects sought
Big Island police are looking for three male suspects who allegedly stole a police radio out of a county car Wednesday night in the upper parking area of the Hawaii County Prosecutor's Office in Hilo.
The case was classified as an unauthorized entry of a motor vehicle.
Anyone with information is asked to call Officer Chris Correia or Officer Rodolfo Johnson at 961-2213 or the police nonemergency number at 935-3311.