| | |
| --- | --- |
| | Island Mele |
---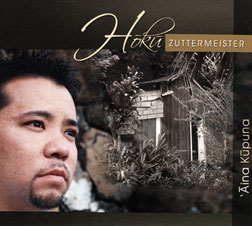 'Aina Kupuna
Hoku Zuttermeister
(Kaleiola KR 001)
Hoku Zuttermeister's long-awaited album lives up to the high standards expected of it. A welcome addition to the relatively short list of traditional Hawaiian releases in recent months, it is a perfect showcase for Zuttermeister as a solo artist and would represent Hawaii quite well at the Grammy Awards next spring.
Zuttermeister acknowledges his family heritage with the opening song, "Nani Na Pali Hauliuli O Na Ko'olau," explaining in the liner notes that the lyrics were a gift to his great-grandmother, Kau'i Zuttermeister. Next come "Moanalua" and "Kuhiau," two beautiful demonstrations of his range and talent as a falsetto vocalist.
Tradition is honored as well with his choice of instrumentation. Four talented musicians back him on ukulele, steel guitar and acoustic bass. Robert Cazimero and Keao Costa provide backing vocals. That's it. That's all he needs.
Zuttermeister honors the legacy of his great-grandmother and subsequent generations of kumu hula in the family by including background information about each song along with the Hawaiian lyrics and translations.
---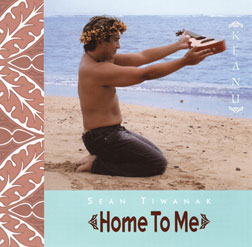 Home To Me
Sean Tiwanak
(Na'io Productions CD 8 20344)
Sean Tiwanak's new album is an eclectic collection that defies easy categorization. He opens with a Hawaiian chant of thanks, jumps from Hawaiian traditions to Jamaican rhythms with a reggae-lite number, then sings his way through a mixed bag of original songs and some pop oldies that are apparently personal favorites.
Tiwanak writes in the liner notes that "no guitars were used in the making of this album" -- perhaps to clarify that he is playing ukulele as the lead instrument on "Woke Up This Morning (Soprano's Theme)." Tiwanak does a good job on uke while bass, Hammond B3 organ and a drummer/percussionist give the arrangement a strong and soulful foundation. The lyrics may seem melodramatic, but the emotions they describe mirror those Tiwanak has experienced in fighting and surviving a rare but almost always fatal form of heart disease.
Several of his originals convey similar themes. "Aloha Uhane (Ooh Honey)" extolls the virtue of finding "that magic within." Tiwanak surely speaks for many returning expatriates with "Home to Me," as he describes the experience of seeing the islands "in a way I never have." Other songs share the poignancy of remembering special moments here while living far away.
With "Angel," the final song, Tiwanak gives thanks to "the angel in my eyes" and brings the album back to the opening theme.
---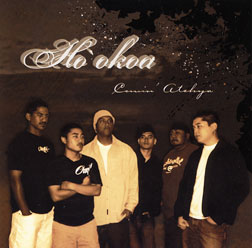 Comin' Atchya
Ho'okoa
(Kelpua Productions ACE 2471)
This Big Island group's debut finds them "coming at" music from two distinctly different positions. On some songs they sing with the affected pseudo-Jamaican accents that always mark the perpetrators as callow cultural posers. On others they perform as themselves and come across as a creditable young Jawaiian act worthy of respect and a larger audience. The good news for anyone who's heard more than enough local Jamaican-wannabes is that a majority of the songs here fall into the latter category.
Founding member Na'ea "China Man" Kaopua and newbie John "Mr. Tuli" Taliauli are the group's resident song writers. They coin a memorable phrase in comparing love to an "overflowing" ocean in "Imagine," and prove themselves competent writers elsewhere, the unfortunate faux-Jamaican stuff notwithstanding.
Producer Ace "The Show Sr." Loughmiller's decision to add keyboards and numerous other studio instruments may make Ho'okoa sound more like all the other Jawaiian acts on the market, but a final "back yard" track shows that they don't need the add-ons to sound good.
John Berger
, who has covered the local entertainment scene since 1972, writes reviews of recordings produced by Hawaii artists. See the Star-Bulletin's Today section on Fridays for the latest reviews. Reach John Berger at
jberger@starbulletin.com
.