This radio DJ can broadcast in his PJs
GET READY for the next phase of the
Augie Tulba
invasion. You can't help but envy his gig as a radio jock. Even though the stations he's on transmit from neighbor islands, Augie is able to use technology to broadcast live from his home on Oahu, or just about anyplace else. No dressing up, no commute -- just walk into the living room and go to work. What a deal!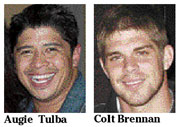 Starting on Sunday, Tulba will also utilize the small screen to connect with fans. "The Augie Show" premieres at 7 p.m. on OC-16, with many of the characters from radio crossing over to help with the new television production.
Honolulu residents have the chance to be part of the action on Sunday at Dave and Buster's. Tulba returns this week from stand-up performances in Okinawa, and will host a live taping of the new TV show starting at 11 a.m.
As he says in an e-mail promoting the event, "Here's your chance to be on TV without getting arrested" ...
IN CONCERT NEWS: Matt Costa returns to Honolulu to headline the "official" Kokua Festival afterparty at NextDoor on April 21. Local artist Makana will open ... Pollstar reports that Bambu Station will play at Pipeline Cafe on April 26 ... The Wailers are scheduled to perform at the University of Hawaii at Manoa on April 27. I'm guessing this one will be at Andrews Amphitheatre, and how much do you want to bet that Go Jimmy Go will be the opening act? ...
LOCAL PROMOTERS Kurious Productions kick off a new monthly at Lotus Soundbar on Saturday that will double as a birthday celebration for of its founders.
Island 98.5 night jock Phat Joe will party like a rock star during "Aries," which is also the eighth anniversary of his 21st birthday. Doors open at 9 p.m. and the party doesn't stop until 4 a.m. E-mail soulgroove808@yahoo.com for the guest list ...
SPEAKING OF Island 98.5, I'm disappointed to hear that Makani Tabura is no longer at the station. While he tells me he's already gotten offers to return to the airwaves in various mainland markets, during the short term he's enjoying his "new job for the time being ... surfing 9-to-5!"
It must be nice ...
GOOD LUCK to Pomai Uphouse as well. Last week was her final Friday night hosting at Osake, and this week marks her last days at Hot 93.9. Hopefully we'll hear her back on the radio soon ...
CELEBRATE EASTER this year at a rock concert with a cause -- "Rock for the Kids" goes down at the Chinese Lutheran Church of Honolulu on Sunday from 7:30 to 10 p.m.
While admission is free, donations will be accepted on behalf of Shriners Hospital. Concert organizers are also asking for donations of gently-used toys and books for distribution among the less fortunate. Local bands Ping Pong, Streetlight Stardom and Arkeo will be on hand to provide the soundtrack for this fundraiser ...
WHILE IT'S always fun to cheer on our University of Hawaii sports teams when they're playing a game, sometimes its even more fun to watch college athletes perform off the field.
Such was the case during Spring Break last week, as Colt Brennan partied with Natural Vibrations on Wednesday at the O Lounge. On Friday, Bobby Nash hit up Pipeline in a suave coat and tie combo ...
AND AS promised on Tuesday, I've got more details on the newest addition to the Star-Bulletin's online edition.
Starting Monday, this columnist will bumrush the blogosphere with "So Necessary..." a new venture that will serve as an extension of "In the Mix." If you enjoy reading about the latest and greatest from Clubland, there will be more of that goodness served up online, along with exclusives that won't appear in the print edition.
There's even more in the works that will keep you up to date with local nightlife, local food (and drink!) and local music.
Make no mistake; keeping up to speed with what's happening in Honolulu has become "So Necessary..." See you Monday online at www.starbulletin.com ...