---
FAST FACTS HAWAII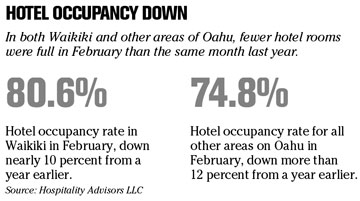 ---
HEMIC to pay first dividend
The Hawaii Employers' Mutual Insurance Company Inc.
(HEMIC) said yesterday it will pay its first dividend, totaling $5 million.
The money is payable to all eligible HEMIC members who were policyholders as of 12:01 a.m. on March 31.
About 57 percent of HEMIC's members are estimated to be eligible, translating into 3,841 individuals who should receive an average of $1,301 apiece. HEMIC, at last count, had an about 6,700 policyholders.
"Until now, our focus had to be on building surplus to provide financial security for our policyholders and injured workers," said Bob Dove, HEMIC's CEO and president. "Now that (the) appropriate surplus is achieved, our focus has shifted to returning any profits not needed to bolster surplus."
Dove said he anticipates that HEMIC will pay an annual dividend from now on.
Pacific Wings links to Sabre
Pacific Wings Airlines has expanded its global presence by implementing a connection with the Sabre Travel Network that will link travel buyers and sellers through the world's largest global distribution system.
Sabre provides more than 50,000 travel agency locations with instant access to content from airlines, hotels, car rental companies, cruise lines and more.
Pacific Wings said the direct-connect availability, or DCA, agreement will provide it with the highest level of participation in the Sabre system and enable it to market and sell reservations through all Sabre-connected travel agents globally.
Mesa pulls back in Arizona
Mesa Air Group Inc., parent of interisland carrier go!, said it will end passenger service to and from Lake Havasu City Municipal Airport in Arizona on May 6 because of low profit margins and a companywide movement away from 19-seat Beechcraft planes, according to a report in today's News-Herald, a local newspaper.
In a separate account in the same newspaper yesterday, Jonathan Ornstein, chairman and chief executive of Mesa, was quoted as saying, "It's really pretty simple. We just could not operate profitably."
Mesa has been criticized in Hawaii for taking a loss by offering $19 one-way interisland fares on go! Ornstein has said the interisland carrier is building market share and expects to become profitable.
---
Boeing hits 5-year delivery high
CHICAGO »
Boeing Co.
said yesterday it delivered 106 commercial airplanes in the first quarter, its highest total in nearly five years.
The total was up 8 percent from 98 deliveries in the same period a year ago and was the most since 112 in the second quarter of 2002.
The Chicago-based company, on the rebound after years of lagging well behind rival Airbus, has said it expects to deliver 440 to 445 commercial planes this year and up to 520 in 2008.
First-quarter deliveries included 83 of its single-aisle 737s and 17 widebody 777s along with three 747s and three 767s.
In Tribune deal, execs get $6.5M
NEW YORK » Three directors representing the Chandler family will depart
Tribune Co.
's board as part of a deal announced this week to take the company private, according to a regulatory filing made yesterday.
In addition, the company has set aside a cash bonus pool of $6.5 million for top executives once the deal is complete. The company said the bonus pool would take the place of authorized restricted stock units.
The disclosures were made in a filing with the U.S. Securities and Exchange Commission late yesterday that provided details of Tribune's $8.2 billion deal announced Monday.
Voters approve tax for spaceport
LAS CRUCES, N.M. » Voters in a southern New Mexico county have approved a tax to raise an estimated $49 million toward a $198 million tourism spaceport, according to unofficial returns yesterday.
Residents of Dona Ana County voted on the sales tax Tuesday in what backers said was a make-or-break election for the state-supported Spaceport America.
The complex would cover 27 square miles of desert near White Sands Missile Range, where the U.S. launched its first rocket after World War II. Its anchor tenant would be British millionaire Richard Branson's Virgin Galactic.
---
Wage probe:
U.S. fast-food giants McDonald's and KFC said yesterday they are working with Chinese authorities to resolve allegations that the companies underpay their part-time workers, as a labor probe expands in cities outside Shanghai. The state-controlled newspaper New Express Daily reported that McDonald's, KFC and Pizza Hut were paying part-time workers less than the local minimum wage of about $1 an hour. Above, a security officer and pedestrian talk yesterday in front of a KFC in Shanghai.
---
BUSINESS PULSE